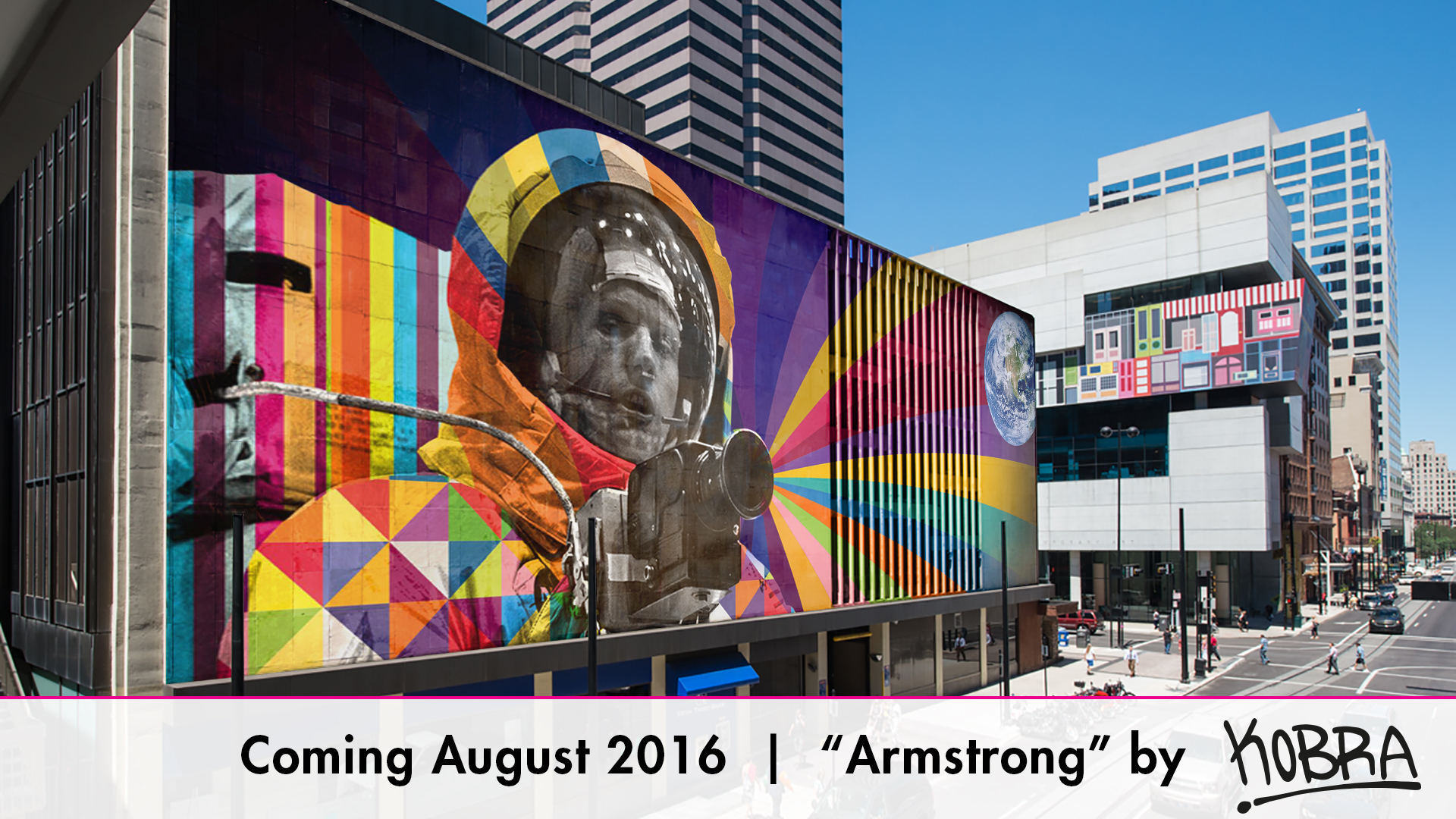 Today, ArtWorks' CEO and Artistic Director Tamara Harkavy announced that the internationally celebrated Brazilian street artist Eduardo Kobra has been selected to create their largest mural to date in downtown Cincinnati, thanks to support from Fifth Third Bank. Kobra chose to honor astronaut Neil Armstrong, the first person to land a craft on the moon and walk on its surface in his design. Following his career at NASA, Armstrong was a professor of aerospace engineering at the University of Cincinnati from 1971‒79. Born in Wapakoneta, OH, Armstrong lived in Cincinnati at the time of his death in 2012.
The monumental tribute to be located at 511 Walnut Street, measures 7,632 square feet and will be painted by Kobra assisted by four ArtWorks teen apprentices. The painting will take place August 8‒20, with a public dedication on August 21. The project will be livestreamed on https://www.artworkscincinnati.org/.
Ms. Harkavy said, "We are thrilled to have an international artist of Kobra's stature create this mural in the very heart of downtown Cincinnati. Fifth Third Bank initiated this exceptional project, providing generous funding to realize the mural on the façade of the parking garage at the bank's headquarters. Our goal was to create an iconic image that complements the site, an engaging public work of art destined to become a beloved landmark, and an expressive design that connects with people. In depicting Neil Armstrong so vividly at that amazing moment in time when innovation, creativity, and a pioneering spirit put men on the moon, Kobra has created a masterwork that is genuinely inspirational. We can't wait for him and the teen apprentices to get started making magic!"
Tim Elsbrock, President of Fifth Third Bank (Cincinnati) said, "Fifth Third Bank is excited that our headquarters can serve as the canvas for this very special ArtWorks project that engages our community and fully animates an already vibrant downtown space. We are delighted that Kobra will realize his latest stunning mural design in Cincinnati. Celebrating Neil Armstrong is perfect in so many ways. Throughout his life—and notably as command pilot for Gemini 8 and spacecraft commander of Apollo 11—Armstrong embodied core values our Fifth Third community champions: innovation, integrity, teamwork and collaboration, respect and inclusion, and accountability. Kobra's compelling design conveys a universal aspiration to reach for the stars and realize humanity's fullest potential."
The design concept released today is in Kobra's signature style: figures depicted in a dynamic combination of photorealism, bold colors, and kaleidoscopic patterns. Armstrong is depicted in in his space suit holding a camera. His face, the shield of the helmet, and the camera are black-and-white. The space suit is an exuberant patchwork of brightly colored triangles and stripes. A spectrum of bright colors forms a rainbow effect emanating from the camera lens. Planet Earth, what Armstrong once called when describing his view of it from space "that tiny pea, pretty and blue," is in the distance.
ArtWorks will paint 23 murals this summer, bringing the total ArtWorks mural count to 125.