Tyler Hildebrand, an ArtWorks teaching staff alumni and recipient of the 2016 School Outfitters Teaching Staff Award and $2,500 scholarship, shares an update on how he has used his winnings and reflects on his ArtWorks experience:  
---
­­­­­­­­­­­­­­­­­­
Last summer was great. I had recently returned to Cincinnati after several years of being away for school and work. I was familiar with Artworks and had kept hearing about new murals that were popping up everywhere and transforming the city. So, when I moved back, I knew that I wanted to be a part of it.
I was selected to work on the "Swing Around Rosie" / Rosemary Clooney mural located on Liberty Street in Over-the-Rhine with Project Manager Derek Toebbe and my fellow Teaching Artist Cori Ogleton. I mean, what's not to love about working outside, creating art with a group of young aspiring artists, and getting to work with a great teaching crew?
Also, I have a special fondness for Rosemary Clooney. When I was 15, I worked at Coney Island and Rosemary was playing at Riverbend. My grandmother, who was a tough old lady from Price Hill, was a huge fan, and I was able to take her backstage and introduce them. All of a sudden, she became very giddy! I had never seen her like that. Rosemary couldn't have been nicer and she held my grandmother's hand and treated her like an old friend. For that reason, I will always be grateful to Rosemary. I was honored to be a part of the mural not only because of that memory, but because she was also the first female addition to ArtWorks' Cincinnati Legends Mural Series.
Driving past Rosie reminds me of all of our hard work and how much it paid off! Working on a large-scale mural isn't easy and getting started is the toughest part.You have to get each measurement perfect. A couple of times we had to go back and make changes to the wall. It was very impressive how the team triumphed over adversity, rallied together and got the job done. We were really having too much fun to get discouraged.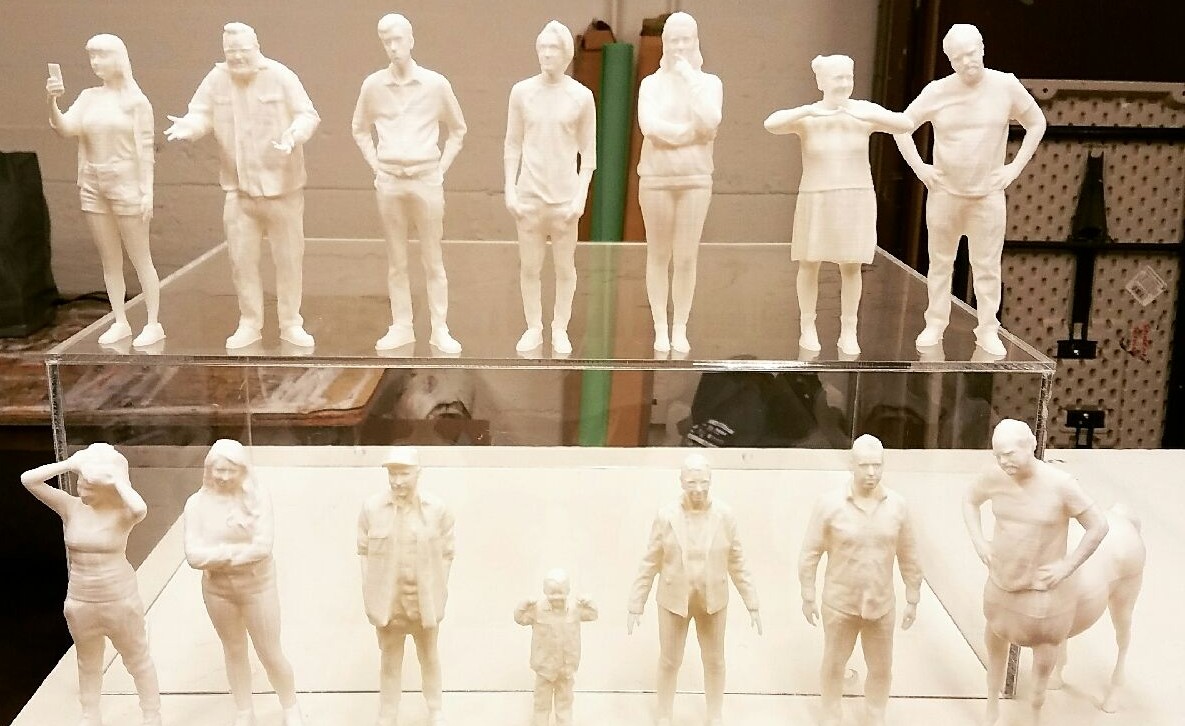 I don't only work with young artists during the summer. Last semester, I began teaching at the Art Academy of Cincinnati. One of the courses I taught was a class of senior sculpture students who were preparing for their upcoming thesis show. With the $2,500 School Outfitters Scholarship, we decided to purchase a brand new 3-D printer and several sewing machines to help them create their works. With the leftover money, we were able to go on a shopping spree to some local thrift stores to pick up additional items. With this new equipment, students like Kane Sargent are able to 3-D scan students and faculty and print them out as toys! Kane's show will be up in April and you can help to fund his project here. Thank you School Outfitters and ArtWorks for making this possible!
ArtWorks is currently hiring artist and creative professionals for 2017 summer and fall positions. Applications are due on February 26. Apply online today: https://www.artworkscincinnati.org/2017program/