SpringBoard Cincinnati's Box Truck Spotlight Series highlights Box Truck Carnival artists all month long leading up to MidPoint Music Festival. For more information on the Box Truck Carnival and the Midpoint Midway, visit artworkscincinnati.org.
PAR Projects
Rat Race
Win smiles and prizes by racing against your friends amongst artist-inspired, scaled-down, Cincinnati landmarks in rather-mousy, remote control vehicles. As you zoom through the streets, your prize is the cheese. This is our Rat Race.
"The Midpoint Midway is a great event because it connects artists and designers with the public in ways they're not accustomed to. And with the addition of the secret stage, it's even more valuable than it was last year." – PAR Projects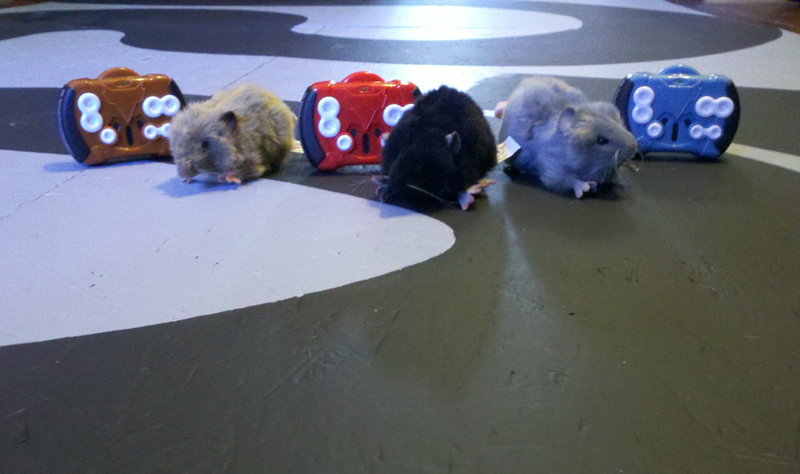 About PAR Projects:
PAR Projects is a Professional Artistic Research organization based in Northside Cincinnati, most notably known for its usage of Shipping/Cargo Containers to provide artistic experiences to the Greater Cincinnati Metro Area. Since its 2010 founding, the group has been recognized for hosting art exhibitions in Northside, Clifton, Walnut Hills and Downtown Cincinnati. The group has also collaborated with Cincinnati notables such as ArtsWave, ArtWorks Cincinnati, Pones Inc., Elementz, The Comet, Jonathan Mezibov,  Sloane Boutique, Christian Moerlein and Parlour Salon. They've also been working closely with The Northside Community Council, The Northside Business Association and The City of Cincinnati to ensure their goals align properly with the community.
More recently, as the group has begun initiating yet-unseen parts of its long-term mission, PAR Projects has joined forces with a few local organizations in order to start bringing more energy to its research & educational focuses. Most notably, the group has recently joined forces with Groundworks Cincinnati – Mill Creek to begin concentrating on its green/sustainability focus. They've also joined forces with The Northside Education Committee in order to help the community (along with other organizations such as Happen Inc. and WordPlay) build creative educational programs from the ground up.
Looking forward, a major goal of parProjects is to construct an Art & Education Center to provide the Northside community (as well as the Tri-State area at large) with progressive arts initiatives and innovative educational strategies. This facility will also serve as a local hub for creative programming. A newly finished, scale-model of this structure and redefined elements of PAR Projects' mission will be unveiled at the MidPoint Midway.
[youtube http://www.youtube.com/watch?v=FTcWYZi8drY?rel=0]
More Information:
http://facebook.com/parProjects