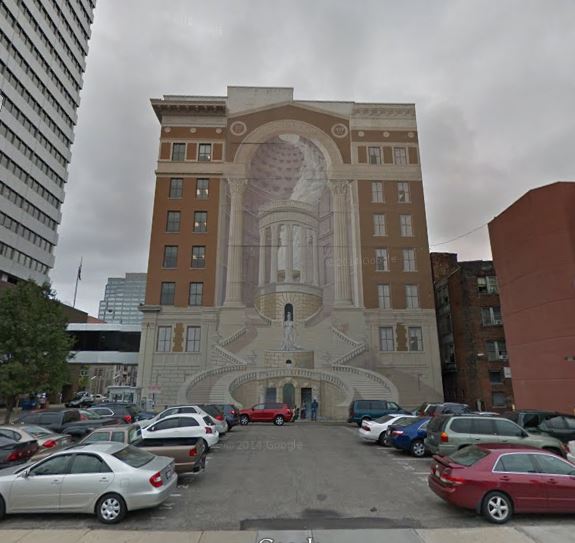 The Kroger Co. is partnering with ArtWorks to return "Homage to Cincinnatus" to its original glory.
CINCINNATI—-Swing scaffolding was installed this week on the north-facing façade of the Kroger Co. headquarters at Vine Street and Central Parkway in preparation for a full restoration of the seven-story mural honoring the Roman hero, Cincinnatus.  ArtWorks, an award-winning visual arts organization known for creating large-scale murals throughout greater Cincinnati, is overseeing the project. A team of professional local artists are working with Thomas Melvin Studio and the mural's original artist, Richard Haas, to carry out the restoration over a period of six weeks. The project will be complete by the end of July.
"Cincinnati's active mural program is one of the things that makes our city special. Kroger is proud to participate in Cincinnati's first dedicated mural restoration," said Lynn Marmer, Kroger's group vice president of corporate affairs. "We're fortunate the original Cincinnatus Mural artist, Richard Haas, is collaborating on the restoration of this enduring symbol for our community. We hope this project will encourage more public art activity for years to come."
"Homage to Cincinnatus" was originally commissioned by the Kroger Co. in 1983 to honor the company's centennial anniversary. The mural quickly established itself as an icon in the urban landscape, representing the legendary Roman soldier for which Cincinnati is named.
Richard Haas is a world-renowned artist and vanguard figure in the realm of public art who has transformed cityscapes throughout the United States with his inventive trompe l'oeil murals. Inspired by classical myth and architecture, his work integrates existing structural features with painted architectural elements to create highly realistic murals that "fool the eye" with their rich detail and sense of depth.
For more information about this project, please contact Christine Carli, Director of Communications at 513-333-3613 or Christine@ArtWorksCincinnati.org.
About ArtWorks: Founded in 1996, ArtWorks is an award-winning non-profit organization that empowers and inspires the creative community to transform our everyday environments through employment, apprenticeships, education, community partnerships, and civic engagement.  The ArtWorks Public Art Initiative creates innovative works that enrich Greater Cincinnati while providing job opportunities to youth and professional artists.  ArtWorks' ArtRx transforms the lives of patients and their families through the healing power of art. Through Creative Enterprise, CO.STARTERS provides training and business courses to creative entrepreneurs. ArtWorks has provided job opportunities for more than 2,700 youth Apprentices and 700 professional artists, and has graduated 250 creative entrepreneurs and artisans from CO.STARTERS. ArtWorks is generously funded by many community supporters including the City of Cincinnati, the Carol Ann and Ralph V. Haile, Jr./US Bank Foundation, ArtsWave, the National Endowment for the Arts, and the Ohio Arts Council. To learn more or to support ArtWorks, visit ArtWorksCincinnati.org.
About the Kroger Co.:  Kroger, one of the world's largest retailers, employs nearly 400,000 associates who serve customers in 2,625 supermarkets and multi-department stores in 34 states and the District of Columbia under two dozen local banner names including Kroger, City Market, Dillons, Food 4 Less, Fred Meyer, Fry's, Harris Teeter, Jay C, King Soopers, QFC, Ralphs and Smith's.  The company also operates 782 convenience stores, 326 fine jewelry stores, 1,330 supermarket fuel centers and 37 food processing plants in the U.S.  Recognized by Forbes as the most generous company in America, Kroger supports hunger relief, breast cancer awareness, the military and their families, and more than 30,000 schools and community organizations. Kroger contributes food and funds equal to 200 million meals a year through more than 100 Feeding America food bank partners. A leader in supplier diversity, Kroger is a proud member of the Billion Dollar Roundtable and the U.S. Hispanic Chamber's Million Dollar Club.