Updates from ArtWorks Entrepreneurs
---
 ArtWorks is hosting a session for NewCo
ArtWorks is hosting a session at this city-wide, day long event that showcases the businesses and people who are making Cincinnati a global destination for entrepreneurial success.
Click here to check out the schedule and sign up for our session on July 23 from 12-1pm at the ArtWorks office.
Panelists include: Hayes Shanesy & Rosie Kovacs from Brush Factory, Tammy Stephens of TBS Fine Arts, Jason Snell of We Have Become Vikings, Matt Grote of OGRE and Sean Mullaney, artist and serial entrepreneur. Plus, we'll be showing a video that our summer youth Apprentices are producing about the supportive culture of Cincinnati and resources available here to small businesses and working creatives.
---
Big Pitch Finalist Spotlight: Jess Sheldon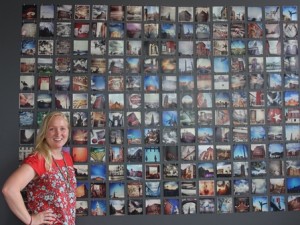 Who: Jess Sheldon
Business: Cityscape Tiles
Class session: Fall 2011, right after moving back to Cincinnati
How did your business change, or ideas about your business change after taking the course? "More important than helping me to understand the structure of my business (I actually dusted off my binder when completing my application for Big Pitch), the class was a wonderful collaborative environment. I loved connecting to other entrepreneurs. I always left feeling inspired; it made me want to work harder."
Out of curiosity, when you were little and people asked you what you wanted to be when you grew up, what did you say? "I always wanted to be a National Geographic photographer. Today, I take photographs and travel and even get paid to travel and take photographs so I guess you could say I'm kind of living my dream! Though it's not perfect; it's still stressful. I always went back and forth, did I want to turn my passion into a job? Could I? What happens when it becomes the bottom line? I'm still figuring some of these things out, but I will tell you that one thing that is helping right now is my Big Pitch mentor, Sean, to whom I feel accountable. Taking pictures of cities and places, hearing the stories people have with specific locations around Cincinnati, has always been exciting. Now, it's my business and I'm learning how to grow it. People don't print photos anymore so I look at my products as a tool for remembering."
---
Mo·ti·v·spi·ra·tion: (motivation + inspiration)
What music do our ArtWorks Entrepreneurs listen to when they need motivation? Which podcasts do they turn on when they need inspiration? Follow us on Instagram to see who we're featuring.
Andi Ploehs of AP Loves Design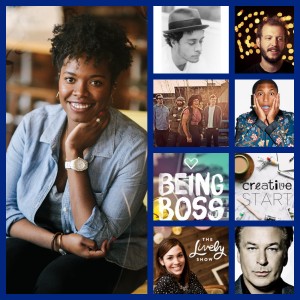 "When I'm working on the computer I listen to pretty mellow music like Amos Lee or Bon Iver. When I'm cutting and packaging materials for my greeting cards, I change the music to Alabama Shakes or Pharrell …the more soul the better! As for podcasts; I'm obsessed. I'm always looking for ones more focused on creativity and entrepreneurs. Right now my favorites are Being Boss, Creative Start, The Lively Show, and Here's The Thing With Alec Baldwin– a girls gotta laugh! When I need inspiration surprisingly, cleaning and organizing my studio usually does the trick."
Tamia Stinson of The Style Sample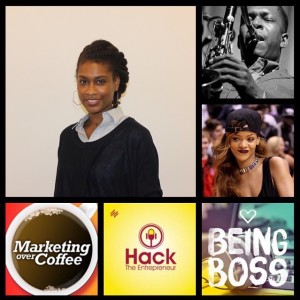 "John Coltrane for when I'm writing or need music without distracting words. I also like Focus@Will which is a "neuroscience-based music service" that's supposed to help increase concentration and focus based on scientific blahblahwhatever. And of course, Rihanna's "Bitch Betta Have My Money" – for obvious reasons. Favorite podcasts are Being Boss, for not being afraid to get into details about how they run their businesses, Hack the Entrepreneur, for John Nastor's goofball nature and great interview skills and Marketing Over Coffee, for dudes who always have the scoop on what's new and how to use it."
---
Check out updates from ArtWorks Entrepreneurs
---
Opportunities