Updates from ArtWorks Entrepreneurs

---
Four Questions with an ArtWorks Entrepreneur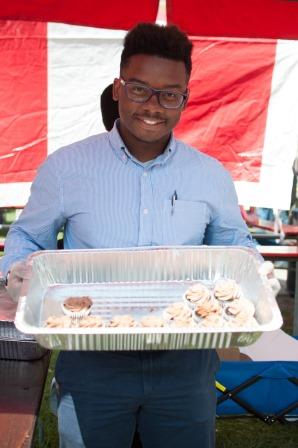 1.) What is a lesson you learned from the course/ the greatest take-a-away?
I developed my WHY statement; why do I do what I do? The answer is that OCD cakes exists to take a bite out of the stigma surrounding mental health. Mental Health issues are more common than cancer, diabetes And health disease. I hope that my business will help to draw attention to this issue our country faces while engaging those with and without mental illness in meaningful conversation and support through cake.
2.) What have you done since you took the course?
I launched my website and recreated my brand 3 different times and now, it's definitely more solidified. Check out my website here!
3.) How did you turn a flop or a failure into a positive experience?
A couple of months ago, Northside had their first annual love fest, a fundraiser for their newspaper. I made way too much food and ended up losing a lot of time and resources, but it helped me to learn how to feel out the events I choose to attend.
4.) Out of curiosity, when you were little and people asked you what you wanted to be when you grew up, what did you say?
OCD Cakes wasn't the original plan. I wanted to go to culinary school in high school, but I ended up in the hospital for a period of time. I was interested in neuroscience and was diagnosed with OCD. Baking proved to be a way to manage anxiety and my business took off from there.
---
Updates from ArtWorks Entrepreneurs
Django Kroner's tree houses might just be the secret to happiness, at least that's what Cincinnati Refined thinks. Perhaps Jeremy Mosher, another ArtWorks Entrepreneur would agree.
Though Cinco de Mayo is old news, mango guacamole isn't! Check out Lisa Andrews' recipe when she taught the city of Dayton and their FOX45 news crew how to whip up a batch.
Michelle Andersen of Flourish, a local company specializing in bringing outstanding aesthetics to functional landscapes, interiors, and architectural projects won the Best of Houzz award!
Mark Perzel from WVXU took a trip to Alicia Gibson's Heterotopia and interviewed her in honor of Independent Bookstore Day.
Lift Limits is a new video series produced by Jeremy Mosher for his job at AGAR, a social intelligence agency. Not only did he get to highlight Django Kroner (see above), but he also interviewed ArtWorks Entrepreneur, Heather Britt, from Heather Britt Dance Collective.
Jonathan Sears of PAR Projects wants you to stop by and say hello during Northside's Second Saturday on June 13.
Congratulations to Shalini Latour of Chocolats Latour for getting your Kiva Zip Loan fully funded! We can't wait to see how you grow.
Matt Madison of Madisono's Gelato was interviewed by FOX19 and spoke about his sweet artisanal treat and his experience as a Finalist during last year's Big Pitch program.
---
Opportunities Related to Business Support & Services
Covington Spring Community Grant (due by 4pm on 5/20/15)
Vendor Applications for Lumenocity
Vendors for St. James Pocket Park
---
ArtWorks Initiatives & Resources
Stay connected!
Twitter @ArtWorksCincy
Like the ArtWorks Facebook Page
Connect with other ArtWorks Entrepreneurs by requesting to join our Facebook group
---
Check out our newsletter for noteworthy updates from other ArtWorks Entrepreneurs. Sign up for the newsletter below.