For the most up to date information about ArtWorks CincyInk visit Click Here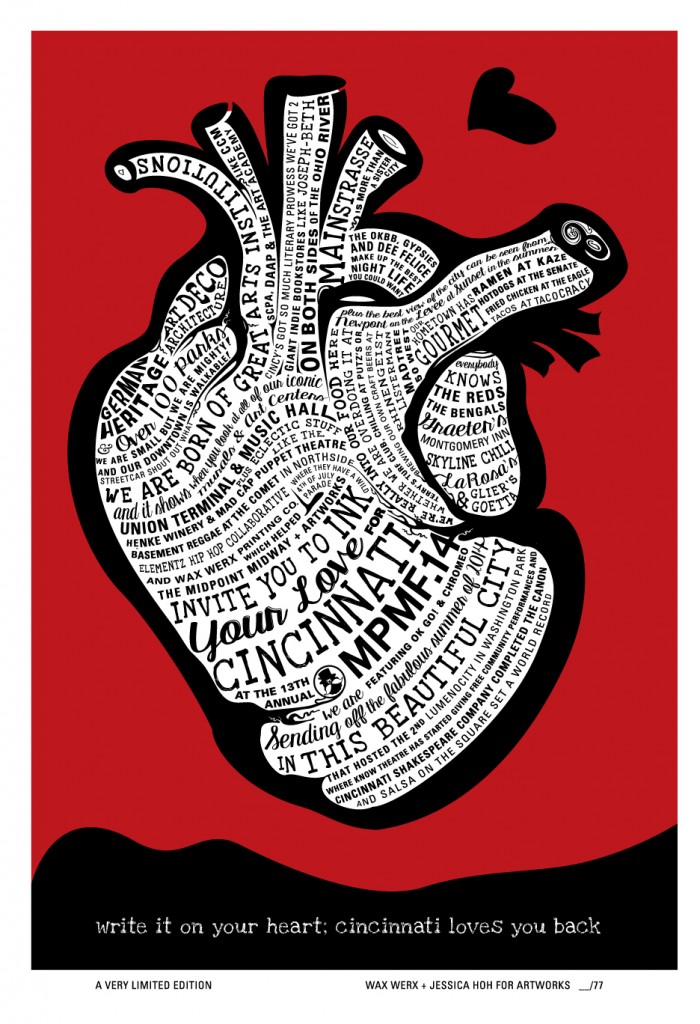 Once again this year, ArtWorks will partner with the MidPoint Music Festival (MPMF) to create MidPoint Midway, a vibrant street festival in Over-the-Rhine. Sponsored by P&G, the Midway is located along 12th Street, between Vine and Walnut Streets, and will run concurrently with MPMF, from 5:00 PM – midnight on September 25, 26, and 27, 2014.
At this year's Midway, ArtWorks will officially launch CincyInk, a city-wide celebration of love for the Queen City. Attendees will be invited to "ink their love" for Cincinnati through a range of interactive art-making experiences.
Ink-inspired 2014 Midway venues:
ArtWorks CincyInk is a city-wide artistic endeavor that encourages all who call Cincinnati home to "ink their love" for the Queen City. Postcards will prompt attendees to write and submit their reflections about Cincinnati. These postcards will be gathered and used to create one crowd-sourced poem about Cincinnati. This poem will be divided and permanently inked on 200+ participants as part of The Cincinnati Tattoo Project.
"SkateAble Track" and On-Location Printing by Able Projects features live professional and amateur skateboarding on "ink" themed sculptural ramps.  Attendees can also select an MPMF-inspired design and watch it get screen printed on a t-shirt of their choice.
ArtWorks Inked Goods is selling temporary tattoos, posters and postcards that celebrate Cincy love.
Erasure by nipnip provides a range of media for visitors to make their own poetry from Cincinnati-centric words. All participants will take home their nipnip stamped blackout poetry creations as a memento of their experience.
Short Order Poetry by Chase Public co-creates poems about personal connections to Cincinnati. Each visitor will receive a poem inspired by their own responses to various prompts and questions. They may take it with them or contribute it to CincyInk. It will then become the basis for one crowd-sourced poem to the Queen City created by Chase Public. It will also be featured as part of an assemblage of all of the poems collected throughout CincyInk.
Ink Our Icons by Amanda M. Crane invites the public to share their pride and love for Union Terminal and Music Hall by "inking" their memories of both landmarks on postcards to raise awareness, create solidarity and celebrate the love of our city. She will mail these postcards to local politicians.
Write It on Your Heart that Cincinnati Loves You Back prompts visitors to design Cincy-inspired tattoos that will be "inked" on mannequins throughout the Festival. Visitors also will be randomly selected to receive free original Cincinnati screen prints.
Along the Midway, attendees will encounter OGRE's "GargantuHands" which will be "inked" by artists throughout the event.
Beer by Christian Moerlein will be on sale at the Midway, and there will be local food trucks and water from Alpine Valley. On Friday, September 26th, Brooklyn-based indie band Real Estate will perform a happy hour concert at 5pm on the MidWay Music stage presented by P&G. The community is invited to enjoy this showcase by one of today's most talented bands.
About ArtWorks:  Founded in 1996, ArtWorks trains and employs local youth and talent to create art and community impact. ArtWorks' vision is to be the creative and economic engine which unites citizens to transform our region through public art, such as their award-winning mural program, art therapy, and creative enterprise initiatives.  To date, ArtWorks has hired over 2,500 area youth and 700 professional artists, and has trained over 200 creative entrepreneurs. ArtWorks is grateful for the support of many individuals and organizations, including the City of Cincinnati, the Carol Ann and Ralph V. Haile, Jr./U.S. Bank Foundation, the generosity of community contributions to the  ArtsWave Campaign, and the Ohio Arts Council. To learn more or to support ArtWorks, visit ArtWorksCincinnati.org.
About ArtWorks CincyInk: This city-wide celebration invites people from all walks of life to "ink their love" for Cincinnati via written words and poems. ArtWorks will collect these poetic contributions and display them online, in print, and even on wall installations for the public to share, explore and contemplate. From these written expressions, one large poem will be crafted by Chase Public. This poem will serve as the centerpiece of another component of CincyInk called the Cincinnati Tattoo Project. This artistic endeavor invites individuals to permanently ink words and phrases from the poem on their bodies as an expression of love for Cincinnati. Originally created by Lexington-based artists Kurt Gohde and Kremena Todorova, the Cincinnati Tattoo Project is a variation on previous participatory tattoo projects that took place in Lexington, Kentucky and Boulder, Colorado. More than 200 people are expected to participate. The project will culminate at an event where participants reveal their tattoos, linking all of the participants together through imagery and words.
About MidPoint Music Festival: Since 2001, MidPoint's goal has been to help you discover your new favorite band. The festival's embrace of today's emerging artists is born of the same spirit employed by Cincinnati's celebrated musical pioneers, who always reached for something new. For three days each fall, fans can walk easily between venues dotted throughout beautiful, resurgent Over-the-Rhine. This collection of young creative talent amongst an architecturally rich urban setting make MidPoint a one-of-a-kind experience.