Meet Katie Garber, ArtWorks' new Director of Creative Enterprise. Katie joined ArtWorks in February 2014 to oversee ArtWorks' Creative Enterprise division. Some may recognize Katie as the owner of Atomic Number Ten, a vintage shop that operated in Over-The-Rhine for several years. You may also her as the founder of line and loop. Or you may even ran into her at a broomball match on Fountain Square! Katie brings a lot of passion and experience to ArtWorks, and we're glad to have her. Thanks to Katie for answering a few questions on the blog today.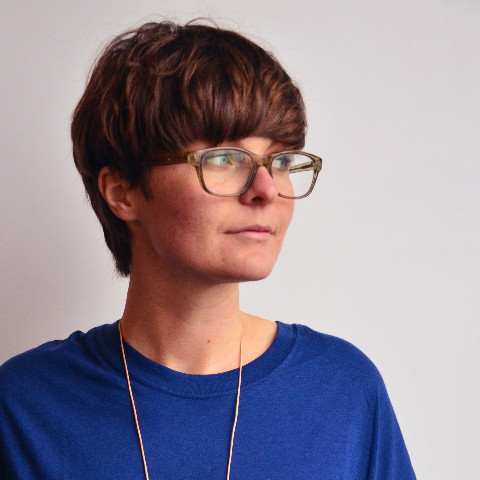 Name: Katie Garber
Hometown: Cincinnati
Your Elevator Pitch: To foster a vibrant, sustainable community by providing creatives with tools and opportunities to turn their passions into entrepreneurial ventures.
What do you do at ArtWorks?
My role is to help grow a thriving community of creative entrepreneurs in Cincinnati. I'm currently working on a couple of events that will give businesses a new outlet for access to capital, Apprentice Projects focused product development through design and business development, and overall exploring the role ArtWorks can play in this community."
What did you do before working at ArtWorks?
I owned a vintage shop on Main St. in OTR called Atomic Number Ten.  I opened the shop in September of 2009 and had a great 4 ½ year run, but I knew it was time for me to move on to a new venture. So I closed the shop in mid January and joined the ArtWorks team.
What did you want to be when you grew up?
I wanted to be a veterinarian, teacher, or marine biologist.
In your opinion, what do you think entrepreneurs still need in Cincinnati in order to be successful?
Wow, this is a big one! I think persistence and adaptability are most important. There were a number of days that I wanted to close my shop in the beginning, but I just kept pushing through with a drive to make next day better. It was exhausting, but I was doing what I loved so I knew I couldn't just give up.  I also think it's important to find a balance between staying true to yourself & your vision while also keeping your target customers wants at the forefront of your business.
What's the best piece of advice someone gave you about starting a business?
I would have to say it came from my dad, "Do it now, while you're young, naive and not too afraid to take a risk."
Which local entrepreneurs inspire you?  
I would say each one of them that I meet inspires me in some way. Being a creative entrepreneur is kind of like baring your soul to the world. Something you created from your own heart and passion is then exposed to others and it can be really scary. You get judged, you'll be misunderstood but it's also the most rewarding feeling in the world when people get what you're doing and why you're doing it. Having those genuine interactions made all the insecurities and risks worth it for me.
But more specifically, Carolyn & Mike Deininger of MiCa 12/v were a great inspiration to me as a long standing, successful retail shop in Cincinnati. Also, Alisha Budkie of SmartFish Footwear. We graduated from DAAP together, both presenting our creative enterprise ideas for our senior capstone projects and we were both able to see our ideas come to fruition.
What upcoming Creative Enterprise projects are you most excited to tackle?
I'm so excited for a game-changing event later this year that will give local creative entrepreneurs the opportunity to grow their businesses through financial support. Stay tuned for more details next month!
What are some of your favorite local businesses?  
This could be a long one, so I'll try to keep it short. For shopping, The City Flea, MiCa 12/v and Duck Creek Antique Mall. For dinner, Eli's BBQ, Arnold's and Ludlow Bromley Yacht Club (in the summer). For growing my creative skills, A World of Beads and Funke Fired Arts. And last but not least, for coffee Collective Espresso.