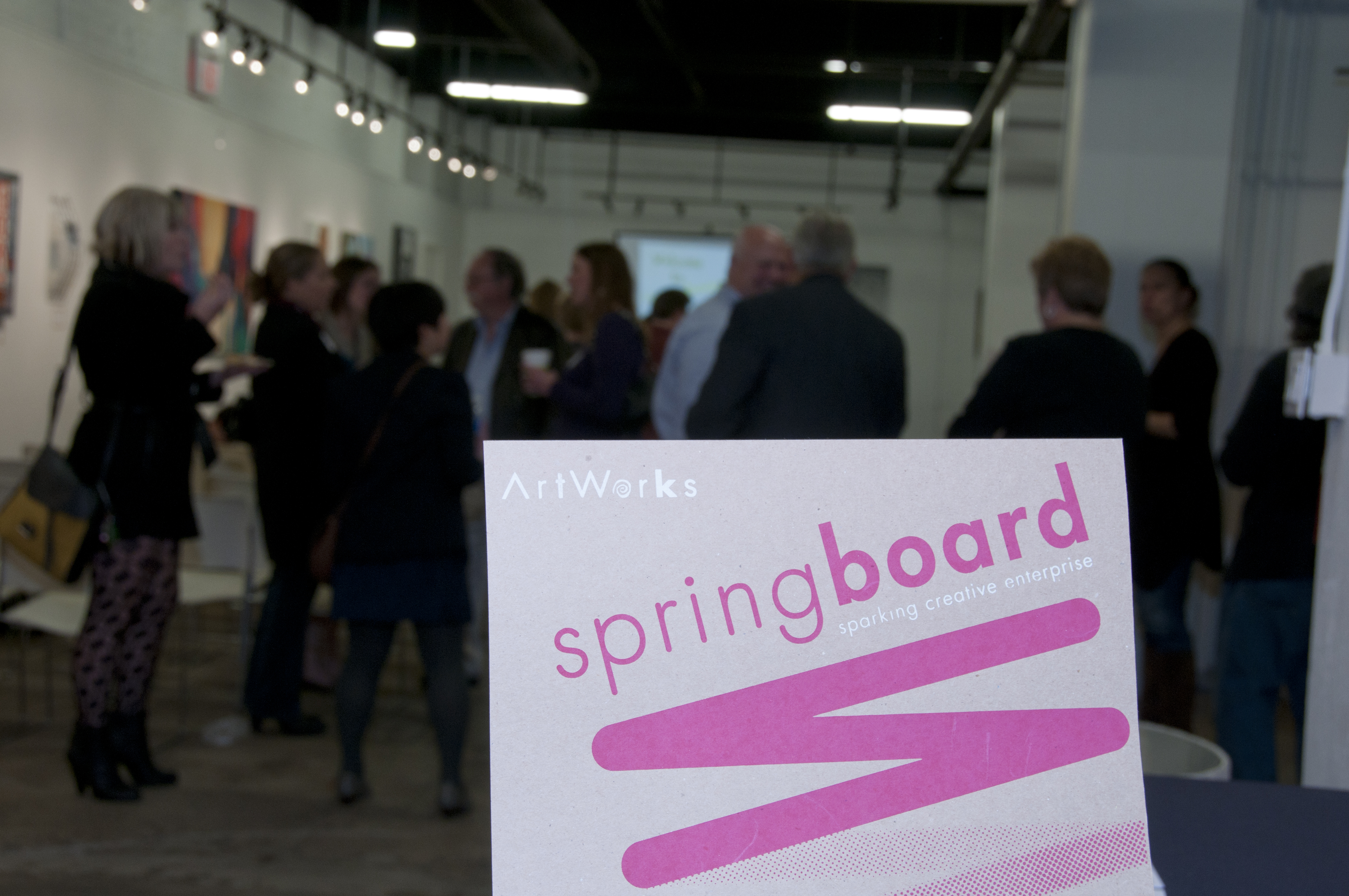 The last two months have been exciting for ArtWorks and the City of Cincinnati. On September 7th, 12 creatives and artists kicked off the second session of SpringBoard. Over the next 8 weeks these aspiring entrepreneurs built a strong foundation for launching or growing their businesses with the help of area experts and an encouraging a facilitator, Bill Cunningham. Professionals from Taft Law, Ossege, Combs and Mann, Ltd.,  Paycor, Once Blind Studios and PNC Bank volunteered time to teach these entrepreneurs how to make the best use of attorneys, accountants, payroll services, branding professionals and small business lending opportunities. And by October 25th, a whole new set of (14 to be exact) of businesses started SpringBoard's third 8 week session of the year.
SpringBoard also kicked off its first Round Table featuring the expertise of local developers and financiers who could speak to the challenges and opportunities for the creative sector to rent and own space in Over-the-Rhine. More opportunities to dive deeper into relevant topics for creative small businesses are coming soon!
In the meantime, our first round of SpringBoard entrepreneurs continue to make waves in the Over-the-Rhine neighborhood and beyond with their creative energy and talent. Most recently, SpringBoard entrepreneurs participated in Cincinnati's First Box Truck Carnival as part of CityBeat's MidPoint Music Festival's (MPMF) Midway. ArtWorks partnered with MPMF,  the region's largest celebration of emerging musical talent. Eager to add an outdoor component to celebrate MPMF's 10 year anniversary and to take creativity and collaboration to the streets, ArtWorks approached organizers with the idea of creating a Box Truck Carnival. This carnival gave artists and SpringBoard entrepreneurs a platform for creating unique experiences and installations inside the box component of truck. These trucks sparked enterprise and creativity as they served as venues for galleries, theatre performances, miniature golf, games and even a wallride for the best and baddest skating community. Over 10,000 festival attendee explored these trucks and engaged with some of Cincinnati's most exciting talent.
Thank you CityBeat, for these photos and for the opportunity to collaborate.