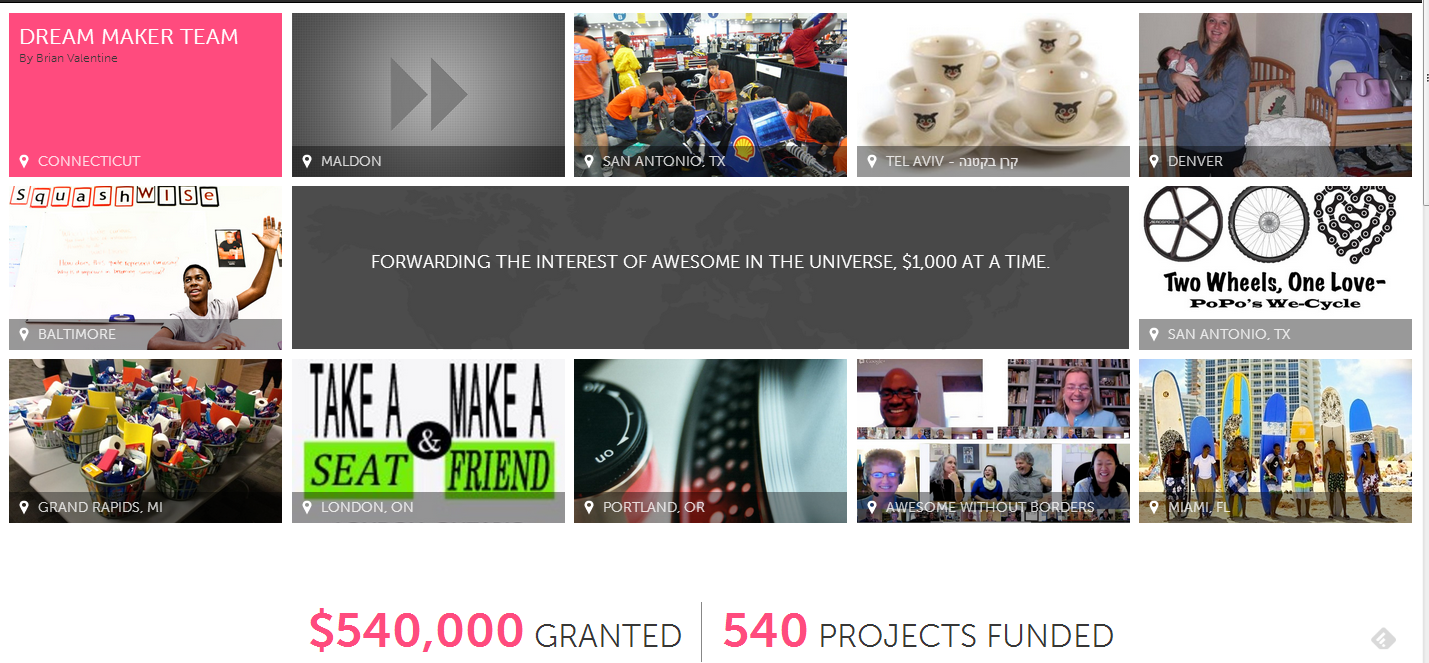 Do you have an off-the-wall idea? The Awesome Foundation is coming to Cincinnati, and they're looking for interesting, fun projects that can inject creativity into an urban environment and shake up the concept of "normal." Oh, and they want to give you $1,000 to help make it happen.
ABOUT THE AWESOME FOUNDATION
The Awesome Foundation is an ever-growing, worldwide network of people devoted to forwarding the interest of awesomeness in the universe. Created in the long hot summer days of 2009 in Boston, the Foundation distributes a series of monthly $1,000 grants to projects and their creators. The money is pooled together from the coffers of ten or so self-organizing "micro-trustees" and given upfront in cash, check, or gold doubloons. The chapters are autonomous and organized by the trustees around geographic areas or topics of interest.
The Foundation provides these grants with no strings attached and claims no ownership over the projects it supports. It is, in the words of one of our trustees, a micro-genius grant for flashes of micro-brilliance.
Since its humble beginnings, many Awesome Foundation chapters have sprung up globally to conserve, sustain, and support the worldwide ecosystem of awesomeness. Projects have included efforts in a wide range of areas including technology, arts, social good, and beyond.
How can I apply? 
Simply fill out the application by June 3 and you will be considered for the June Awesome Project. However, the Awesome Foundation has rolling admission so you can apply at any time.
The ideal project…
…can be seen and experienced at street level by all people
…is odd, unique, crazy, weird, or all of the above
…must be transitory and temporary – it can only exist for ONE MONTH
Some Awesome Foundation projects from other cities…
Chicago's giant cardboard box castle
New Haven's community-wide scavenger hunt
Seattle's community paint-by-numbers mural
Boston's cotton candy cannon
Links: 
http://www.awesomefoundation.org/en
http://www.awesomefoundation.org/en/chapters/cincinnati/
Follow the Awesome Foundation on Twitter @awesomecincy or like them on Facebook
Cincinnati Chapter Board of Trustees:
Morio Alexander, Tony Alexander, Eric Avner, Chris Bergman, Sarah Corlett, Erin Kidwell, Naashom Marx, Rob McDonald, Dave Menninger, Mohit Mehan, Tim Metzner, Jim Price, Kristine Sturgeon, Vance VanDrake, Tim Vogt