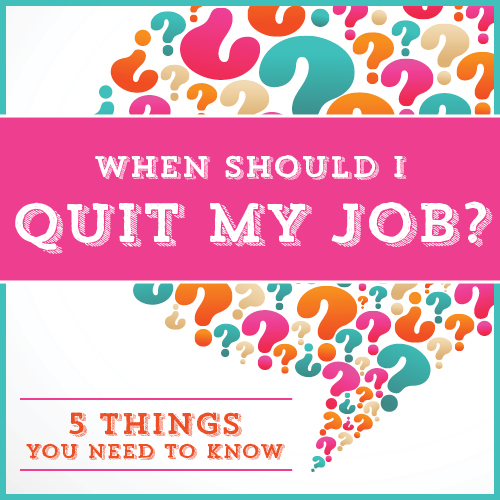 We are happy to welcome Sara Cormier to the blog today to share her tips on when it's time to quit your job.
Hello!
Sara Cormier here, Creative Director and Owner of Cormier Creative—A Smart Design Studio and author of other popular guest blog posts such as…When will I be ready to have a baby? and When will I be ready to die?
I hope you're picking up on my sarcasm.
The truth is, you will never be 100% ready to quit a job to start your dream job of working for yourself. There will never be a day in your life when you wake up and say, "You know, today is the day that I feel completely comfortable telling my boss that I'm giving up this steady gig that pays on time an provides sweet health insurance and other grown-up niceties like 401Ks, W-2s, flex spending accounts… ya know.
However, there are some things that you can do before you quit your job that will prepare you for success in your future venture. Here are five things I've learned along the way:
1. Get your finances straight.
Get loans while you have a job. Don't quit your job and expect to buy a house the next month. Banks aren't gonna like the looks of you on paper when you aren't raking in the dough! Need a credit card or a new car before you quit the steady gig… do that too.
2. Go ahead and get the party started.
It would be pretty sad to quit your job only to hear the sounds of birds chirping when you launch your business. It's okay to test the waters before you make the leap! I had a fairly large list of clients I was working with on the side before I began Cormier Creative full-time. When it got to be too much to handle, that's when I made my decision.
3. Invest in smart things while you have the extra money rolling in.
For me, this was my website. Best decision ever! I love my site and I'm confident in its ability to give potential clients a good taste of what it's like to work with me. For you, this could be supplies, a logo and branding package, business courses, a sign, a better camera… you name it!
4. Prepare for unexpected crap.
Pardon my language, but it's true. There's gonna be a lot of crap to get through during your first years. It might even suck. True story: On the VERY FIRST DAY after leaving my job, my husband lost his job. Oh, hello scary town! So while I guess you can't really prepare for the unexpected, know that it's coming just when you least expect it.
5. It's really hard work.
Owning your own business is a million times harder than working at your current day job. But I can tell you, that it's a billion times better and you can do it!
Good luck!