Yesterday's ArtWorks Summer Celebration was an amazing opportunity for our ArtWorks family to come together and reflect on our Season of EMPOWERMENT. With 13 projects, 107 Youth Apprentices and 25 Teaching Staff, we had a lot to cheer about with our parents, partners, and supporters!
"Deja is so grateful she has been a part of ArtWorks these couple years," said Dabranda Pennington, mother of a Youth Apprentice, to the crowd. "I have seen so much growth and change in her, and I'm so happy."
She shared Deja, 16, used to come home from school and stay in her room until dinner. But these days, she helps around the house and she is excited about getting up and going to work. Deja's confidence has grown by leaps and bounds.
Deja had her first Apprenticeship last summer on The Early Bird by Bongang on the Over-the-Rhine Recreation Center.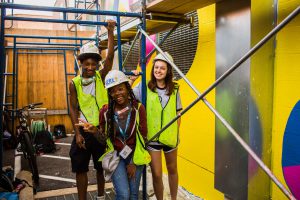 "When we drive around the city with family, she can point out the mural that she helped to paint, and it does so much for her confidence," Dabranda said.
Not only does Deja have more confidence, but Dabranda feels like ArtWorks has prepared Deja for the working world, teaching her daughter financial responsibility.
She shared how Deja wanted a new music keyboard, as she is very musically inclined. But the cost was too high for household finances. With her ArtWorks paycheck, Deja was able to save her money and buy her own keyboard, furthering her musical education.
"With Deja's apprenticeship, I'm so grateful for is the financial element," Dabranda said. "Now that she's able to work and make her own money, she was able to do this and show me how responsible she is. ArtWorks has given her so many skills she can take on into her adult life. She's going to be ready when she gets into the real world because ArtWorks has prepared her."
This summer, Deja's work on ArtWorks Hero Design Company was a different experience than the towering scaffolding and sweltering heat of an ArtWorks' mural projects. Through Hero Design Company, Youth Apprentices meet children in crisis and design and sew their own superhero capes. This summer's team turned 120 children into superheroes.
Dabranda could see the effect this impactful program had on Deja.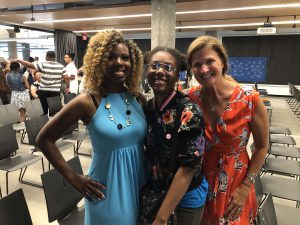 "She suddenly had this sense of importance from working with the children on these capes," Dabranda said. "This project, in particular, boosted her confidence and it felt important to her to do her best for these kids she was working with."
Dabranda is so happy for her daughter and appreciates the support of ArtWorks mission and programming from our generous sponsors and donors.
"Through her time at ArtWorks, Deja has made so many friends. Not friends really—family."
We are all part of this amazing dynamic family called ArtWorks. We hope to hire more Youth Apprentices every year, so the impact of creativity on our region's youth is an opportunity more can have.
Join us in supporting creative young people, like Deja, with your gift today. You can give the next young person this opportunity next year.