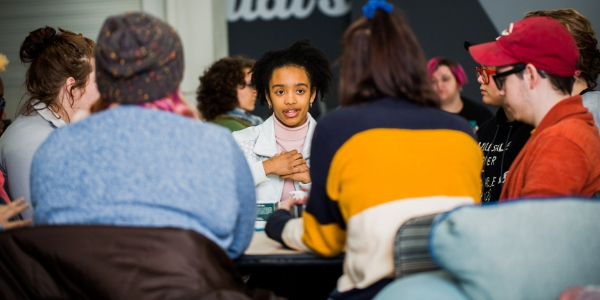 Have you ever asked, "What does utopia look like to you?" Or maybe "What is a common belief you have rejected? Why?"
These are the types of questions that players ask in the new ArtWorks' game Hey, Let's Talk, designed by local artist Kate Tepe and 6 youth apprentices: Ezra Cline, Hannah Feibelman, William Humason, Charlie Keiser, Corinne Lerma and Brigid Murphy.
Using art to increase community engagement was a concept ArtWorks has begun exploring in 2015 when Interact for Health, an independent foundation dedicated to improving the health of all people in 20 counties in Ohio, Kentucky, and Indiana, approached the organization about creating a project to show how art can help to reduce mental health stigma in youth, who are especially at risk.
So the ArtWorks team began to research what could be possible. The idea to create a game began to emerge after a visit to the San Francisco-based Bring Change to Mind—a nonprofit that is dedicated to encouraging dialogue about mental health. There the team learned more about Bring Change to Mind's High School Program that gives teens a platform to share their voices and raise awareness around mental health.
In Tepe, ArtWorks found a designer with experience in creating games that focus on community interactions. Her other work include the games The Off-Line Dating Game for the Contemporary Art Center, Race Cards for Cincinnati Art Museum, Sensationalize for University of Dayton, and Hello, There for the Network of Executive Women's Cincinnati Chapter.
"Her amazing portfolio was a perfect fit with what we wanted to do," said Megan Rahill, ArtWorks' program manager.
Because the game is meant for youth, the ArtWorks team went through a rigorous independent review board process in late 2017 with Cincinnati Children's Hospital Medical Center. And this past spring, the youth apprentices and project manager, Bethany Pelle, conducted community engagement focus groups to determine what the game should look and feel like. A therapist was on hand in case.
During the summer, Tepe began working with the apprentices to design the game.
"Apprentices got a lot of training (in the spring)," Tepe said. "I found myself having to trust what they were saying, because they were really the boots on the ground. They said this has to be fun. So we explored the game mechanics, making sure the mechanics would work independently from the conversation. The winning is the sharing."
Why is this important?
According to NAMI (National Association of Mental Illness), half of people who experience a mental health condition develop symptoms by age 14, and 75 percent exhibit symptoms by age 24.
Young people report suffering higher levels of stigma than adults, and that lack of support has many implications on their capitalization of opportunities, particularly impacting education, economic, and social opportunities.
Mental health challenges affect nearly 20 percent of the U.S. population, and 75% of those report experiencing stigma related to their condition.
Stigma is a form of discrimination—verbal or behavioral—against people with the goal of setting them apart, creating a stereotyped group. In addition to being subject to discrimination, isolation, and stereotypes, prejudice is another negative byproduct those suffering from mental illness face. Learn more about ways to fight mental health stigma.
Impact on Youth

This fall, with the game completed, the team has been reaching 250 local youth through schools and community and arts organizations, teaching them how to play Hey, Let's Talk.
"With this game, we're using creative game play to have strangers become friends," Tepe said.
With each community engagement, ArtWorks has been receiving feedback from participants.
"It's nice because you have an excuse to discuss things you wouldn't originally talk about," wrote one student from University of Cincinnati.
"This is a great game for expanding dialogue on mental health," wrote another.
The apprentice team of six was on board for three seasons with this project—two times longer than the typical ArtWorks public arts project. They have seen Hey, Let's Talk through from concept to real-life gameplay.
"The moments that really stop me in my tracks and make me think, 'Wow, this is really working' happen when a shy participant starts to open up," Humason said. "Sometimes being social is enough of a hard task for a lot of people. But having mechanics and a sense of competition can facilitate responses better."
At the engagement events, apprentices are seeing how the teens and young adults participating are opening up.
"We're making an impact, whether it be big or small, on all these strangers by simply saying 'Hey, let's talk,'" Keiser said. "Everybody has a story to share, and everybody has things that speak to their character."
ArtWorks is grateful for the organizations and schools that partnered on these community engagement events. Participating organizations include Art Academy of Cincinnati, Bellevue Middle/High School, Boys & Girls Clubs of Greater Cincinnati, Cincinnati Art Museum, Cincinnati Main Library's TeenSpot, The Contemporary Art Center, Harrison High School, Indigo Hippo, Indian Hills High School, Oak Hills High School, Price Hill Will's MyCincinnati Program, Riverview East Academy, St. Bernard Elmwood High School, University of Cincinnati, The Welcome Project, Western Hills University High School, Woodward High School and Xavier University.
"We're so thankful that we've received so much support for this project and believe in the game," Rahill said. "Seeing the game in action, it shows how art can transform our community."
Get a Copy
If you are interested in getting a copy of Hey, Let's Talk, please fill out the form below. We are accepting orders for one copy per person. If you have a need for a bulk order or have other questions, please contact ArtWorks at info@ArtWorksCincinnati.org.
If you need help
Here are some resources, because sometimes you just need a little help and that's okay.
National Resources
Cincinnati Resources
Talkspace – Crisis Care Center, open 24-hours-a-day. 513-281-CARE (2273) or text 4Hope to 839863.
Fernside Center for Grieving Children, 513-246-9140, fernside.org
About ArtWorks
Since 1996, ArtWorks has been transforming people and places through investments in creativity. ArtWorks has hired more than 3,300 youth and 2,900 professional artists who have completed more than 12,000 public and private art projects. ArtWorks has also trained more than 570 creative entrepreneurs contributing to Cincinnati's economic growth. We work to enrich the region's social, economic and cultural vibrancy and to create a lasting legacy to Cincinnati's talent. Creativity is our currency.
Photos by Bergette Photography.