For the second year in a row ArtWorks and Pedal Wagon Cincinnati are teaming up, offering a unique way to view some of the city's 100+ murals. The Cincinnati Mural Tour, offered by Pedal Wagon, is the first of its kind for the company. Riders traverse the downtown landscape to see Cincinnati's urban masterpieces throughout Downtown, The Banks, Findlay Market, and Over-the-Rhine.
In addition to the usual Pedal Wagon 'Captain' who steers and navigates, an ArtWorks trained tour guide will also be aboard each wagon. The tour guide will tell riders all about the history, artists, and inspiration behind Cincinnati's favorite murals.
"We are so excited to be working with Pedal Wagon again to give Cincinnati a fun and offbeat way to see our murals and learn more about our organization," said Colleen Houston, ArtWorks chief programming officer.
This unique tour is the perfect way to spend a creative day in Cincinnati for people of all ages. Ten percent of all proceeds will go to ArtWorks to support their continued community impact efforts.
"We are very excited to be partnering with ArtWorks again this year in bringing a unique way for Cincinnatians to experience their iconic murals," said Stuart Naeny of Pedal Wagon. "Many of us walk and drive by these murals every day but don't know their stories—why they were created, who created them, what they mean to the city of Cincinnati, and more. ArtWorks is such an incredible company, and we are proud to support their continued mission of enriching the region's social, economic, and cultural vibrancy by transforming people and places through investments in creativity. We look forward to many creative and fun pedal-powered adventures ahead!"
The tours start in March 2019 and will roll through November. Interested riders should visit Pedal Wagon's website for booking information.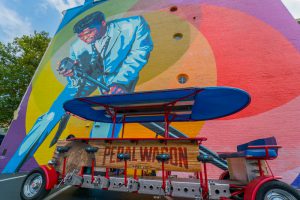 About ArtWorks
Since 1996, ArtWorks' has been transforming people and places through investments in creativity. The organization is a workforce development and job-training program where art is the vehicle that trains and employs local youth and professional talent to create art and community impact. ArtWorks has hired over 3,300 youth and 2,900 professional artists who have completed over 12,000 public and private art projects.
About Pedal Wagon
Founded in 2012, Pedal Wagon is a 15-person, pedal-powered rolling celebration on a mission to bring business to local businesses. Operating seven days a week, you can reserve the entire Pedal Wagon for a private cruise or just part of it on a public cruise.
Riders can choose from a variety of cruises, on which you will share a memorable experience with friends, family, co-workers, or complete strangers while enjoying the city's fantastic restaurants, bars, landmarks, and "best-kept secret" local establishments. Pedal Wagon has been BYOB, with restrictions, since 2015. Pedal Wagon cruises can also be kid-friendly, upon request.
For booking, please visit https://pedalwagon.com/cincinnati/, call or text 513-201-7655, or email info@pedalwagon.com.