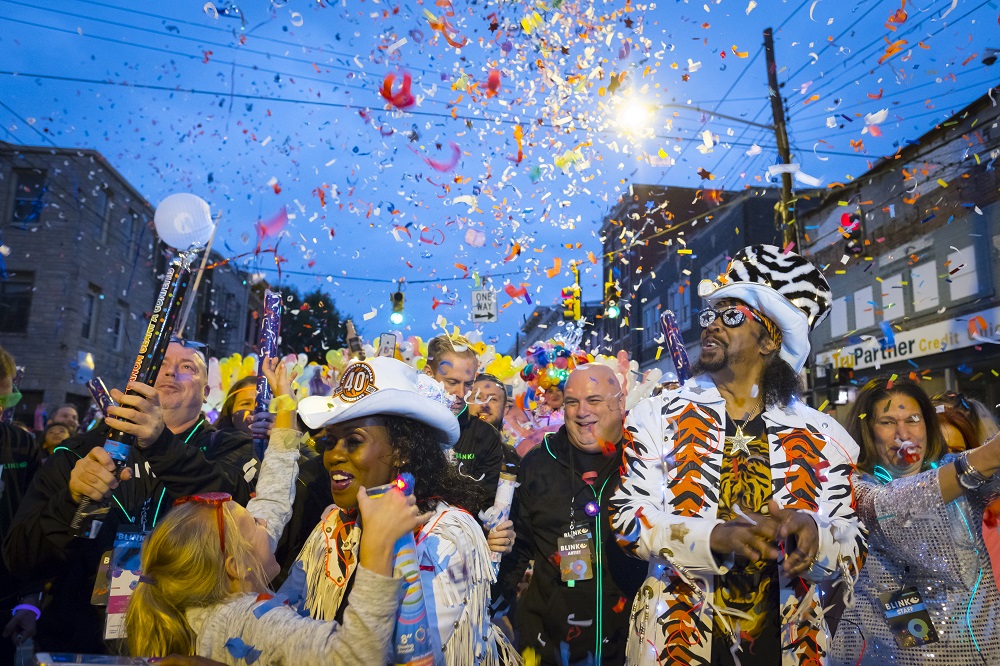 CINCINNATI—SEPTEMBER 10, 2019 – The BLINK® Future City Spectacular Parade, presented by Skyline Chili and curated by ArtWorks, will kick-off the BLINK art, light and culture event, Oct.10, 7:30 p.m. The parade will move south on Vine Street in Downtown Cincinnati, from Eighth Street to Rosa Parks Street and West Freedom Way at The Banks. In the coming days, the City of Cincinnati will release helpful information related to traffic and parking.
"The BLINK Future City Spectacular Parade shines a light on the many school, church, nonprofit and civic groups, who light up our region each day," said Tamara Harkavy, founding CEO and artistic director of ArtWorks. "BLINK is a rainbow that brings a diverse collection of individuals and groups together for a shared moment of incredible art and community. We're proud that the 2019 BLINK parade will feature more than 3,000 of your friends and neighbors."
The BLINK Future City Spectacular Parade will feature:
3,200 individuals
85 total participating groups
19 performance groups
18 lantern-making groups
17 float/kinetic sculptures
17 costume groups
7 puppet groups
7 regional marching bands
The 2019 BLINK Future City Spectacular Parade grand marshal will be Jean-Robert de Cavel, world-renowned chef and humanitarian. Jean-Robert de Cavel was born in France and worked abroad before moving to the United States. He came to Cincinnati in 1993 to become the Chef de Cuisine at the Maisonette. He currently owns and operates Jean-Robert's Table, French Crust Café & Bistro, Le Bar a Boeuf, Frenchie Fresh and Restaurant L in Cincinnati. After the abrupt death of their firstborn child, Jean-Robert de Cavel and his wife Annette Pfund-de Cavel formed the de Cavel Family SIDS Foundation in 2002.
"BLINK puts Cincinnati, the region I love, on a global map as a creative and inclusive future city – and it gives visitors from around the region, the nation and the world the opportunity to enjoy Cincinnati's booming and innovative food scene. I'm humbled and honored to serve as grand marshal for the BLINK parade," said Jean-Robert de Cavel.
"We're jazzed that our friend, Jean-Robert, will be the face and the heart of the BLINK Future City Spectacular Parade. We're equally grateful for the support of Skyline Chili and overwhelmed with the outpouring of interest and excitement from our regional community," added Ms. Harkavy.
BLINK Future City Spectacular Parade Sneak Peek
Local artist Kenton Brett led a team of 10 ArtWorks Youth Apprentices this summer to imagine and create an internally illuminated parade of future-city inhabitants. They created 15 robot costumes which are lit up with LED and light-based tech.
Jesse Mooney-Bullock, another local artist, led a team of six ArtWorks Youth Apprentices to create Galactic Light Beast puppets. Designed to affix to backpack units, these wearable beasts will be mobile and fun as they activate the streets of downtown Cincinnati during the parade, and tell a story through projection and movement, carried by local artist-performers.
Get a VIP view of the BLINK Future City Spectacular Parade
Those who purchase the BLINK VIP experience have first dibs on VIP seating for the BLINK parade. See all of the VIP benefits and grab BLINK swag at shop.BLINKcincinnati.com.
BLINK workshops for parade spectators
BLINK is encouraging parade spectators to dress in clothing and costumes that illuminate as a kickoff to the event.  Several organizations including Baker Hunt, Cincinnati Museum Center, Cincinnati Art Museum, the Contemporary Arts Center and Hellmann Creative Center are hosting a series of workshops for parade spectators who wish to create costumes or props for watching the BLINK Future City Spectacular Parade. For details, visit www.BLINKcincinnati.com.
Participate in BLINK as a volunteer
BLINK is powered by volunteers. Register now to be part of Cincinnati's homegrown art, light and culture event.
About BLINK
BLINK, illuminated by ArtsWave, will happen Oct. 10-13 from Cincinnati's Findlay Market neighborhood to Covington, Kentucky – bridging two states, and spanning 30 city blocks and the Ohio River. The only U.S. event of its kind, BLINK will feature large-scale projection mapping, murals by international artists, interactive light sculptures and diverse entertainment. Free and open to the public, BLINK's inaugural four-night event in October 2017 spanned 20 blocks and was experienced by more than one million visitors, the largest gathering of people ever in downtown Cincinnati and Over-the-Rhine. BLINK is produced by The Agar, ArtWorks, Brave Berlin, the Carol Ann and Ralph V. Haile, Jr./U.S. Bank Foundation and the Cincinnati USA Regional Chamber.

About ArtWorks
Since 1996, ArtWorks has been transforming people and places through investments in creativity. The organization is a workforce development and job-training program where art is the vehicle that trains and employs local youth and professional talent to create art and community impact. ArtWorks has hired over 3,500 youth and 3,000 professional artists who have completed over 12,000 public and private art projects. ​Learn more at ArtWorksCincinnati.org.