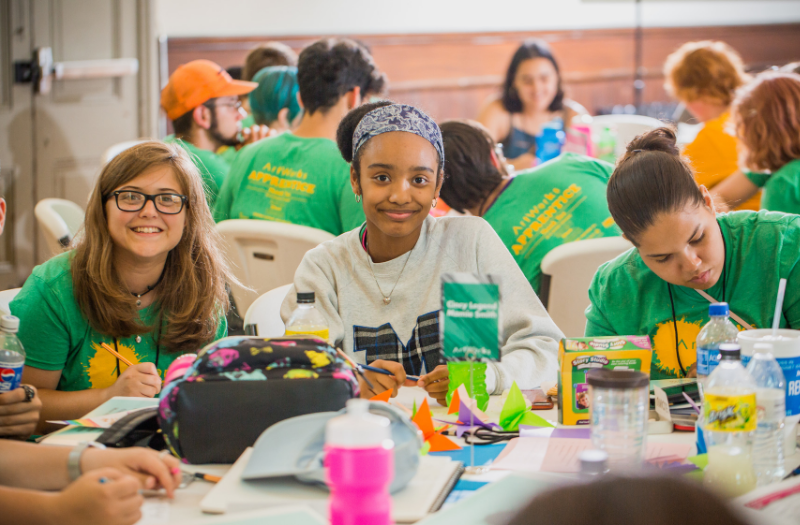 ArtWorks is very grateful for the generosity of the Charles H. Dater Foundation for their ongoing support of $25,000 in 2018 that supports the employment of our Youth Apprentices.
This past year, ArtWorks hired 177 Youth Apprentices, ages 14-21, to create 326 works of art. With help from the Dater Foundation, we were able to employ our Youth Apprentices with a living wage.
"The Youth Apprentices are the heart of ArtWorks, and I'm so grateful that the Dater Foundation has supported them over the years," said Tamara Harkavy, ArtWorks CEO and artistic director. "For many, an ArtWorks Apprenticeship is their first job, and we're honored to provide these young adults with the opportunity to explore creative careers."
In 2018, ArtWorks Youth Apprentices came from 60 local communities and 53% lived in low-income households. They reflect the rich cultural diversity of our community with their demographics of 46% White/Caucasian, 37% Black/African-American, 9% Hispanic or Latino, 7% Multi-Racial and 1% Other. Our Youth Apprentices represented 35 high schools and 12 colleges or universities.
The Dater Foundation is about enriching young lives and its mission to make grants to nonprofits in the Greater Cincinnati area to carry out projects and programs that benefit children, teens, and young adults, focusing in the areas of arts and culture, education, healthcare, social services and other community needs.
The Dater Foundation was one of ArtWorks' earliest funders when the nonprofit was established in 1996. "In the beginning, the Dater Foundation took a chance in supporting us, which was critical in getting ourselves established," Harkavy said. "I thank them so much for being one of our early adopters and ongoing supporters."
The Foundation was established by the late Charles H. Dater in 1985 to ensure that funding for worthwhile community programs would continue after his death.
About ArtWorks
Since 1996, ArtWorks' has been transforming people and places through investments in creativity. The organization is a workforce development and job-training program where art is the vehicle that trains and employs local youth and professional talent to create art and community impact. ArtWorks has hired over 3,300 youth and 2,900 professional artists who have completed over 12,000 public and private art projects.
Image by Bergette Photography