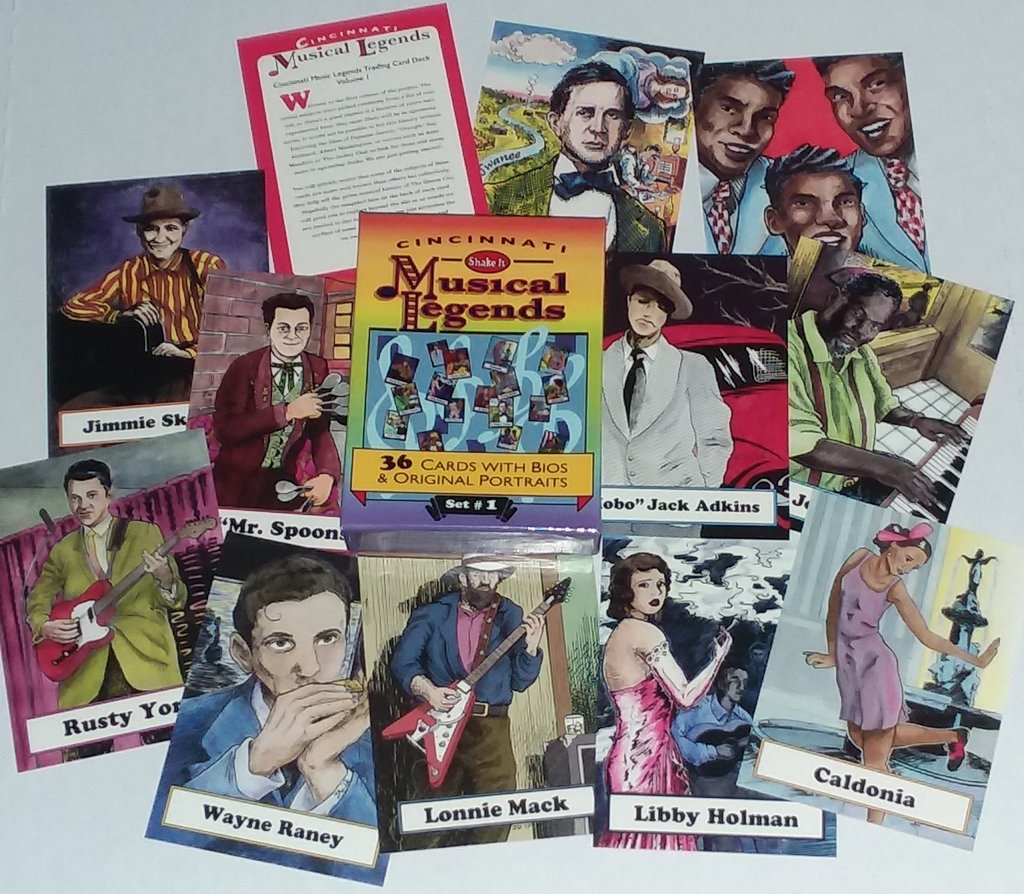 The inaugural Cincinnati Musical Legends collectible card deck set is now available at Shake It Records in Northside. This first set features 36 Cincinnati musical legends, who were selected to tell a diverse and fascinating history of music in our Queen City.
The card deck is a collaboration between Shake It Records and ArtWorks to tell the stories of known and unknown Greater Cincinnati region musical performers, places, and labels who have influenced music within the region and beyond.
The project was headed up by master sign painter and comic legend Justin Green, along with the steady assistance of ArtWorks Lead Teaching Artist Joe Walsh, ArtWorks Youth Apprentices Josie Masset, Katelan Thomas, and Kadin True, and Guest Artist Joe Kuth of Shake It Records.
From Mamie Smith to Lonnie Mack, Caldonia to Katie Laur and Hobo Jack Adkins to The Cotton Club—all are celebrated with an original portrait and a short biography on the back.
Cincinnati Musical Legends Trading Cards Set #1 is available for purchase at Shake It Records in store at 4156 Hamilton Ave or online for $15.99. Fifteen percent of the proceeds will go to supporting the ArtWorks Youth Apprenticeship Program.
The original art with memorabilia is now on display at Shake It, with the display moving this fall to the Public Library of Cincinnati and Hamilton County's Main Library.
We thank Shake It Records for their generous support of this project, and special thanks to Darren Blase for researching and writing the biographies.
Find out more about the Cincinnati Musical Legends Card Deck Set # 1
About ArtWorks
Since 1996, ArtWorks has been transforming people and places through investments in creativity. The organization is a workforce development and job-training program where art is the vehicle that trains and employs local youth and professional talent to create art and community impact. ArtWorks has hired over 3,500 youth and 3,000 professional artists who have completed over 12,000 public and private art projects. ArtWorks' projects are supported by generous contributors, like you. 
Give the gift of creativity today
.