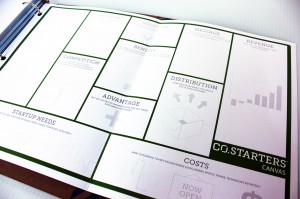 This Wednesday, the Winter CO.STARTERS class will already be four-weeks old. Almost halfway through their session, ArtWorks is very proud of the progress these entrepreneurs have made in their journey of business planning, development and creative thinking.
For those who don't know: CO.STARTERS is a 9-week business development course designed for creatives to explore and develop a business concept or grow an existing business. Interested in hearing more or signing up for the Spring class? Click here.
Take a look at our winter line up of #ArtWorksEntrepreneurs flexing their business muscles:
Cassy Kupka: Cassandra Kupka Photography, a natural light portrait, event, and fine art photography business
Liz Field: Cincy Sweets Bakery
Kelly Thomas: Writing Coach & Creative Marketing Strategist
Trudy Chambers and Tyler Lorenz:  Vardos of Covington, a mobile performing arts organization
Abigail Driscoll: Freestate, an online resource that makes it easier for consumers to shop ethically and sustainably
Mark Mussman: Creative App Project, a dynamic, hands-on, educational experience for everyday citizens to learn how to create and develop Android Apps
Desirae Hosley: Scribes Writing Workshop, a writing program focused on creating safe writing space for teenagers.
Jason and Jessica Raines: The Wooden Lion Toy Company, a manufacturer of handmade and handpainted toys
Julia Rose Fischer: The Play Library, a library for lending toys and games
Brittany Lewin: Plans to open a business that will destigmatize student loan debt. Name is TBD.
Deogracias Lerma and Matt Steffen: Polly Magazine, a biannual magazine that showcases regional and national/international talent in all areas of art and culture
Katherine Powis: Dear Pennyroyal, a jewelry company that uses vintage materials
Jesse Mooney-Bullock: Jesse Mooney-Bullock Puppets, a manufacturer of carved wooden and unique sculptural puppets
Stay tuned for updates from this outstanding roster of creative thinkers and entrepreneurs!