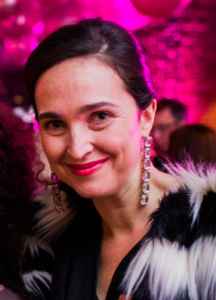 ArtWorks is proud to announce Colleen Houston, chief programming officer, is a finalist for the Cincinnati Business Courier's 2019 C-Suite Awards.
In her role, Houston oversees the day-to-day operations of the organization's award-winning public art projects and workforce development of the region's next generation of artists. As an ArtWorks youth apprentice alumna, Houston has been with the organization since 1997. Under her leadership, ArtWorks strategically shifted focus to transformative public art and mural creation in 2007. ArtWorks has completed 180 permanent murals and more than 12,000 public and private art projects.
"Colleen's leadership has certainly taken ArtWorks to the next level," said Tamara Harkavy, CEO and artistic director. "She cares deeply about the youth we employ who are creating the public art that is transforming our city. She sees so clearly how art changes young people and how it can be used to reflect our history and our future. Colleen was the catalyst we needed to change ArtWorks into the creativity powerhouse that we are today."
Houston is on the planning team for the upcoming BLINK®, illuminated by ArtsWave, planned for October 10-13, 2019, in downtown Cincinnati and Covington. She serves on the board of the Mini Microcinema, which shows experimental film, video, media to the community for free. She volunteered as a consultant to help launch CoSign, a program for neighborhood business districts to create signage that celebrates the unique characteristics of communities. Houston received Legacy's Next Generation Leader Award in 2014 and is a graduate of EXCEL, a leadership development program of the Nonprofit Leadership Institute of Greater Cincinnati. She has a bachelor's of Public and Social Art from Warren Wilson College.
Houston will be honored Thursday, August 22, 5:30pm – 8:30pm at the Renaissance Cincinnati Hotel at the Cincinnati Business Courier's 5th annual C-Suite Awards, honoring the top executives whose leadership has made a profound impact on their company.
If you are interested in helping ArtWorks honor Colleen, contact Sandra Okot-Kolber at sandra@artworkscincinnati.org or at 513.333.0388.
About ArtWorks
Since 1996, ArtWorks has been transforming people and places through investments in creativity. The organization is a workforce development and job-training program where art is the vehicle that trains and employs local youth and professional talent to create art and community impact. ArtWorks has hired over 3,500 youth and 3,000 professional artists who have completed over 12,000 public and private art projects. ​Learn more at ArtWorksCincinnati.org.