Parade is Our Region's Opportunity to Shine at BLINK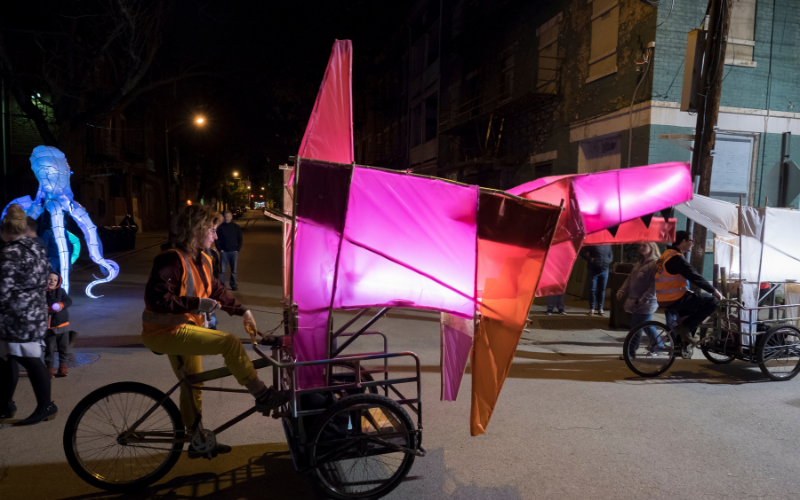 BLINK®, illuminated by ArtsWave, is now accepting applications for community participation in the October 10 BLINK Light Parade presented by Skyline Chili.
The Parade celebrating the opening of Cincinnati's homegrown art and light phenomenon is seeking artists, arts and cultural organizations, schools, community groups and others to submit creative parade concepts for Cincinnati's only nighttime art parade.
Proposals for the Parade could include costumes, puppets, floats, performance, music and more — all illuminated by light. More than 100,000 witnessed the inaugural BLINK Light Parade in 2017.
"Because there is already tremendous excitement for the BLINK Light Parade we're expecting lots of imaginative concepts from the community," said Tamara Harkavy, CEO and artistic director of ArtWorks, the parade's producer. "With new partnership and support from Skyline Chili, we expect to be inspired by the ideas submitted by local organizations. This is our region's opportunity to shine at BLINK."
Applications are now being accepted at www.blinkcincinnati.com/paradeapplication and are due by Monday, May 20, 2019. Those interested in learning more about the application process are invited to attend an information session. Attendance is not required to apply.
Attend an informational session:
BLINK Parade Info Session: Arts & Cultural Organizations, Thursday, February 21, 5:30-7 p.m., Cincinnati Museum Center at Union Terminal, 1301 Western Avenue, Cincinnati 45203
BLINK Parade Info Session: Artists, Tuesday, February 26, 5:30–7 p.m., The Carnegie, 1028 Scott Boulevard, Covington 41011
BLINK's inaugural four-night event in October 2017 spanned 20 Cincinnati blocks and was experienced by more than one million visitors, the largest gathering of people ever in downtown Cincinnati and Over-the-Rhine.
BLINK® is produced by The Agar, ArtWorks, Brave Berlin, the Carol Ann and Ralph V Haile, Jr./U.S. Bank Foundation and the Cincinnati USA Regional Chamber.
About ArtWorks
Since 1996, ArtWorks' has been transforming people and places through investments in creativity. The organization is a workforce development and job-training program where art is the vehicle that trains and employs local youth and professional talent to create art and community impact. ArtWorks has hired over 3,300 youth and 2,900 professional artists who have completed over 12,000 public and private art projects.