On Wednesday, October 12,  we kicked off the fall session of ArtWorks CO.STARTERS. Read on to see who's who in this class of creative entrepreneurs looking to put business ideas into action, and turn a passion into a sustainable and thriving small enterprise!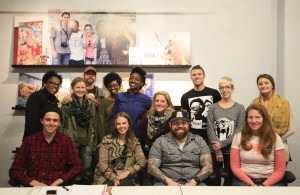 Camille Woods, C. Woods Personal Training
C. Woods Personal Training combines fitness training and guilt-free energy treats.
Ryan Fardo & Amy Fardo, Pistons & Polish
Pistons & Polish is a husband and wife team that creates unique household goods, lighting and furniture, and jewelry. In addition, they upcycle unique vintage items, turning them into fine goods.
Melissa & Kyle Sliney, Pop Rocket Creations
Pop Rocket Creations is a photo + design team, started by a husband and wife who share similar inspirations, drawing heavily from pop art and pop culture.
Anthony Mansfield, Kneel to No One
Kneel to No One creates live art for events. They begin with a pencil drawing and then paint it in real time over the course of the evening.
Caitlin Collord, Life's Work
Life's Work is a personal concierge and lifestyle management company that helps clients manage their lives and households. Sample services include: general errands, coordinating and scheduling home service providers, event planning and assistance and home organization.
Eric Bishop, Heavy Meta Press
Heavy Meta Press will be a photo-book that will showcase passionate photographers and image creators.
Bentley Davis, Colloquy Music
Colloquy Music is a music management and booking services company.
Cat Johnson, Cat Johnson
Sculptures, furniture and public art made from re-purposed and recycled materials.
Jessie Rienerth, RHEINOceramics
Unique, contemporary, handmade and local ceramics for everyday use.
Latausha Cox, Party In A Box
Party in a Box provides a packaged themes box with everything needed to throw a party for a child between 1-10 years of age. Each box contains customized invites, decorations, activities, signs for designated areas, cake, favors and thank you cards. Entertainment is also available.
Karehma Simon
An online education platform for home and human health using simple engineering principles.
Katie Hayden, Kathryn Hayden Photography
Kathryn Hayden Photography is a lifestyle and portrait photography company that focuses on telling a customer's digital story.
About ArtWorks CO.STARTERS: Our 9-week course is designed for all creative business owners to explore and develop a business concept or grow an existing business. Our next session begins January 18 – March 15. Classes meet every Wednesday from 6 – 9 p.m. To apply and learn more,click  here.