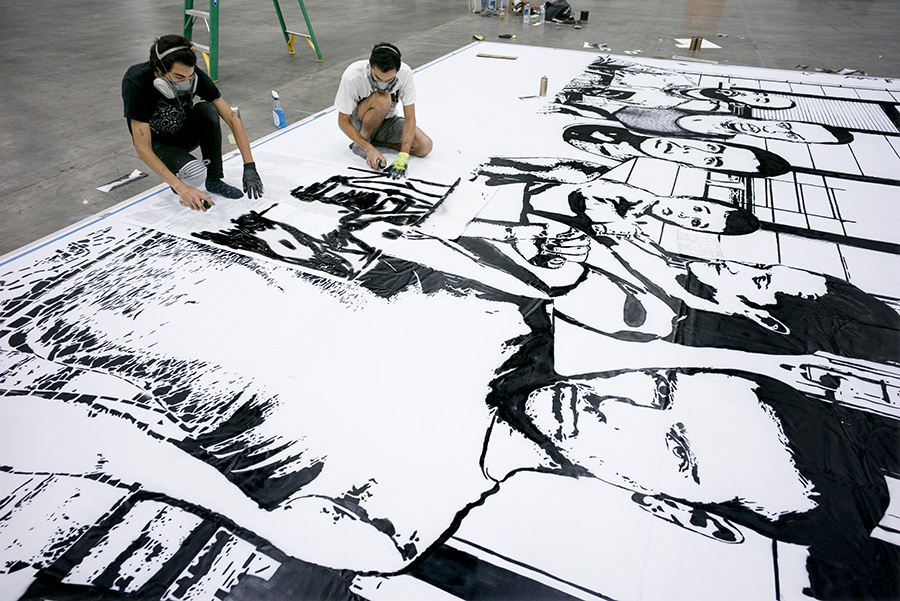 (CINCINNATI – June 30, 2016) Since January 1 of this year, 48 people in Cincinnati have died as a result of gun violence.
Christ Church Cathedral is focused on ending this scourge of gun violence in our city through a strategic commitment to focus funds, prayers, and educational efforts to shine a light on the heartbreaking consequences of gun violence, and bring to an end the proliferation of guns in our community.
"There is an unholy alliance of poverty, racism, and violence in our nation that contributes to the death of our children and neighbors," says the Rev. Gail Greenwell, Dean of Christ Church Cathedral.  "We're committed to changing the environment by working with community partners such as Cease Fire, the Nehemiah Project, and ArtWorks. We look to shine a light and actively engage the complex issues that contribute to apathy, confusion, and hopelessness around the gun violence issue."
As part of this broader initiative, Christ Church Cathedral has partnered with award winning visual arts non-profit, ArtWorks, to create a large-scale mural that will be installed today on the cathedral's south–facing façade.
"Public art has the ability to reach people and spark understanding and action in ways that words can't always accomplish," said ArtWorks CEO and Artistic Director Tamara Harkavy. "Preventing and reducing gun violence in our communities is something we can all agree on. Over the last five months, a lot of thoughtful planning went into this partnership and the selection of artists, the design and the placement of this work of art. We hope this installation will encourage public discussion, reflection and awareness.  It brings the gun violence conversation to the forefront with a strong message about the power of education in confronting the issue; we were honored to work with Christ Church Cathedral to engage renowned social-change artists ICY and SOT."
ICY and SOT have been in Cincinnati since Monday, June 27 creating their 20 by 24 foot mural inside Duke Energy Convention Center. The installation required over 24 stencils, all which were hand-cut.
"Education is the key to breaking the cycle of violence and the pencils in our design stand as a powerful metaphor for this," said artists ICY and SOT.
The selected stencil artists are originally from Tabriz, Iran, now residing in Brooklyn, New York. Since 2006, the two brothers have contributed to Iranian and international urban art culture through their striking stencil work depicting human rights, ecological justice, social and political issues. Their work appears on walls and galleries throughout the Iran, USA, Germany, China, Norway, and now, in Cincinnati. They transcend their histories of artistic and political censorship by using public art to envision a world freed from borders, war and gun violence.
"ArtWorks helped us to solicit proposals from a diverse group of local and national artists who interpreted the social evil of gun violence in our unique Cincinnati context. They're helping us to curate an artistic dialogue with our city," said Dean Greenwell.
The cathedral sees public art as one way to generate public reaction, to engage the community in a meaningful dialogue about gun violence and gun violence prevention.
Located in the heart of downtown Cincinnati's business district, leaders at the cathedral believe that people of faith can make a difference by uniting with people of various political opinions and religious convictions. We say, "enough is enough" and now is the time for decisive action.
A public community dedication event is planned for mid-July.
###
ABOUT CHRIST CHURCH CATHEDRAL: Christ Church Cathedral of the Diocese of Southern Ohio  was founded as Christ Church in 1817 on the Ohio River in Cincinnati, Ohio. The church was consecrated a cathedral in 1993.
Throughout its almost two-hundred-year history, the congregation has dedicated itself to live in service to others. In recent years, this has taken the form of ministries to feed the hungry and shelter the homeless. The congregation is also committed to the ongoing work of social justice for people, through its reconciliation ministries, regardless of race, creed, class, gender, or sexual orientation. To learn more visit cincinnaticathedral.com
ABOUT ARTWORKS: Founded in 1996, ArtWorks transforms people and places through investments in creativity. Our vision is to be the creative and economic engine that unites citizens to transform our region through public art, such as our award-winning mural program, art therapy, and creative enterprise initiatives. ArtWorks is the largest visual arts employer in the region. To date, ArtWorks has hired over 3,000 area youth and 2,000 professional artists, and has trained nearly 300 creative entrepreneurs.  To learn more, visit ArtWorksCincinnati.org.