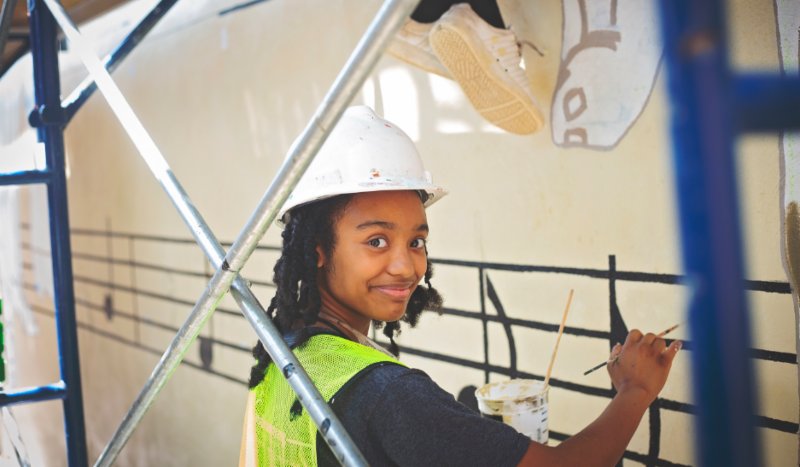 ArtWorks is thrilled to announce Jenny Powell and Jamie Smith as the co-chairs for the nonprofit's annual Adopt-An-Apprentice spring campaign and 7th Annual Breakfast, which will take place on May 2 at the Duke Energy Convention Center.
"Every summer, ArtWorks has an artistic workforce of 14 to 21-year-olds, sponsored by families, businesses, and individuals," Powell said. "This is why we wanted to get involved. Because these creative young adults are literally transforming the face of our city."
Last year, ArtWorks employed 172 youth apprentices, representing 60 communities, 35 high schools and 12 colleges and universities.
"We want to encourage others in joining us to sponsor these young artists," Smith said. "Through ArtWorks, we can elevate the future of our community's most vibrant young residents."
Powell worked for 25 years with U.S. Bank and left the bank as chief marketing officer in 2016. She was most recently the vice president for marketing and communications at the Greater Cincinnati Foundation where she oversaw building the foundation's reputation and brand and communicating the impact of its community investments. Powell is now an adjunct marketing professor. She received a bachelor's from the University of Kentucky and a master's from Xavier University.
Smith is the market president and publisher for the Cincinnati Business Courier where he oversees all operations for the media outlet. He has been at the Courier for the past 16 years. Prior to being the publisher, Smith was the Director of Advertising. He previously worked at The Cincinnati Enquirer as a Sales Manager and Account Executive. Smith received a bachelor's from the University of Kentucky.
To date, ArtWorks has completed 180 murals and has transformed 300,000 square feet of walls into monumental works of art.
Attendees to the May 2 breakfast will get a preview of the nonprofit's 2019 lineup of public art projects.
Click here to learn more about the event.
Click here to sponsor the event.
About ArtWorks
Since 1996, ArtWorks' has been transforming people and places through investments in creativity. The organization is a workforce development and job-training program where art is the vehicle that trains and employs local youth and professional talent to create art and community impact. ArtWorks has hired over 3,300 youth and 2,900 professional artists who have completed over 12,000 public and private art projects.