Mortal Ski Company recently won the 5th Annual ArtWorks' Big Pitch presented by U.S. Bank, receiving a $15,000 grand prize. Mortal Ski, based in Park Hills, Ky., builds skis by hand for use in regional skiing conditions. The audience choice award went to Covington, Ky.-based Russo's Ravioli.
Through the Big Pitch program, eight local businesses worked with mentors to hone their business plan and pitch over 10 weeks, culminating in ArtWork's Big Pitch presented by U.S. Bank, a live competition where each entrepreneur had five minutes to pitch their product to a crowd at Memorial Hall and five judges. Since its launch, 40 creative businesses have participated in the program.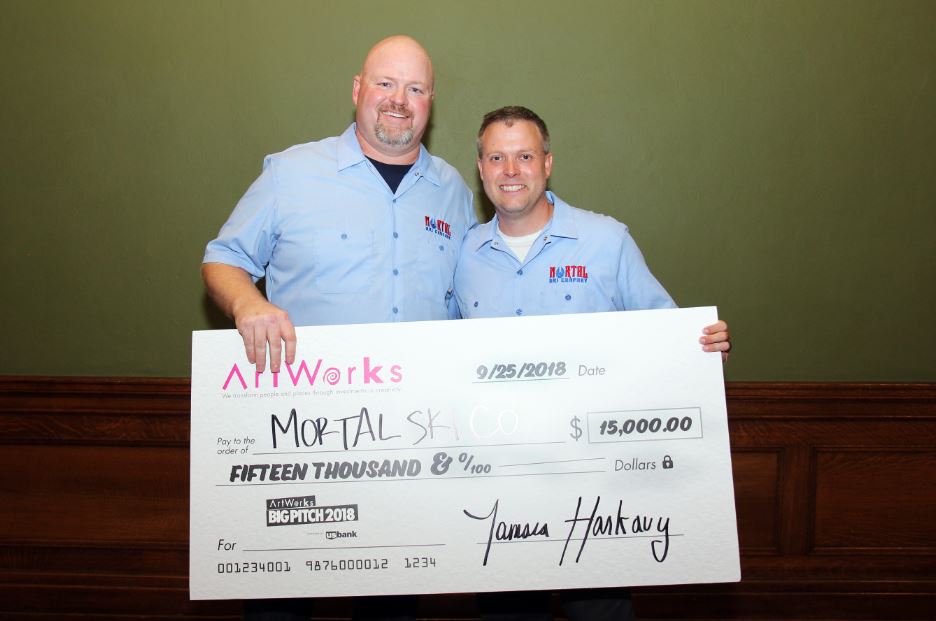 The winners, Mortal Ski co-owners, Ron Gerdes and Mark Branham, met at Perfect North Slopes in 1999. They had a shared passion for skiing and saw the need for skis specific to the hard snow and ice conditions commonly found on Midwestern slopes. Despite the sport's popularity, there wasn't anything specific for Midwestern terrain. After designing their skis on paper and enlisting a builder in California they had a prototype that was loved by everyone who tried it. Gerdes and Branham launched the company in 2015. Today, the skis are available at mortalskicompany.com.
"When a customer takes our skis for a run and I see them smile, I get a huge sense of satisfaction," Gerdes said. "That's what it is all about."
Gerdes said the $15,000 prize will cover targeted advertisements, promotions at participating ski areas, and cost of materials to manufacture the skis.
"We'd like to thank ArtWorks for investing in us and in all of the finalists," Gerdes said. "Big Pitch has allowed us to grow our network of supporters. We are now in a better position to expand our production and help turn more people into passionate skiers like us."
Garrison Jennings, co-owner of Russo's Ravioli, received the audience choice award, which will be tailored to meet the growth needs of the business, with in-kind donations from Frost Brown Todd and others. The company uses 70-year-old family recipes for its pasta, which is sold at several farmer's markets and 14 retailers.
"U.S. Bank is proud to be a supporter of Big Pitch because it celebrates local entrepreneurs and the strong small business community in Cincinnati," said Patrick Dingeldein, vice president, U.S. Bank Business Banking sales manager. "We're proud of all the businesses that completed the Big Pitch and wish them continued success."
Big Pitch is part of ArtWorks' programming, designed to train and promote creative entrepreneurs through education, access to capital and community connections and mentorship. Since 2011, ArtWorks has supported more than 600 local creative entrepreneurs through CO.STARTERS and Big Pitch.
"When we started this program, we couldn't have imagined how much Big Pitch would strengthen the creative business ecosystem in our community," said Colleen Houston, ArtWorks' chief programming officer. "Over 5 years, we've witnessed the tremendous growth of these 40 businesses. We've had many people come back year-after-year to support the program as mentors, giving countless hours and resources to help these businesses thrive."
Additional thanks to Big Pitch event sponsors, American Scaffolding, Inc., EY and Frost Brown Todd, and media sponsors, Cincinnati Business Courier and Soapbox Cincinnati.
About ArtWorks: Since 1996, ArtWorks' has been transforming people and places through investments in creativity. The organization is a workforce development and job-training program where art is the vehicle that trains and employs local youth and professional talent to create art and community impact. ArtWorks has hired over 3,300 youth and 2,900 professional artists who have completed over 12,000 public and private art projects. ArtWorks has also trained over 630 creative entrepreneurs contributing to Cincinnati's economic growth. To learn more or to support ArtWorks, visit ArtWorksCincinnati.org.
U.S. Bancorp, with 74,000 employees and $461 billion in assets as of June 30, 2018, is the parent company of U.S. Bank, the fifth-largest commercial bank in the United States. The Minneapolis-based bank blends its relationship teams, branches and ATM network with mobile and online tools that allow customers to bank how, when and where they prefer. U.S. Bank is committed to serving its millions of retail, business, wealth management, payment, commercial and corporate, and investment services customers across the country and around the world as a trusted financial partner, a commitment recognized by the Ethisphere Institute naming the bank a 2018 World's Most Ethical Company. Visit U.S. Bank at www.usbank.com or follow on social media to stay up to date with company news.