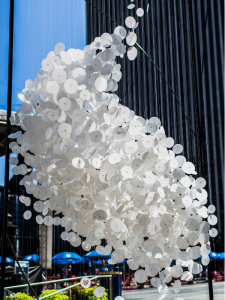 CINCINNATI—ArtWorks and Olay announce the top five winners for this spring's "Light as Air" themed public art contest are featured in the December 2018 issue of O, The Oprah Magazine. The contest was open to female artists throughout Ohio, Indiana and Kentucky, with submissions inspired by the new Olay Whips moisturizer.
The winners and their artworks include:
First place, Jessica Wolf, "She Is." Wolf, who is from Cincinnati, used her favorite medium—paper—with ambient or integrated light for her public sculpture.
Second place, Nora Salazar, "Limitless." Salazar, from Wyoming, Ohio, created a mini mural for her public art.
Third place, Shannon Timura, "Feminine Alchemy." Timura is from Strongsville, Ohio, with her sculpture focusing on poseable art dolls and animal pieces.
Fourth place, Jess Summers, "Bubbles on Walnut." Summers, from Cincinnati, is a surreal fantasy photographer. Her work is a mini mural.
Fifth place, Cassidy Foley, "Head in the Clouds." Foley is from Cincinnati and designed a mini mural for her Light as Air inspired piece.
The artwork was installed in the Central Business District on Fountain Square, Main Street in Over-the-Rhine, and Central and Vine Streets. Sculptures by Wolf and Timura can be viewed on the Central Grounds at P&G headquarters in downtown Cincinnati.
About Olay
Olay is a worldwide leader in skin care and has been trusted by women for over 60 years. Olay continues to hold to the philosophy it was founded on: To maintain a deep understanding on women's changing needs and to combine products that fit their needs with the latest advances in skin care technology. The end result—superior product performance women have come to expect from Olay. It brings healthy, beautiful skin to more than 80 million women on five continents.
About ArtWorks
Since 1996, ArtWorks has been transforming people and places through investments in creativity. ArtWorks has hired more than 3,300 youth and 2,900 professional artists who have completed more than 12,000 public and private art projects. ArtWorks has also trained more than 570 creative entrepreneurs contributing to Cincinnati's economic growth. We work to enrich the region's social, economic and cultural vibrancy and to create a lasting legacy to Cincinnati's talent. Creativity is our currency. To learn more or to support ArtWorks, visit ArtWorksCincinnati.org.