Big Thanks to P&G Fund for being our 2019 Mural Program Presenting Sponsor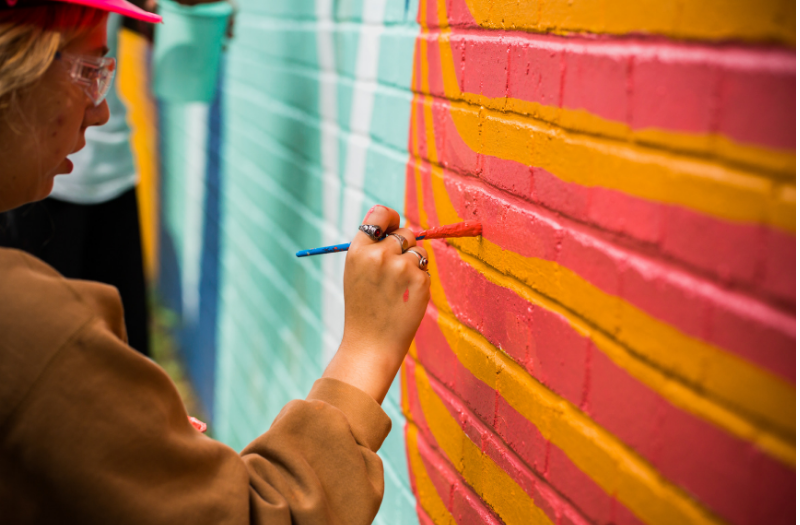 Image by Bergette Photography
For ArtWorks, 2019 is looking bright, thanks to the P&G Fund's generous support of the mural program. Because of this generosity, ArtWorks will be able to continue our work of employing Apprentices, aged 14-21, and Teaching Artists, as they elevate our city through public art projects.
"Cincinnati is not just P&G's headquarters; it's our home," said Procter and Gamble's Kelly Vanasse and Barbara Hauser in a joint statement. "For more than 180 years, we've been proud to help care for our neighbors, nurture our communities, steward our resources and treasure our arts. This is why we find it important to support organizations, like ArtWorks, that are not only creating a vibrant, attractive and inspiring city through their murals, but are employing youth, who will be our next generation of leaders."
ArtWorks is developing its mural plan for 2019, including murals planned in Avondale and Over-the-Rhine in the Spring.
"Having a partner like P&G is amazing," said Tamara Harkavy, ArtWorks CEO & Artistic Director. "P&G recognizes the importance of the arts in a community and are willing to support it. This investment supports our Apprentice program and proves how much P&G cares about the power of creativity in their hometown."
A big thank you to the P&G Fund for continuing on this journey with us.
About ArtWorks
Since 1996, ArtWorks' has been transforming people and places through investments in creativity. The organization is a workforce development and job-training program where art is the vehicle that trains and employs local youth and professional talent to create art and community impact. ArtWorks has hired over 3,300 youth and 2,900 professional artists who have completed over 12,000 public and private art projects.