2018 Projects
West End Mural
This Spring, ArtWorks and Seven Hills Neighborhood Houses will work together to bring the first ArtWorks mural to the West End neighborhood by featuring the uplifting and vibrant text-based works of Susan O'Malley. The final mural will be at 901 Findlay Street, Cincinnati, Ohio 45214.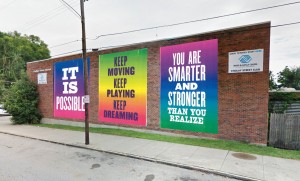 ---
FotoFocus
ArtWorks FotoFocus Project entitled The Hope Narrative:  Finding Resilience in Contemporary Photography and Family Photo Archives 
FotoFocus is a biennial Cincinnati-based photography and lens-based art festival. Since its inauguration, ArtWorks has partnered to create large scale, community-informed, public works of art. ArtWorks 2018 project will bring awareness to the REFUGE a community wellness and gathering space within a new school-based Health Hub at Academy of World Languages (AWL), serving students, families, and residents of two surrounding neighborhoods- Evanston and Walnut Hills at the Academy of World Languages school.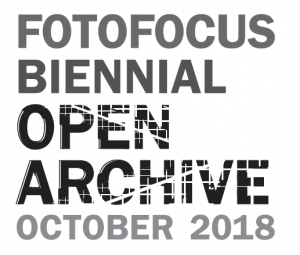 ---
ArtWorks + Olay "Light as Air"
ArtWorks and Olay today announced the five winners and installation locations for this spring's "Light as Air" themed public art contest. The contest was open to female artists throughout Ohio, Indiana and Kentucky, with submissions inspired by the new Olay Whips moisturizer.
The winners, artworks, and installation locations include: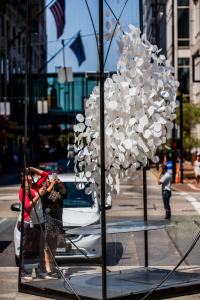 First place
Jessica Wolf, "She Is." Jessica, who is from Cincinnati, used her favorite medium—paper—with ambient or integrated light for her public sculpture.
Location(s): Fountain Square
---
Second place
Nora Salazar, "Limitless." Nora, from Wyoming, Ohio, is a painter, created a work which was reproduced as mini murals for her installations.
Location(s): (1) Fountain Square, (2) 84.51 Building (Race Street side), (3) Main and 12th Street, (4) Vine and Central Parkway. (5) 20 E Central Parkway.
---
Third place
Shannon Timura, "Feminine Alchemy." Shannon is from Strongsville, Ohio, with her concrete and fabric sculptures focusing on poseable art dolls and animal pieces.
Location(s): Fountain Square
---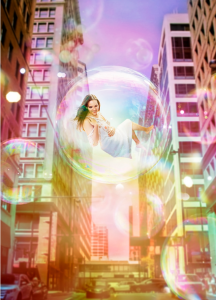 Fourth place
Jess Summers, "Bubbles on Walnut." Jess, from Cincinnati, is a surreal fantasy photographer. Her mini murals
Location(s): (1) Fountain Square, (2) Main and 12th Street, (3) 20 E. Central Parkway, (4) Vine and Central Parkway.
---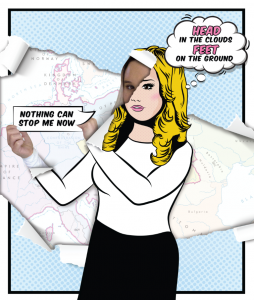 Fifth place
Cassidy Foley teamed up with Nikole Friend to create a computer generated piece, Head in the Clouds." Cassidy is from Cincinnati and designed a mini mural for her Light as Air inspired piece.
Location(s): (1) Fountain Square, (2) Main and 12th Street, (3) 20 E. Central Parkway, (4) Vine and Central Parkway
First place received a $10,000 prize; second and third place, $5,000 each and fourth and fifth place, $2,500 each. The artwork can be viewed in person at the locations above through August 2018. The pieces also will be featured on Olay.com and in national advertising.
---
Mental Health Stigma Reduction Creative Intervention Project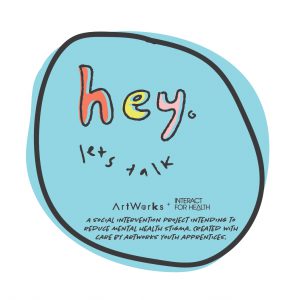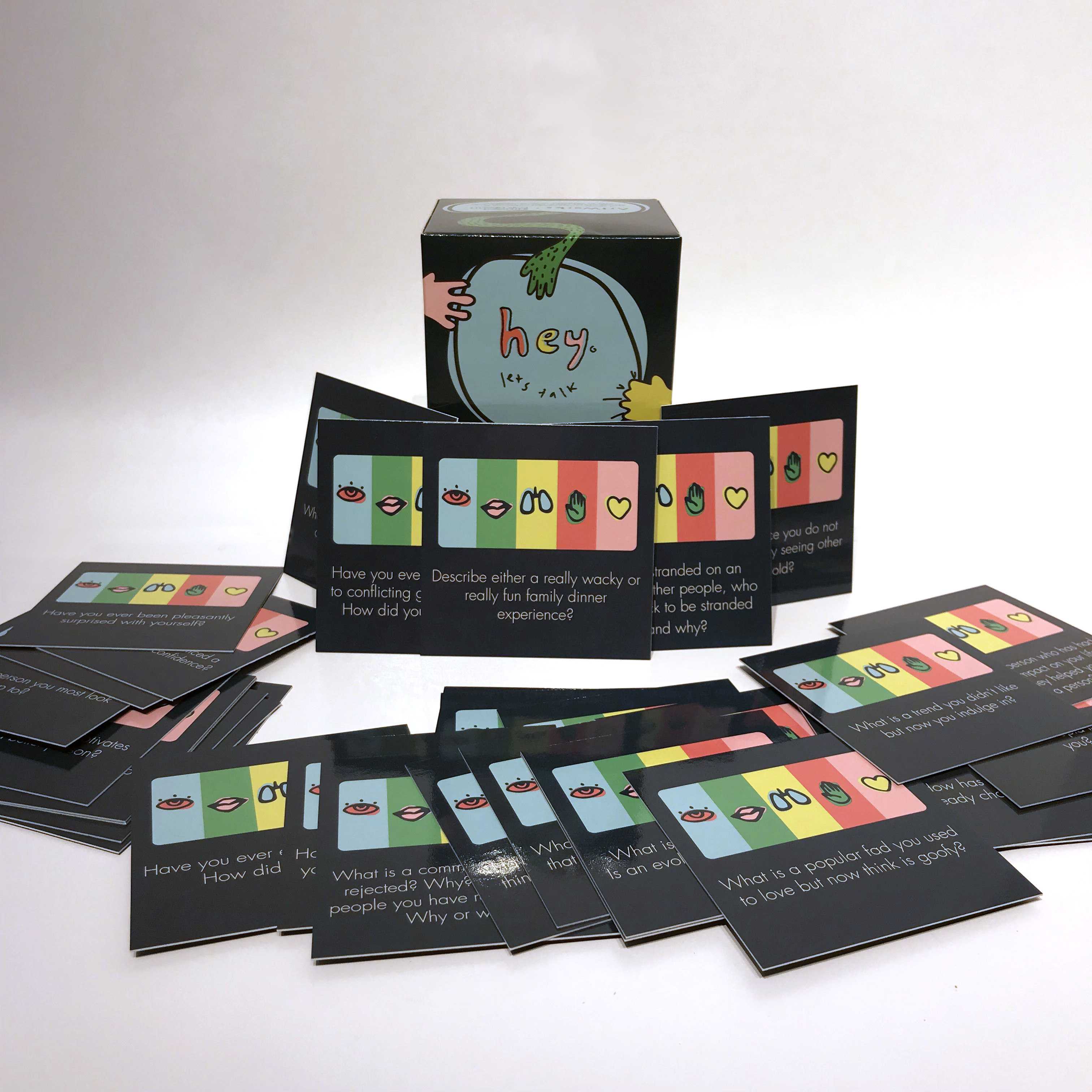 Artist: Kate Tepe
Mental Health challenges affect nearly 20% of the US population, and 75% of those report experiencing stigma related to their condition. Stigma is a form of discrimination – verbal or behavioral – against people with the goal of setting them apart, creating a stereotyped group. In addition to being subject to discrimination, isolation, and stereotypes, prejudice is another negative byproduct those suffering from mental illness face. While mental illness and its stigma affect a broad range of people across demographics, youth are especially at risk. Half of people who experience a mental health condition develop symptoms by age 14 and three-quarters exhibit symptoms by age 24. Young people report suffering higher levels of stigma than adults, and that lack of support has many implications on their capitalization of opportunities, particularly impacting education, economic, and social opportunities.
Cincinnati foundation, Interact for Health, has enlisted ArtWorks to design a project to break down those barriers and eliminate the stigma in our youth. In Spring 2018, a team of six Youth Apprentices conducted community engagement focus groups to determine what the game should look and feel like. In Summer 2018, artist Kate Tepe worked with the Apprentices to co-design the game based on feedback from 60 engagement participants. This Fall, the team will play the finalized game with approximately 250 local youth through partnership with schools and community/arts organizations. Each participant will take home a copy of the game to share and play with others to increase awareness and break down stigma surrounding mental health for youth. Youth ages 13 – 23 are welcome to attend any of the open engagements, on Thursday, October 18, 6 – 7:30pm, at the Contemporary Arts Center, or Friday, November 9, 6 – 7:30pm at Wave Pool Gallery, or Tuesday, November 6, 7 – 8:30pm at Indigo Hippo. Check in on our Facebook page for more details and events! Email megan@artworkscincinnati.org with any questions or to RSVP for an event.
---
Hero Design Company
Spring Session
Hero Design Company (HDC) engages, encourages, and empowers children facing emotional, physical or situational hardship through the creation of custom superhero capes, co-designed with and sewn by ArtWorks Youth Apprentices. HDC returns for the spring of 2018. Nine apprentices and two creatives will spend eight weeks engaging in co-design sessions with 60 – 75 children through local partners including Beech Acres Parenting Center, Grandview Elementary YMCA, and the Cincinnati Recreation Commission to create a cape for each child that represents their unique strengths and assets.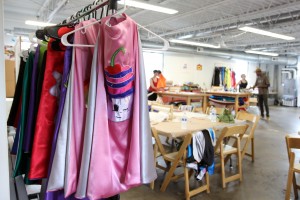 ---
Dark of the Sea and Sky
Cincinnati Ballet presents Murder Ballades, a contemporary ballet influenced by 1940s American folk ballads. ArtWorks and Cincinnati Ballet are partnering to create a new, abstract expressionist backdrop for the performances in Spring 2018. To see the backdrop in person see the Ballet's performance of "Bold Moves."
Artist: David Buetsche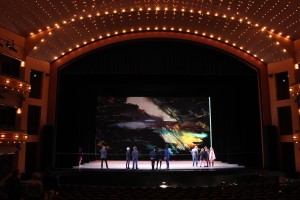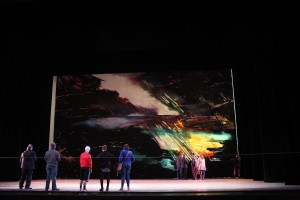 ---
Summer
We kick off our Summer season with 16 projects this year! Read up on what our Youth Apprentices will be working on this summer.
Click the images to see the mural designs larger.
Creatress
Artist: Joe Castrucci
9176 Winton Rd. (Brentwood Bowl)
Springfield Township
This Summer, ArtsConnect and ArtWorks are excited to bring a new mural to Springfield Township, which is being painted on Brentwood Bowl. This project provides an opportunity for the community of Springfield Township, along with residents and business owners to engage with one another. Once the mural is complete, it will serve as a backdrop for many future community events. Designed by artist and Springfield Township resident, Joe Castrucci, this mural will be created by a team of eight local youth Apprentices working under the guidance of Teaching Artists Thaddeus Williams and Ian Hermanns.
---
Avondale Heroes Mural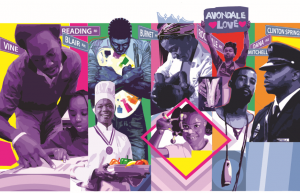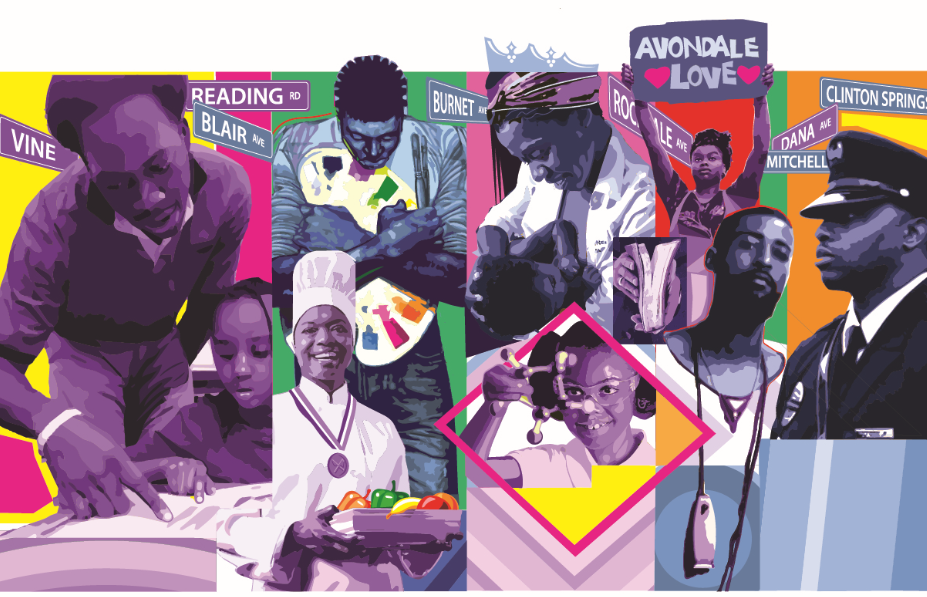 Artist: James Pate
3371 Reading Rd.
Avondale
ArtWorks is partnering with the City of Cincinnati and the Greater Cincinnati Urban League to create a new mural to celebrate a Avondale heroes. Designed by Dayton-based artist, James Pate, this mural celebrates the many heroes in Avondale who help inspire generations and lead community initiatives for the good of all. Local Teaching Staff, Brandon Hawkins and Tiara Harmon will lead a team of eight youth Apprentices to create the mural between the months of June – August. As part of the NEP and PIVOT initiative, this mural project is strategically located at the intersection of Reading Road and Blair Street, an area known for its high crime. Through community engagement and the creation of this mural, ArtWorks and PIVOT partners hope to create a community gathering space to inspire positive activity, community engagement and future use. Project made possible by PIVOT/NEP
---
Avondale Pride
Artist: Cedric Michael Cox
3529 Reading Rd.
Avondale
The Community Builders and ArtWorks are partnering to bring a series of three murals to the new Avondale Town Center.  Cedric Michael Cox, who designed the former Avondale Pride mural at the previous Town Center, was selected by the community to design new murals based on community input, insights and themes. These murals reflect the community identity of Avondale and its vision for the future. Local Teaching Artists, Christian Dallas and Ciro Casanova, will lead a team of twelve local Youth Apprentices to create the murals in an offsite studio, while the town center construction is in progress. The mural installation is planned for later this fall once construction is complete.
---
Cincinnati Music Legends Card Deck
Cincinnati has an extensive musical heritage and ArtWorks hopes to inspire people to explore the history. The Cincinnati Music Legend Card Deck project will spark that interest. The project will also allow our Youth Apprentices to gain deeper insight into the entrepreneurial space, while honing their skills in sketching, pen and ink drawing, as well as painting. ArtWorks will work in partnership with Shake it Records to create collector's card decks to depict Cincinnati's icons in music. These card decks will then be sold through Shake It Records, ultimately generating pride for Cincinnati's rich musical history.
---
Cincinnati Paints by Numbers: Fiona

Artist: Lucie Rice
910 Race St.
Downtown
This summer ArtWorks is launching a brand new mural series: Cincinnati Paints-By-Numbers. This  rotating mural project provides the general public the opportunity to purchase a ticket and paint alongside ArtWorks Teaching Artists,  Cori Ogleton and Kara Crowe, and team of four Youth Apprentices. This year's inaugural theme features Cincinnati's beloved Fiona in partnership with her home, the Cincinnati Zoo. Earlier this spring, ArtWorks hosted a call-to-artists contest from which five designs were selected by a jury and submitted for public voting. The winning design is by artist Lucie Rice.
For more information about Paints by Numbers, click here.
---
2018 Cincinnati Legend: Mamie Smith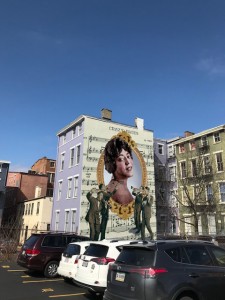 Artist: Julia Bottoms
309 E. 13th Street
Pendelton
ArtWorks' Cincinnati Legends Series is a collection of large-scale public murals, primarily spread across Over-the-Rhine, celebrating a diverse group of local personalities. These legends are figures who have made names for themselves in the city of Cincinnati and beyond by creating lasting, inspiring legacies through their individual impacts on the world. This summer, ArtWorks is featuring recording artist and performer, Mamie Smith, who was born in Cincinnati in the late 1800s and lived to become a legendary icon in American music history as the first ever African-American blues recording artist.  This mural will honor Mamie's legacy. It was designed by Buffalo-based artist, Julia Bottoms, and is being painted by a team of ten local Youth Apprentices working under the direction of Teaching Artists, Nick Scrimenti and Madison Yunger.
---
New Lines: Bolivar Alley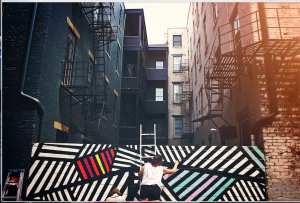 Bolivar Alley
Pendelton
New Lines is a series of ArtWorks that aims to bring attention and appreciation to the unique alleyway systems that exist within Cincinnati's urban core. This summer, ArtWorks is excited to create an ambitious series of murals in the neighborhood of Pendleton in Bolivar Alley. ArtWorks is commissioning five artists with Cincinnati roots to work with a team of eight Youth Apprentices and create a variety of street art styles and mediums. This activation will make Bolivar Alley a creative destination and outdoor street art gallery for residents and visitors to explore.
---
The REFUGE Project

Artist: Jessie & Katey
2030 Fairifax Rd.
Academy of World Languages
Academy of World Languages (AWL) and Cincinnati Public Schools are partnering with ArtWorks to create a mural for the exterior of the new school-based Wellness Center being built onsite at AWL. Baltimore-based artists, Jessie & Katey, designed this colorful and expressive mural to welcome patients and families, cultivating positive feelings and community pride towards the center. Local Teaching Artists, Rebecca Nava and Hannah Hersko, will lead a team of 10 Youth Apprentices to translate the design onto panels while the AWL Wellness Center is under construction. Once the panels are installed this fall, the mural will be a friendly beacon to all who see it; a universal symbol of welcoming, no matter what language you speak.
---
The Early Bird
Artist: Bongang
1715 Republic St.
OTR
ArtWorks and Saturday Hoops are partnering to bring public art to the OTR CRC and celebrate the vibrancy and resilience of Saturday Hoops participants and their families. Saturday Hoops is a volunteer-run program of the Cincinnati Youth Collaborative engaging at-risk youth offering mentorships, physical activity, and healthy meals and is run out of this center. ArtWorks was excited to work with Nashville-based muralist and designer, Bongang, who created this vibrant an uplifting design after meeting with Saturday Hoops participants and volunteers here in Cincinnati. Local Teaching Artists, Harry Sanchez Jr., Sarah Kleymeyer and Edwin Miller, will lead a team of 12 local Youth Apprentices, to create the mural this summer.  "Cheerful Givers, Hard Workers, and Overcomers", is the theme which inspired Bongang's mural design.
---
All In This Story Together

Artist: Erin Barker
6906 Plainfield Rd.
Silverton
The Village of Silverton and ArtWorks are partnering to create a new mural to serve as a gateway marker for the Village. This mural a celebrates the organization Women Writing for (a) Change. Local artist, Erin Barker, designed this mural which incorporates symbolism of strong female figures and inspiring text by poet and author, Dr. Sally Atkins. Local artist, Elizabeth DuQuette, will lead a team of four local Youth Apprentices to paint the mural this summer.
---
Team Click
Team Click will be documenting the progress of select ArtWorks mural this summer. They will refine their photography skills and videography skills while diving deeper into the Apprentice experience.
---
Building Inclusive Communities: A Mural Project of Visionaries + Voices and ArtWorks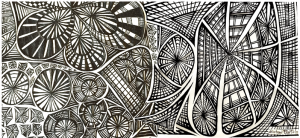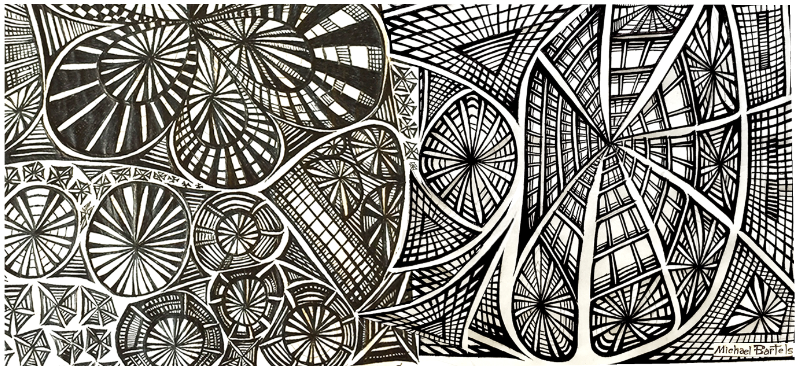 3056 Madison Road
Oakley
ArtWorks and Visionaries + Voices are partnering to bring a new mural to Oakley on the east-facing façade at 3056 Madison Road, Cincinnati, OH, 45209. This project is designed to build a more inclusive community through creative collaboration between Artworks and V+V artists. This unique mural project will bring a mural designed by a V+V artist to life, to be executed by a team of Apprentices from both organizations.
---
Emerge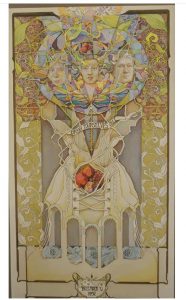 Artist: Tina Westerkamp
1200 Vine Street
OTR
2018 marks the 125th anniversary of the Woman's Art Club of Cincinnati, the oldest and longest running women's art club in the United States. Founded in 1892 by 19 women artists in response to the Cincinnati Art Club's reluctance to accept women members, the Woman's Art Club of Cincinnati was formed. To celebrate this milestone, ArtWorks hired a local woman  artist and ArtWorks muralist, Tina Westerkamp to create a beautiful commemorative design.  Local Teaching Artists Paul Loehle and Bailey Dowlin will work with the team of eight local Youth Apprentices to paint this mural offsite and install the mural later this summer.
---
Its Your Thing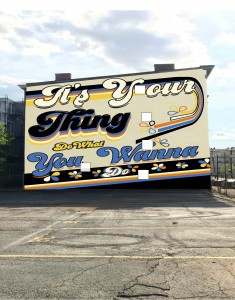 311 E. 13th Street
Pendleton
ArtWorks is bringing a new mural to the Pendleton neighborhood, celebrating the lifetime and accomplishments of renowned Cincinnati-born musical legends, the Isley Brothers. This mural will enlighten the community to the Isley Brothers' story, and celebrate one of their most beloved recordings, "It's Your Thing".
---
Hero Design Company
Summer Session
The Hero Design Company program promotes the real world super powers within every child. ArtWorks engages, encourages, and empowers children facing emotional, physical or situational hardship through the creation of custom superhero capes, co-designed with and sewn by Youth Apprentices.  In Summer 2018, 14 apprentices and three professional artists will spend eight weeks engaging with approximately 130 children through local partnerships with the Ronald McDonald House Charities of Greater Cincinnati, Cincinnati Children's Hospital Transgender Clinic, Cincinnati Children's Champion's Program, Grandview Elementary YMCA and Fernside Center for Grieving Youth to create a cape for each child that represents their unique strengths and assets. Each cape will be presented to a child at a special delivery ceremony, specifically designed to celebrate the individuality of each hero.
---
Fall
Endangered Species Mural: The Indiana Bat

Little Miami Scenic Trail at Bass Island Park underneath the Newtown Road overpass on the Little Miami River
We are working with Great Parks of Hamilton County and the Center for Biological Diversity to bring awareness to the plight of the Indiana bat. The mural project is part of the Endangered Species Mural Project, run by the Center for Biological Diversity. The 1,000-square-foot mural featuring the Indiana bat is being painted by Roger Peet and two ArtWorks Youth Apprentices. This will be the first endangered species mural project in Ohio. This mural will be the 17th mural in the series across the country.
---
GoVibrant Sidewalk Activation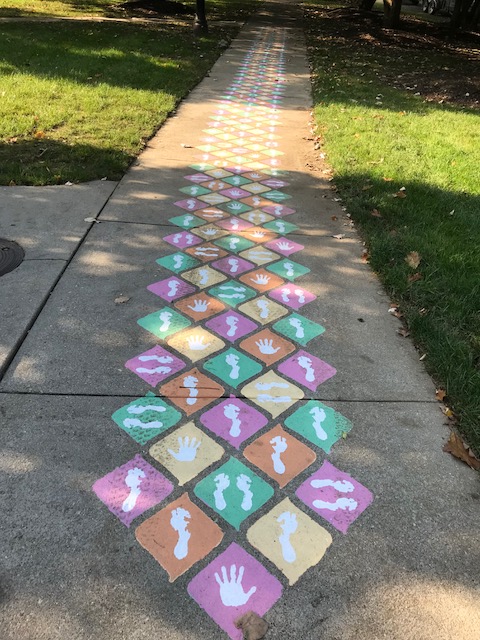 Avondale Development Corporation and go Vibrant engaged ArtWorks to create three activity-based interventions on the sidewalks of Fleischmann Gardens in Avondale. These works are part of a larger effort, and aim to bring color and joy to park users while also promoting health initiatives in the neighborhood. Designed by go Vibrant and Landor, these interventions complement other go Vibrant trail signage located throughout Avondale. ArtWorks employed a team of two Youth Apprentices and a Teaching Artist who worked in Avondale this summer on the PIVOT mural to execute the project over one week in Fall 2018. Community members and business owners were encouraged to support the project by participating in painting the interventions alongside the ArtWorks team. As a collaborative effort, this project is the first of many similar interventions to be installed in Avondale in the future.
---
Duke Energy Convention Center Project
The Duke Energy Convention Center is partnering with ArtWorks to create the 13th installation since the partnership began in 2011. This year ArtWorks is engaging Intermedio: Justin West, Sam Ferris-Morris, and Eric Blyth, to create the first-ever multi-media and light-based installation for the Convention Center. Intermedio's Justin West is working with a team of four Youth Apprentices to create a multi-media sculptural installation above the second floor escalators which lead up to the main event ballrooms – an area sure to be transformed and spotlighted by the inclusion of this brand new work of art.
---
Hero Design Company
Fall Session
This Fall 2018, 7 Apprentices and 2 Teaching Artists will spend eight weeks engaging in co-design sessions with approximately 60 local children through partnerships including the Sheakley Boys & Girls Club, Ronald McDonald House Charities of Greater Cincinnati, and Shriners Hosptial for Children to create a cape for each child that represents their unique strengths and assets. Each cape will be presented to a child at a special delivery ceremony, specifically designed to celebrate the individuality of each hero.