CincyInk Merchandise
LOVE IT? BRING IT HOME
Rookwood Pottery Plates
Created in partnership with artist Pam Kravetz, each of these six plates features a line from the poem Seven Hills and a Queen to Name Them. Craft your own poem when you arrange these one-of-a-kind plates at your next dinner party or simply, show them off as you proclaim your love for the Queen City! Each plate is $75, but a full set can be purchased for $360.
Click here to email Rachel if you are interested in purchasing one or a full set! In your email, please reference the plate phrase.
CincyInk Mini Mural Prints
Want these words on your own walls? In your very own room? Now you can purchase your favorite CincyInk Mini Mural for just $25 + shipping and handling. ArtWorks Mini Mural print sales support our mission of employing Cincinnati's local youth and creative community. If you are purchasing 4 or more, prints are $20 each.
Click here to email Rachel if you're interested in purchasing one. In your email, please reference the name of the artist whose print you would like to purchase. Prints by Kayla Risch and Lizzy Duquette are out of stock.

CincyInk Temporary Tattoos
Looking for a less-permanent expression of love for Cincinnati? We have the solution!
In the summer of 2014, ArtWorks youth Apprentices designed and packaged a series of fun and inspiring temporary tattoos celebrating our love of the Queen City. There's a package of temp tats that are just for kids, featuring some of Cincinnati's most fun and famous things, including Graeter's ice cream and the Cincinnati Zoo. There's also version for grown ups that inks some of Cincinnati's most iconic landmarks and favorite events—from to Music Hall to Bockfest!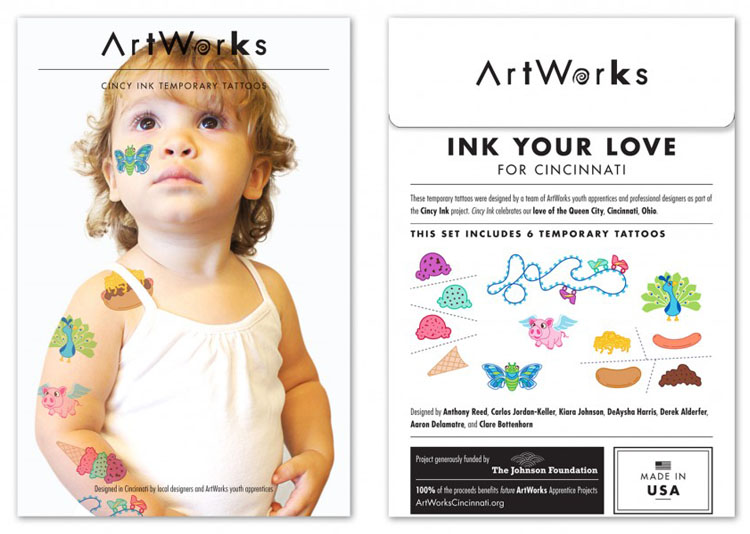 Each package costs $8, and all proceeds benefit the ArtWorks youth Apprentice Program. They are now available at Mica 12/v and the Contemporary Art Center.