Three SpringBoard graduates are using power2give.org to help launch their creative projects. power2give, a new crowd funding platform for non-profit organizations, went live on June 14 in Cincinnati as a tool to connect donors to arts and culture projects in their own communities. A $50,000 challenge grant awarded to ArtWorks by The Johnson Foundation will provide one dollar in matching funds for every dollar donated to a Cincinnati power2give project, so contributions go even farther. Cincinnati is one of 15 cities in the country to host the power2give platform.
Feast, PAR-Projects, and Clifton Cultural Arts Center are three of Cincinnati's first round of power2give projects. Take a look at the projects below.
---
[youtube http://www.youtube.com/watch?v=trUMSC5WJ18]
Random Snacks of Kindness
ArtWorks / Feast
Funding Goal: $5,000
Feast's "Random Snacks of Kindness" project partners with nonprofit organizations to create unique snack products that the nonprofit organization can then use to promote and fund raise with new and different audiences. This summer, ArtWorks will work with Feast's Chef Frances Kroner to train seven youth apprentices to launch a new snack product. Apprentices will learn small business finance skills, branding development, packaging design, marketing strategy and culinary skills.
About Feast: Feast is an innovative catering company and pop-up restaurant. Led by Chef Frances Kroner, Feast marries food and design through edible installations, creative catering, and themed private dinner parties.
---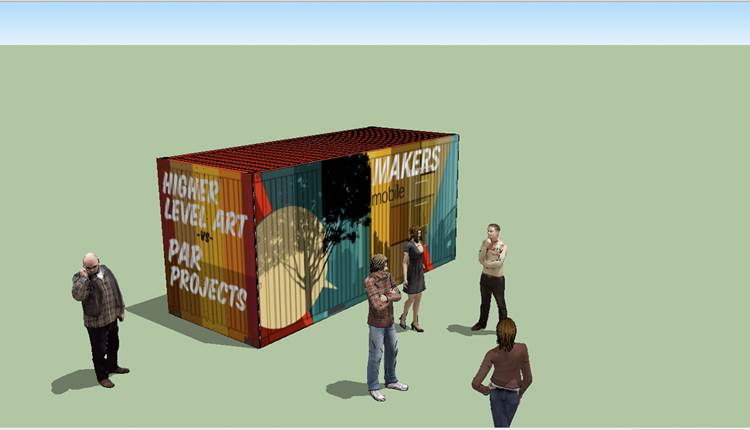 Help launch Makers Mobile – Cincinnati's mobile art space!
PAR-Projects / Northside Community Council

Funding Goal: $9,978
PAR-Projects needs your help to launch Makers Mobile, Cincinnati's first mobile shipping container art gallery and education space. The mobile space is the first phase of PAR-Project's Northside-based arts and education facility (also made out of shipping containers).
About PAR-Projects: PAR-Projects (Professional Artistic Research) is a group of artists committed to engaging the public in the arts through exhibitions, collaborations and educational processes.
---
1,000 Birthday Wishes for Clifton Cultural Arts Center
Clifton Cultural Arts Center
Funding Goal: $4,000 (FULLY FUNDED!)
To celebrate Clifton Cultural Arts Center fifth anniversary,  they're partnering with local artist Sheri Besso to transform their front lawn into sprawling public art. The goal: 1,000 birthday wishes made from handmade, screenprinted prayer flags made from recycled Mylar balloons.
About Clifton Cultural Arts Center (CCAC): The Clifton Cultural Center is a multi-venue arts space located in the Gaslight District of Clifton. Since opening their doors in 2008, more than 75,000 people have gathered in the space for classes, exhibits, performances, events, and civic functions.
---
Check out more power2give projects here: http://power2give.org/Cincinnati/