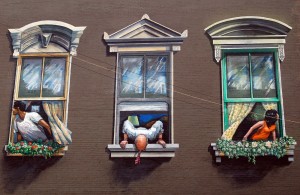 ArtWorks is committed to creating monumental works of art that transform our community. Developments are happening around the 2007 mural, What's Happening Downtown, designed by C. Ted Hendricks and located at 1005 Walnut Street.
This site location has recently undergone major changes. Across the street, the new Kroger building at Walnut and Central Parkway is being built. Also a commercial building in front of the mural has been demolished, exposing more of the wall where the mural is located, and a surface parking lot is being constructed.
Because this location will soon be a more prominent corner in downtown, ArtWorks sees this wall as an opportunity to beautify this whole canvas—better using the additional wall space that was revealed with the demolishment. Because the design has been compromised, ArtWorks will be decommissioning the What's Happening Downtown in June by creating a new mural on the same location this summer.
Located on the building owned by Talbert House, the What's Happening Downtown mural has served the location well in its 12 years of existence.
"This mural speaks to the vibrancy of the downtown community, which is continuing to transform," said Tamara Harkavy, CEO and artistic director. "What's Happening was one of the our earliest murals, and, I am sad to see it go."
The upcoming project at 1005 Walnut will activate this location. Internationally renowned contemporary artist, Saya Woolfalk, will be designing the new mural at this location. It will be the second mural on a Talbert House property. The first is 2010's All You Can Imagine is Real designed by Jennifer Ustick and located at 1515 Carll Street in North Fairmount.
"We are pleased to partner with Artworks again," said Neil Tilow, Talbert House president & CEO. "And while we will miss the What's Happening mural, we are excited to support the youth and artists as we see the new design come to life."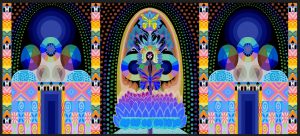 ArtWorks creates monumental works of art because of the generosity of our supporters. If you would like to support this project, donations can be made online or through check, payable to ArtWorks, 20 E. Central Parkway, Cincinnati, OH 45202 with memo line note for the Saya Woolfalk mural.
Special thanks to Bartlett Wealth Management and the George and Margaret McLane Foundation for supporting this project and to Procter & Gamble as our 2019 Mural Season sponsor. Ongoing funding received by ArtsWave, the City of Cincinnati, the Carol Ann and Ralph V. Haile, Jr./U.S. Bank Foundation and the Ohio Arts Council.
About ArtWorks
Since 1996, ArtWorks' has been transforming people and places through investments in creativity. The organization is a workforce development and job-training program where art is the vehicle that trains and employs local youth and professional talent to create art and community impact. ArtWorks has hired over 3,500 youth and 3,000 professional artists who have completed over 12,000 public and private art projects.