We are excited to re-launch our volunteer opportunities with ArtWorks!
Volunteers are an integral part of ArtWorks. Guided by our full time staff, volunteers provide invaluable support to ArtWorks through mural tours, event help, committees, administrative tasks, project cleanup, and more! You don't have to be an artist. We will work with your time, talents, and interests and find a place for you. As an ArtWorks volunteer, you will gain a network of friends and creatives, experience firsthand the ArtWorks creative process, gain access to ArtWorks events, and so much more. If there is anything we can do to make your experience as a volunteer more fulfilling, we'd love to hear about it.
Sign up for ArtWorks Volunteer Newsletter
We need you!
Help further our mission of transforming people and place through investments in creativity. Potential opportunities include:
Mural Tour Guide
Event Support
Committees
Administrative
Project Cleanup
Upcoming Events
Apprentice Interviews – March 2nd and 3rd
7th Annual ArtWorks Breakfast: Thursday, May 2, 2019
ArtWorks Annual Fall Fundraiser: Friday, November 22, 2019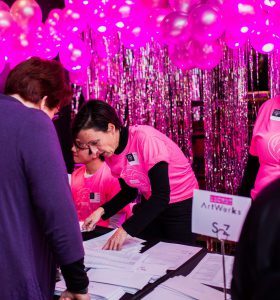 For more opportunities, Sign up for ArtWorks Volunteer Newsletter. Or visit our volunteer page.
Questions about volunteering with us? Check out our Volunteer FAQ.
The ArtWorks Volunteer Program is managed by the Volunteer Coordinator. Please feel free to email or call with any questions or concerns regarding volunteer opportunities. Our current Volunteer Coordinator is:
Deborah Stevens
Email: Deborah@ArtWorksCincinnati.org
Phone: 513-333-3619
ArtWorks General Phone: 513-333-0388