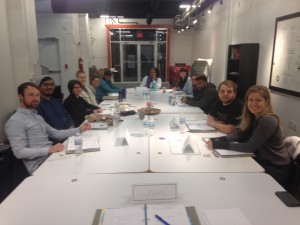 On Wednesday, January 18, we kicked off the winter session of ArtWorks CO.STARTERS. Read on to see who's who in this class of creative entrepreneurs looking to put business ideas into action, and turn a passion into a sustainable and thriving small enterprise!
Jenna Acklin, Knock on Wood
Knock on Wood offers Pinterest inspired DIY workshops, DIY kits and custom kits. 

Zach Ashford, Sindicate Creative Outlets, LLC
Sindicate is a multi-faceted mass media and entertainment company that provides artists with the means to produce, distribute, and profit from their work while maintaining complete ownership rights.

Julia Burks, Passion (Collaborative Arts Association of Cincinnati)
Collaborative Arts Association of Cincinnati's goal is to promote alternative art in the community, such as pole, silks, acro, belly dancing, hula hooping, etc. 

Keila Clim, TBD

Clim plans to co-start a catering business that would eventually evolve into a food truck and a restaurant.
Keilin Clim, Stay Humble Brand

Stay Humble is an apparel company that offers clothing for all ages, youth to elders. A portion of proceeds will be donated to an organization or community.

Anna D'Amico, TBD
D'Amico is am an independent contractor that offers illustration services in both digital and traditional media.

Linnea Gartin, Lady Blue Eyes
Lady Blue Eyes is an experienced photographer resurfacing under a new name after a 5-year hiatus. Her works are exclusively captured using instant film. Text is also an important part of Lady's practice using a 1946 typewriter to document her life and experiences.
Tylan Johnson, Rebel World Apparel
Rebel World started as life style for the youth who's always been considered an outcast or misfits, then became a clothing line that offers graphic t-shirts, hoodies/jackets, hats etc.
Jackqueline May, Beach N a Box
Beach N a box is a party in a box! This delivery service will help you figure out the perfect gift for any occasion.
James Meade, NoteAble
NoteAble cultivates strong minds and communities by providing free, daily, ensemble-based music education to Northside youth. NoteAble nurtures within children: strong focus, a love of overcoming obstacles, social skills, and an understanding that intelligence is shapeable.
Jonathan Medina & Tim Spanagel, Hunter & Light Photo Co.
A Cincinnati Wedding photo and video company. Hunter & Light is a team of photographers and videographers who love to create and tell real stories by capturing genuine moments of undeniable love.

Cheryl Nachbauer, CHERRY
CHERRY is a fashion line that was inspired by traveling the globe and meeting influential woman along the way. The versatile line showcases a series of rompers with interchangeable parts, hidden pockets for ease of travel and detailed with hand selected exotic fabrics from around the world.
Cassandra Niehaus, Multi
Multi is a multidisciplinary co-create space for artists and the community, encouraging working artists and hopeful creatives to learn and explore through an array of mediums. Multi will hold artists in residence, studio rentals, classes/workshop/retail space, wellness opportunities and provide gallery space.
Lirie Van Schaik, TBD
Van Schaik provides art direction and project management for clients. She elevates a company's narration and ensures their message is loud and clear.
About ArtWorks CO.STARTERS
Our 9-week course is designed for all creative business owners to explore and develop a business concept or grow an existing business. Our next session runs April 26– June 21. Classes meet every Wednesday from 6 – 9 p.m. To apply and learn more, click here.