Mural Tours
Great Art on a Grand Scale
ArtWorks believes Cincinnati is an art gallery, come see it! Walk through historic downtown streets exploring Cincinnati's impressive collection of monumental murals.

We'll show you around!
Group Tours | Weekend Tours | Rates & Offers | Frequently Asked Questions
Our tour guides, a combination of ArtWorks volunteers and youth Apprentice mural painters, will educate and entertain you by sharing anecdotes about each mural, giving you the inside story on how these large-scale murals came to be. We offer the only ArtWorks mural tours in Cincinnati offering a first-hand account of painting the murals from the Apprentices themselves. Guides encourage audience participation and will test your knowledge of Cincinnati history by connecting our murals to the history of the region.
---

Want to bring a large group? Contact us!
*ArtWorks is no longer scheduling private group tours for 2019. Please check back in 2020 to schedule your private tour.*
ArtWorks is excited to offer specialized private tours and experiences for corporate outings, schools, tourist groups, family reunions, and any other interested group. If interested please fill out the request form on the Group Tours page and the Mural Tour Coordinator will be in touch.
We accept reservations for group tours year-round. Click here to email the Mural Tour Coordinator for more information.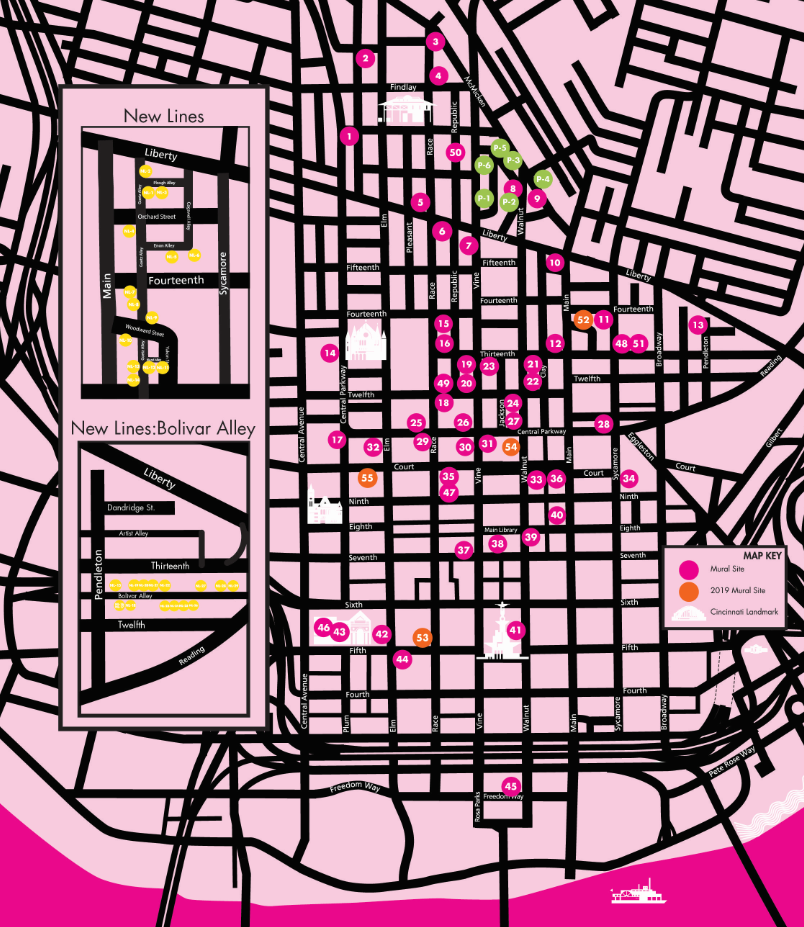 Download this pdf for self-guided walking tours of Downtown, Northern Kentucky and Over-the-Rhine. Enjoy!
---
Special Offers
Don't miss out on a deal. We partner with organizations to offer discounted tickets! If you are affiliated with one of our partners, enter your promo code on the ticketing page to take advantage of your discount.
From May-October we offer:
25% off tickets for ArtsWave ArtsPass & CincyYPerks members
25% off tickets for DCI Members
25% off tickets for OTR Chamber Member
Click here for Group Tour rates.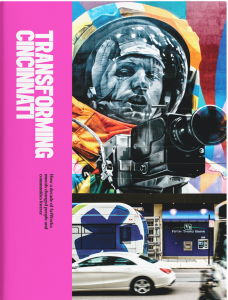 NOW OFFERING A SPECIAL TRANSFORMING CINCINNATI TOUR PACKAGE!
1 ticket for any mural tour + a copy of Transforming Cincinnati for $50
2 tickets for any mural tour + a copy of Transforming Cincinnati for $75
4 tickets for any mural tour + a copy of Transforming Cincinnati for $100
Purchase your book and ticket through our tickets page in advance of your tour.
Click here to learn more about our murals or locate a specific mural. For all other questions about scheduling a public or private mural tour, contact the Mural Tour Coordinator.