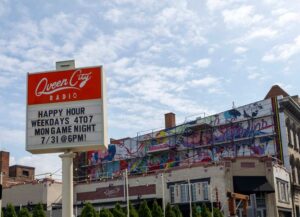 CINCINNATI—The ArtWorks "Love Wins" mural commemorating the 50 years of celebrating Pride in Cincinnati is almost in its final stages. Located at 220 W 12th St., in Over-the-Rhine, directly above Queen City Radio, this collaboration with Cincinnati Pride has been a labor of love for ArtWorks apprentices, each aged 18 to 21 years old. They hope the mural will serve as an inspiring catalyst for positive change and nurture a profound sense of belonging for those who see it.
With Teaching Artists Daniel Baker and Orion Inez, the 12 ArtWorks apprentices have been painting the mural over the last six weeks to capture the kaleidoscope of the LGBTQ+ community through vivid portrayals of protests, triumphs, and celebrations.
Designed by local artist Matthew Dayler of Chroma Projects, this larger-than-life monument to inclusion wouldn't be possible without the support of Procter & Gamble and the City of Cincinnati's Career Pathways Initiative. Nearly 20 P&G associates were trained by ArtWorks apprentices and teaching staff and participated in creating the mural, dedicating two painting days in July to work on the massive wall. Cincinnati Pride members also helped paint the mural this summer.
"We are honored to have the opportunity to work with Cincinnati Pride and ArtWorks to contribute to such a visible display recognizing the contributions of the LGBTQ+ community to Cincinnati," said Brent Miller, P&G Senior Director, Global LGBTQ+ Equality. "P&G has a long history supporting the LGBTQ+ community in Cincinnati and we appreciate all of those working to create more equal and inclusive communities."
Apprentices will complete their work on the mural in early August. After that, a clear, protective sealant will be applied, and scaffolding will be removed by mid to late August. The public can celebrate what the mural represents in our community as well as the partnerships that made it possible at ArtWorks' mural dedication on Sunday, Aug. 27, from 3–6 p.m. at Queen City Radio. This event will include a DJ, performances, and food and drinks including specialty cocktails will be available for purchase from Queen City Radio. Posters featuring the Love Wins mural design will be available for purchase at the event and through donations at cincinnatipride.org.
"It's amazing to be part of something so big with such genuine people who want to make an impact on the Cincinnati community. I'm so excited to see the community's reaction and for continuing to work with my amazing team," said ArtWorks Apprentice Samara Bill.
About Cincinnati Pride
Cincinnati Pride provides the Greater Cincinnati LGBTQIA+ community and allies a forum that promotes inclusion and acceptance while affirming individuality. They work to produce programs that inspire, educate, and commemorate our rich history, while also celebrating diverse culture. Pride fosters collaboration with area organizations and businesses through sponsorships, partnerships and programming, and provides resources to positively impact the lives of all individuals regardless of sexual orientation, gender identity, or expression.
About ArtWorks
Since 1996, ArtWorks has collaborated with community organizations and residents, businesses, governments, foundations, and nonprofits to build creative works of art that support the Greater Cincinnati region's global reputation as an arts destination. ArtWorks has employed and trained over 3,500 professional artists and 4,000 youth, ages 14–24. We invest in our creative economy by creating jobs that support local talent, pairing professional artists to inspire and mentor diverse teams of youth, and helping them build 21st-century career-readiness skills. Over the past 27 years, this collaborative approach has created a citywide gallery with more than 14,000 public and private art projects, including more than 250 permanent outdoor murals.
2460 Gilbert Avenue | Cincinnati, OH 45206
 ###