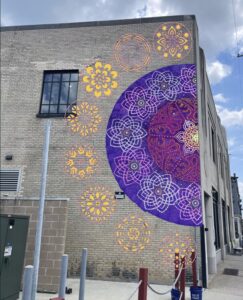 CINCINNATI— ArtWorks, Esoteric Brewing Co., and Model Group are collaborating on a project to transform the northern facade of Esoteric, located at Paramount Square, 918 E McMillan St., in Walnut Hills. This dynamic partnership will bring to life a captivating mandala-inspired design envisioned by Visual and Community Artist Radha Lakshmi in a larger-than-life mural. It is scheduled to be completed by the end of October.
This gateway mural at Historic Peebles Corner (Gilbert & McMillan) will serve as a welcoming landmark for both locals and visitors. It's the fourth mural created by ArtWorks in Walnut Hills, building on a community engagement planning strategy and partnership with the Walnut Hills Redevelopment Foundation. Lakshmi's design will be part of the mural collection in Walnut Hills alongside works by Kathryne Gardette, April Sunami, and Mz. Icar, which ArtWorks has been creating since 2021.
This mural will be a symbol of beauty, resilience, and unity, embodying the spirit of the community. A dedicated team of eight ArtWorks Apprentices, aged 16 to 21, will work on painting the mural, under the skilled guidance of Teaching Artists Thomas Osorio and Hanna Smith.
Lakshmi will work closely with the Apprentices to bring her vision to fruition. An East Walnut Hills resident, Lakshmi has created this new work, deeply rooted in cultural and spiritual significance, as a tribute to her unwavering commitment to her craft and her enduring presence within the community. The project's overarching goal is to enrich the visual tapestry of the area, instill a sense of cultural identity, and foster community cohesion through the power of public art.
Esoteric's 32-ounce crowler label will proudly showcase Lakshmi's design, providing insightful details about this project. Esoteric invites its patrons to contribute to the cause, offering opportunities to donate, alongside hosting special events and happy hours dedicated to fundraising for the mural. Updates and events will be posted on Esoteric's website, Facebook and Instagram. To support this project, donations can be submitted to ArtWorks online.
The Queen City's first and only minority-owned and operated brewery, Esoteric opened in 2020, and was founded by Marvin Abrinica and Brian Jackson. Esoteric is not only a purveyor of outstanding brews but also a testament to the diversity and resurgence of the Walnut Hills neighborhood.
"We are thrilled to partner with ArtWorks, Model Group and artist Radha Lakshmi on this transformative mural project. Esoteric Brewing Co. has always been dedicated to celebrating diversity and community, and this mural perfectly embodies our commitment to those values. We can't wait to see the vibrant colors and intricate design come together, welcoming residents and visitors with open arms," said Abrinica.
About Radha Lakshmi
Lakshmi primarily practices the art of Kolam/Mandala, a ritual art form passed down through her family for generations. The Mandala, a Sanskrit word for circle or completion, has a long history and is recognized for its deep abstract spiritual meaning and representation of wholeness. Radha was born and raised in Chennai, Tamil Nadu, India. Her art is derivative of a spiritual practice that seeks to recognize, honor, and celebrate the interconnectedness of all life in the Cosmos. Her art is inspired by the beauty of the natural world, from the changing seasons and landscapes.  She believes art is influential in healing and transformation, and her work seeks to bring balance, harmony, and peace to those who experience it.  Learn more at radartist.com.
About Esoteric Brewing Co.
Esoteric's vision is to craft a beer with such integrity that it has a profound social impact. That's why they brew with pure ingredients, sourced locally, and grown organically, in order to craft a beer with such integrity that it has a profound social impact. They're here to elevate your palate and create a sumptuous experience that will change your relationship with beer. Craft beer should be as elegant as fine wine. That's why our master brewer spent years honing his craft, paying homage to traditional Belgian, English, German & American styles made with old world character. Learn more at esotericbrewing.com.
About Model Group
Model Group is an integrated property development, construction, and management company with a mission to positively transform communities. They accomplish their work in three primary ways: neighborhood revitalization, high-impact affordable housing, and value-add construction. Model Group has developed more than $1.2 billion in real estate and is currently in its 7th Phase of Development around Walnut Hills. The $100M redevelopment of the former Kroger Site will bring over 100 new affordable and market-rate apartments and the growth of a commercial business district.
About ArtWorks
Since 1996, ArtWorks has collaborated with community organizations and residents, businesses, governments, foundations, and nonprofits to build creative works of art that support the Greater Cincinnati region's global reputation as an arts destination. ArtWorks has employed and trained over 3,500 professional artists and 4,000 youth, ages 14–24. We invest in our creative economy by creating jobs that support local talent, pairing professional artists to inspire and mentor diverse teams of youth, and helping them build 21st-century career-readiness skills. Over the past 27 years, this collaborative approach has created a citywide gallery with more than 14,000 public and private art projects, including more than 300 permanent outdoor murals.
IMAGE SHOWN IS RENDERING.
2460 Gilbert Avenue | Cincinnati, OH 45206
# # #