Every year, scaffolding goes up bleak city walls, paint buckets and safety gear gets hauled out, and rows of sewing machines fire up. ArtWorks has been getting ready for another spectacular season of transformational art!
We've been creating great art on a grand scale through our mural program since 2007 and encouraging children who are facing crisis through our Hero Design Company since 2012. And we've been providing creative youth with art employment opportunities since 1996.
As we get ready to embark on our 24th summer, we are excited to share with you our list of upcoming projects for 2019.
From our partnerships with the YWCA Greater Cincinnati to the Avondale community and from providing the tools for youth to engage in the voting process to working with returning citizens to find dignity and voice, we're proud to announce that this year's ArtWorks projects are focusing on EMPOWERMENT.
Empowerment means providing the opportunities to become stronger and more confident. Not only are our projects focusing on this theme, but the young people and artists we work are empowered by our nurturing environment where creativity can thrive. ArtWorks empowers our community through social and physical change and economic impact.
We thank our 2019 Mural Program Presenting Sponsor, P&G, and our ongoing funders, ArtsWave, The Carol Ann and Ralph V. Haile Jr. / U.S. Bank Foundation, the City of Cincinnati and the Ohio Arts Council.
Read on to learn more about our 2019 Season of Empowerment.
Spring Season
Go Vibrant Trail Art
ArtWorks is partnering with Avondale Development Corporation and goVibrant for the second time to create five new sidewalk murals in Avondale this spring! Bright and colorful designs by Michael Coppage and Brent Billingsley with input from Avondale residents, promote health, wellness, and community, and will guide pedestrians along the pink 3-mile goVibrant trail as part of a collection of goVibrant markers along the route. Painted by four local Youth Apprentices, each of the five murals will be located at an active and/or historic location on the trail and will engage with trail users of all ages and abilities.
Hero Design Company (All Seasons)
The Hero Design Company program highlights the real-world super powers within every child. ArtWorks engages, encourages, and empowers children facing emotional, physical, or situational hardship through the creation of custom superhero capes, co-designed with and sewn by Youth Apprentices. To date, partners for 2019 include Beech Acres Parenting Center, Cincinnati Children's Hospital Medical Center's Champions Program, Fernside Center for Grieving Children, Findlay Street Boys and Girls Club, Heroes R Forever, Ronald McDonald House Charities of Greater Cincinnati and Shriners Hospitals for Children – Cincinnati.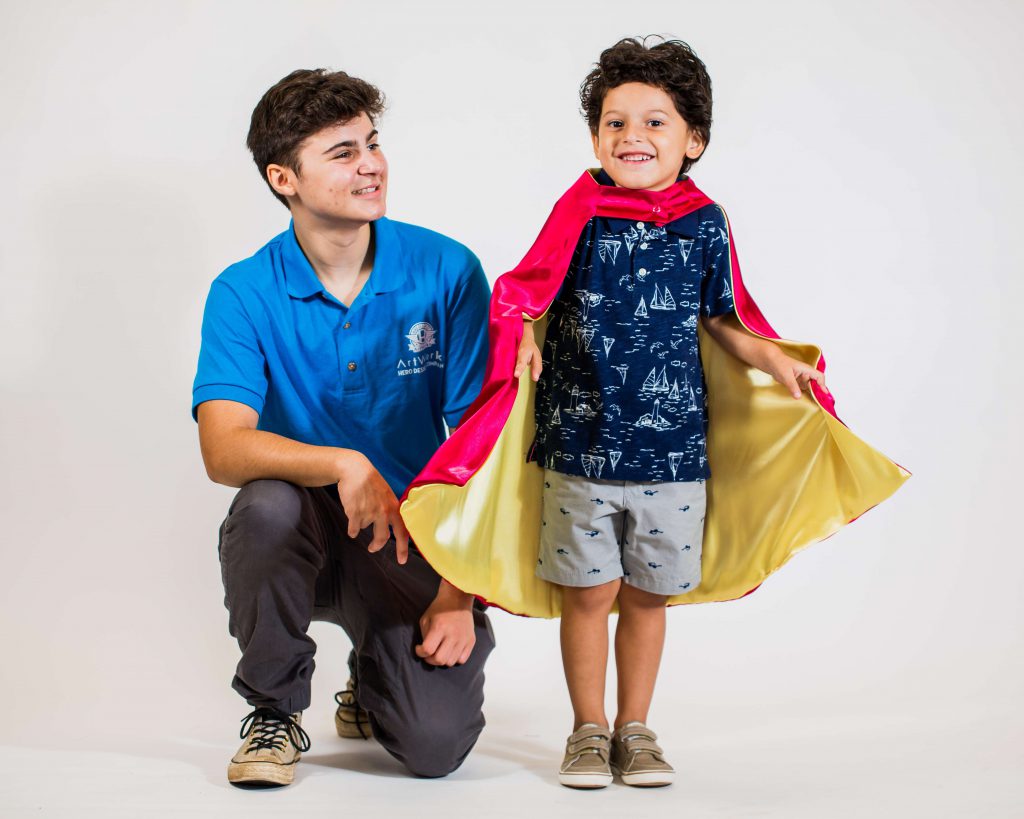 Photo by Carlynne Welch of Bergette Photography
Ziegler Pool Mural
A partnership between ArtWorks and 3CDC, this mural represents the vibrancy of Ziegler Pool in Over-the-Rhine and builds community pride through the beautification of the pool's walls. The design, created by local artist Andrew Neyer, features animals of all kinds coming together to play, swim, relax and sunbathe, and features a rhino as a nod to the Over-the-Rhine swim team's mascot. Read more about this project.

Summer Season
Christ Church Cathedral Mural
ArtWorks is excited to partner with Christ Church Cathedral again this year to create a temporary installation with a social message on the side of the Cathedral in downtown Cincinnati.
YWCA Mural
In celebration of their 150th anniversary, YWCA Greater Cincinnati is partnering with ArtWorks to create a large-scale mural honoring this major milestone. This commemorative mural, designed by Chicago-based artist Molly Costello, celebrates the YWCA's mission and legacy to eliminate racism, empower women, and promote peace, justice, freedom and dignity for all.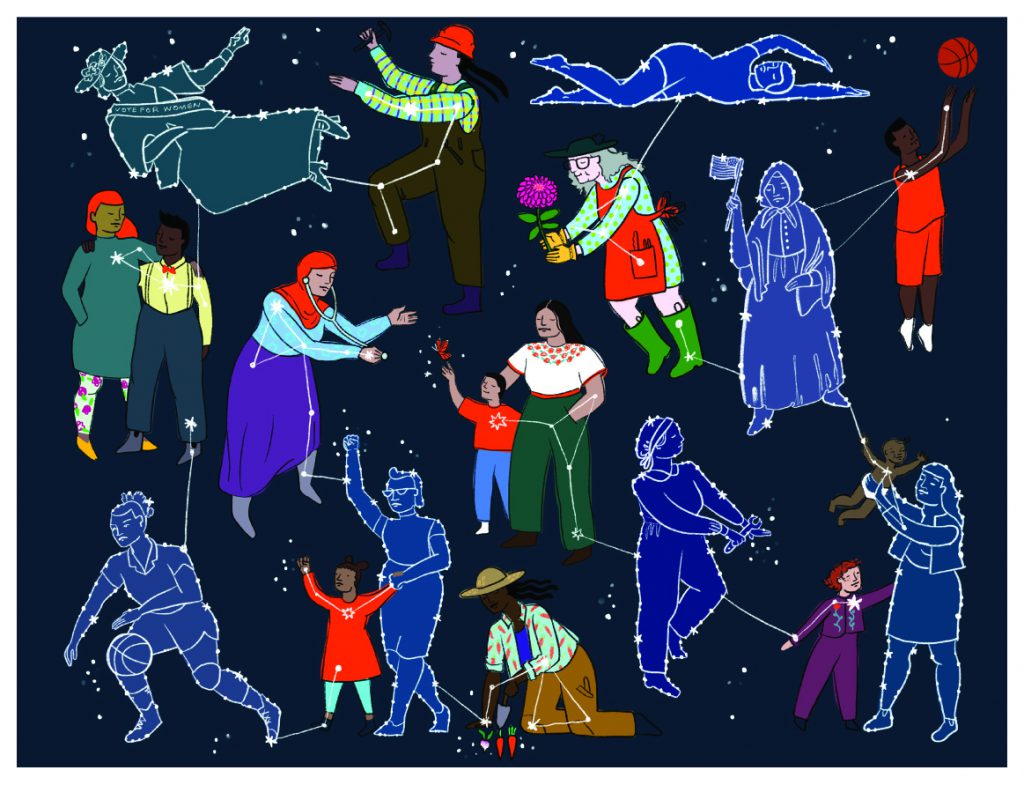 Saya Woolfalk Mural
The Contemporary Arts Center (CAC) is bringing internationally renowned contemporary artist, Saya Woolfalk, to Cincinnati this summer. ArtWorks is partnering with the CAC to engage Woolfalk to create a new mural in downtown Cincinnati accompanied by a digital animation, which will activate the work during BLINK®, Illuminated by ArtsWave. Watch Saya Woolfalk's TEDx Talk, "What world do you want to live in?"
Donate to the Saya Woolfalk Mural
Duke Energy Convention Center
Now celebrating a 10-year partnership, ArtWorks and Duke Energy Convention Center (DECC) will engage local artist Jessica Wolf to bring a new sculptural installation to life, inside the Convention Center's walls. This project marks the 14th collaboration between ArtWorks and DECC, infusing the event space with style, character and color.
Donate to the Duke Energy Convention Center Project
Symmes Township Mural
In partnership with the Symmes Township Board of Trustees, ArtWorks will transform a community park maintenance building into a work of art this summer! The mural will be on the maintenance building at Home of the Brave Park, 11605 Lebanon Road, Cincinnati, OH 45140. Designed by Nashville-based Lucie Rice, will celebrate the Symmes Township community. Focusing on community engagement, ArtWorks will invite residents to paint alongside Youth Apprentices and the professional artist team.
Donate to the Symmes Township Mural

84.51° Neon Mural
84.51 is partnering with ArtWorks to bring a dynamic new mural to the side of their building on Race Street in the Central Business District. For the first time, this new public art mural will incorporate LED neon rope as a major component in the design. ArtWorks is engaging local artist and designer Chase Melendez to create a bold, contemporary, graphic mural design to be painted by a team of four Youth Apprentices led under the direction of Lead Teaching Artist Derek Toebbe, this summer.
Avondale Mural
ArtWorks is partnering with the community of Avondale and Al. Neyer to bring a new mural to the center of Avondale which will celebrate the legacy of historic Avondale resident and Civil Rights activist, Louise Shropshire. Designed by Detroit-based Tylonn Sawyer, this mural will serve as a point of pride for current residents and will tell the story of a historic Avondale community leader to the rest of the city. This is ArtWorks' 6th project in Avondale.
Women's Liberties
As part of a city-wide campaign in 2019 and 2020, initiated by ArtsWave to commemorate the anniversary of women gaining the right to vote, ArtWorks seeks to activate Greater Cincinnati citizens' liberty to vote through inclusive and informative projects anchored in the original women's suffrage activist campaign. A two-phase initiative, ArtWorks will employ Youth Apprentices and creative professionals over two years to develop artist-driven materials and activities which will educate and encourage both young voters and emerging voters. Reverb Art + Design, led by Michelle D'Cruz will be leading this project with the Youth Apprentices.
Donate to the Women's Liberties Projects
ArtWorks Apprentice Projects for BLINK® Illuminated by ArtsWave
Galatic Beasts
Local artist Jesse Mooney-Bullock is leading a team of six Youth Apprentices to create Galactic Light Beast puppets, which will debut in the BLINK® Community Parade on Thursday, October 10th as part of the opening ceremonies of BLINK®, Illuminated by ArtsWave. Designed to affix to backpack units, these wearable Beasts will be mobile and fun as they activate the streets of downtown Cincinnati during the parade, and tell a story through projection and movement, carried by local artist-performers. Design by Jesse Mooney-Bullock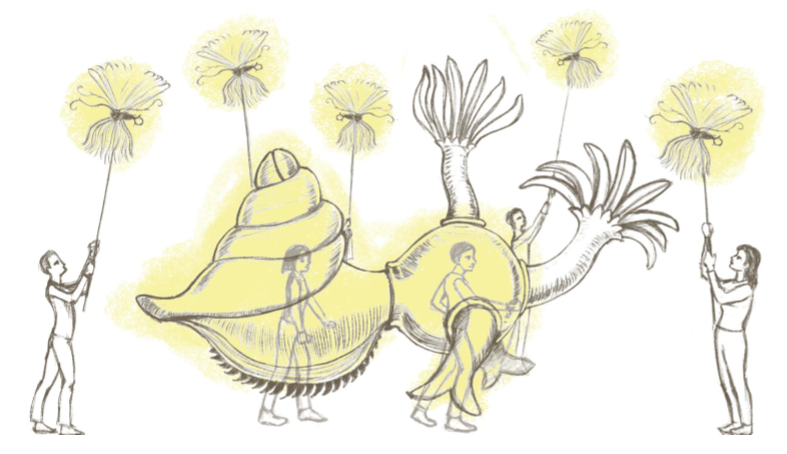 GlowBots
Local artist Kenton Brett will lead a team of ten Youth Apprentices to create an internally-illuminated parade of future-city inhabitants inspired and created by ArtWorks Youth Apprentices. The team will build and create up to 15 robot costumes which will be lit up with LED and light-based tech and featured in the BLINK® Community Parade.
Light + Shadow
Artist Lizzy DuQuette will lead a team of Youth Apprentices in using multiple light-based puppetry techniques, including shadow puppetry and 3D puppets with LEDs to create an original puppet performance. The team will perform the puppet show within (and in front of) a storefront window installation The apprentice and teaching artist team will build a giant shadow-screen crankie, a two-dimensional scrolling puppet show, that will be displayed within a storefront window. Crankies, also called moving panoramas, have long been used as a visual storytelling tool in many cultures.
Fall Season
BLINK® Illuminated by ArtsWave, Installations & Parade
Installations
ArtWorks will curate and manage nearly 30 unique light-based, sculptural installations for the four-day art event. Works will be featured across 20 city blocks in Cincinnati, and for the first time this year will cross the Ohio River into Covington, KY, expanding BLINK® across two states!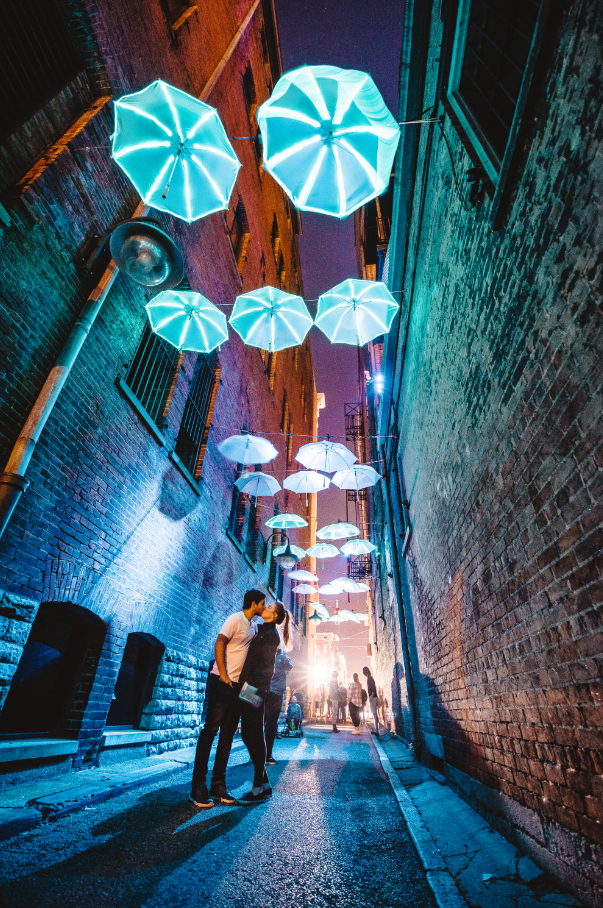 Photo by Mackenzie Frank courtesy of Cincinnati USA Regional Chamber
Parade
ArtWorks is excited to produce The Community Parade which will kick off BLINK® on October 10th at dusk. Participants will include artists, dance and performance groups, marching bands, floats, kinetic sculpture, lanterns, and much more, all decked out with light to shine through the streets of downtown Cincinnati for the first night of BLINK®.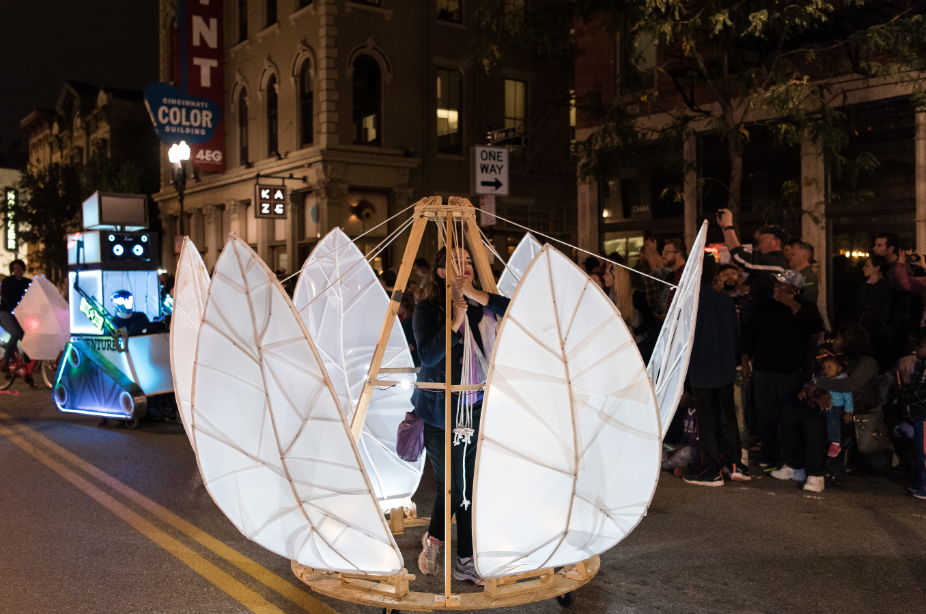 Photo by Mackenzie Frank courtesy of Cincinnati USA Regional Chamber
Thank You to Our Generous Supporters
Thank you to our 2019 Mural Season sponsor, P&G, and our ongoing funders, ArtsWave, The Carol Ann and Ralph V. Haile Jr. / U.S. Bank Foundation, the City of Cincinnati and the Ohio Arts Council.
If you are interested in supporting this work, we invite you to make a gift online or by check at ArtWorks, 20 E. Central Parkway, Cincinnati, OH 45202. If you are interested in supporting a specific project mentioned above, please contact Deborah Stevens at 513.333.3619 or at deborah@artworkscincinnati.org.
About ArtWorks
Since 1996, ArtWorks' has been transforming people and places through investments in creativity. The organization is a workforce development and job-training program where art is the vehicle that trains and employs local youth and professional talent to create art and community impact. ArtWorks has hired over 3,500 youth and 3,000 professional artists who have completed over 12,000 public and private art projects.