Art Off the Walls: Kick It in the West End
September 30 @ 6:00 pm

-

10:00 pm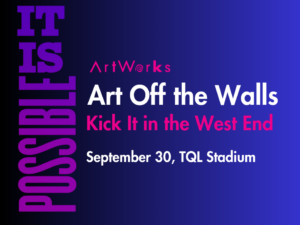 Support It—Art for All
Join us for Art Off the Walls, ArtWorks' fall fundraiser, happening at the First Financial Club in FC Cincinnati's TQL Stadium, as we paint the night with vivid hues of excitement and creativity to support ArtWorks' monumental murals, the artists that make them possible, and our mission to create community-based public art that provides career opportunities for artists of all ages.
This year, we invite you to immerse yourself in this celebration of the storied neighborhood of the historic West End, where echoes of local legends like Ezzard Charles and Mamie Smith have inspired countless contemporary citizens and artists across the region.
ArtWorks empowers and engages artists to interpret our community's stories into inspirational works of art. Your support of this event helps our city come to life with art for all.
Art Off the Walls, Sept. 30, 6 – 10 p.m.
The First Financial Club at TQL Stadium,
1501 Central Pkwy, Cincinnati, OH 45214
LEARN ABOUT THIS EVENT'S AMAZING SPONSORS