ArtWorks is thrilled to announce Michael Betz and Barbara Hauser are returning for a second run as co-chairs of Secret ArtWorks, the organization's annual fundraiser, which will take place Friday, Nov. 22, at Music Hall.
"Michael and Barbara put in their heart and soul into this event last year because they care about creativity in our community," said Tamara Harkavy, ArtWorks' CEO and artistic director. "I was thrilled when they wanted to come back this year and lend their talents to connecting artists and changemakers."
Secret ArtWorks supports the programming of the public arts nonprofit, known for its trademark mural program with 184 permanent murals throughout Greater Cincinnati and Northern Kentucky. ArtWorks is involved with many other creative projects. The organization's Hero Design Company provides superhero capes for children in crisis. ArtWorks is one of three creative partners, along with AGAR and Brave Berlin to produce this year's BLINK®, illuminated by ArtsWave, the nation's largest light festival. The nonprofit employs Youth Apprentices, ages 14-21, and Teaching Artists to create these works by renowned and up-and-coming artists.
"I love how ArtWorks is a place where young creatives can shine," Betz said, director of marketing for Divisions Maintenance Group. "When they use their talents through an ArtWorks Apprenticeship, they are continuing to transform Cincinnati into an arts destination."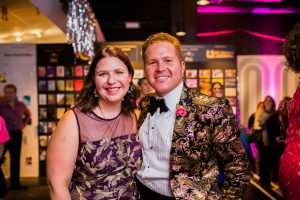 This summer, ArtWorks employed 107 Youth Apprentices and 25 Teaching Artists. The organization is seeking submissions from artists to donate original works of art. What's the secret? The identity of the artist is hidden until the work of art is selected by an attendee.
"We're very excited to be back for a second year as co-chairs for this great fundraiser," said Hauser, P&G Cincinnati Community Relations manager and owner of Red Door Project. "It's thrilling to bring Secret ArtWorks to Music Hall this year. It is such a spectacular arts icon that will create a magical atmosphere for the event."
Host/hostess tickets are now online for Secret ArtWorks.
About ArtWorks
Since 1996, ArtWorks' has been transforming people and places through investments in creativity. The organization is a workforce development and job-training program where art is the vehicle that trains and employs local youth and professional talent to create art and community impact. ArtWorks has hired over 3,300 youth and 2,900 professional artists who have completed over 12,000 public and private art projects.