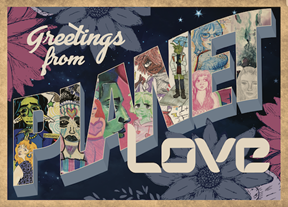 Contact:               Stacy Sims
stacy@thewell.world
513-470-5548
Jill Dunne
Jill@artworkscincinnati.org
513-333-3604
CINCINNATI—Join The Well and ArtWorks for a mural dedication, book launch and exhibition by teen and young adult art apprentices on Thursday, October 5th from 5-8 pm at The Well in Camp Washington, 2868 Colerain Ave. The event is free with registration.
Over eight weeks this summer, the True Body Project and ArtWorks joined forces to empower 12 female and gender-expansive youth through trauma-informed programs, including movement and art. The results will share their journeys, raising awareness and exploring solutions to the mental health challenges faced by teenage girls.
Funded by the City of Cincinnati, P&G Beauty, Idlewild Boutique and area individuals, this unique summer program allowed teens and young adults to work with The Well and True Body Project Program Founder Stacy Sims, Teaching Artist Kyle Wolff, and 15 guest artists. The result of this mentorship was the creation of a Planet Love-themed book, mural, and exhibition created with writing, sculpture, photography, painting and mixed media, which will be celebrated at the dedication event.
Senior Apprentice MJ Cook penned the opening of Dispatches from Planet Love, a 100-page book:
"One minute it was Ohio summer, with the sticky, wet heat that strips you down to a thin t-shirt and bare feet, terrible gray skies inherited from Canada fires, the distant squeals of trains, the hum of Metro busses, folks hollering on cell phones, and the raucous buzzing of cicadas in the sparsely timbered streets of Camp Washington, Cincinnati. Next thing we knew, the 12 of us, strangers to one another, ventured into an experience that would hold unanticipated and unparalleled connections, extensive art making and creative expression, and lessons in navigating our world, and even the universe, as owners of bodies."
The Well's Executive Director Stacy Sims pioneered the now-global True Body Project in 2005 and 2006. This project began as a summer program for teen girls as part of ArtWorks' efforts to employ young adults in the arts. Considering the current mental health crisis among teen girls, Sims felt a pressing need to revert to the original format of the program.
Sims says, "As a result, through a renewed partnership with ArtWorks, we offered a summer-long youth apprenticeship. This initiative enabled us to compensate teen girls as they strive to comprehend themselves and each other better. Furthermore, it encouraged them to advocate for the health and safety of girls and women globally through artistic expression."
"I'm immensely proud of ArtWorks' partnership with The Well and our role in launching True Body Project back in 2005. Mental health challenges faced by young adults today are unparalleled and why this important partnership matters more than ever. This collaboration is a testament to the power of art as a tool for building resiliency," said Colleen Houston, ArtWorks CEO and Artist Director.
Marilyn Vennemeyer, P&G Brand Director (in NA HairCare), helped to facilitate the P&G sponsorship. Vennemeyer attended a True Body Project summer program as a teen. She says, "It's incredible to see young people, closest to the challenge, envision and inspire a healthier future. The deep connections they've created between one another and with art have clearly enabled the apprentices to grow as artists and to make our whole city more beautiful. They are creating Planet Love for their whole generation, right here in Cincinnati."
Event Details:
Date: Thursday, October 5, 2023
Time: 5-8 pm, mural dedication 6:30 pm
Location: The Well, 2868 Colerain Avenue, Cincinnati OH 45225
Free with Registration
Ample street parking on Colerain and side streets.
Pre-Order Dispatches from Planet Love
About ArtWorks
Since 1996, ArtWorks has collaborated with community organizations and residents, businesses, governments, foundations, and nonprofits to build creative works of art that support the Greater Cincinnati region's global reputation as an arts destination. ArtWorks has employed and trained over 3,500 professional artists and 4,000 youth, ages 14–24. We invest in our creative economy by creating jobs that support local talent, pairing professional artists to inspire and mentor diverse teams of youth, and helping them build 21st-century career-readiness skills. Over the past 27 years, this collaborative approach has created a citywide gallery with more than 14,000 public and private art projects, including more than 300 permanent outdoor murals.
About The Well
The Well is a Cincinnati-based, national nonprofit providing programs, practices and connection and the intersection of arts and wellness. Its signature program is Mindful Music Moments, providing the equivalent of 8-10 symphonies a year directly into classrooms daily in audio and video creative journeys. Mindful Poetry Moments centers poetry with mindful prompts for contemplation, writing and publishing. True Body Project and My True SELF elegantly combine aspects of mindfulness, arts, social-emotional learning, play, movement and writing with a trauma sensitive mind-body approach. Learn more at TheWell.World.