This is guest post by Sandra Race Geiser. Sandra Race Geiser is a Former Archivist at the Niehoff Center for Elizabeth Nourse at The Mercantile Library. Geiser was first introduced to ArtWorks at the public dedication of the Elizabeth Nourse in October 2015.
The Woman at 8th and Walnut
Four blocks from the Cincinnati Art Academy is one of Artworks' 2015 murals: a woman whose intense stare is enough to make anyone parking in the lot below quickly dash to pay the fee!
What inspired Artworks to spend hours in 2015 painting this five-story high mural one block from the public library on one of Cincinnati's busiest streets?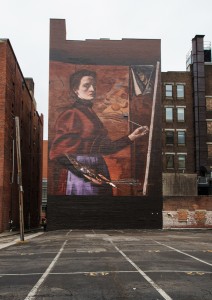 Upon closer inspection, one realizes that this mysterious woman looming over passing pedestrians is a painter with brushes and palette. A replica of a self-portrait painted by Cincinnati native Elizabeth Nourse (1859-1938). A humble woman who would probably be embarrassed, possibly mortified, to find her image mounted high above 8th Street.
Shy and gifted as a child, Nourse entered UC's McMicken School of Design – then in the city's basin – at just 14 years old. "Lizzie" and her twin sister rode the Mt. Auburn incline from Corryville down to the Academy. When both of Nourse's parents died in 1880, "Lizzie's" artwork provided the primary support for her family, a feat uncommon for women at that time. Even with the death of her parents, Nourse still managed to graduate in 1881. Always determined to be an oil painter, she saved money, studied French and in 1887 sailed to Europe to study at Academie Julian in Paris.
But Elizabeth Nourse was never content to simply stay in Paris. This 1892 Self-Portrait, now depicted larger-than-life by ArtWorks, was painted by Nourse in Volendam, Holland during a three-month sojourn. During the time she was living on a dyke in a small cottage with her bed in a closet and no central heating. At the end of a planned five year sojourn in Europe, her "in your face" self-portrait seems to proclaim her success as a salon painter accepted in Paris, London, Munich, and Chicago for the 1893 World Columbian Exposition.
Sadly, her joy upon her 1893 return to Cincinnati was diminished by the loss of her twin Adelaide to consumption on September 12. After sailing to France in April 1894, she would never again return to Cincinnati. While living in Montparnasse, she welcomed friends and shared her space and meals. During World War I she remained in Paris, suffering through deprivations as she sketched grim horrors.
Nourse eventually died in Paris in 1938 after establishing herself as a Salon painter, realist and Impressionist. She never forgot her ties with Cincinnati however, sending the majority of her estate including 16 sketchbooks and many paintings back to Cincinnati.
How fitting to see her again in downtown Cincinnati.
See the mural:
8th Street & Walnut Street, Cincinnati, Ohio 45202
Learn more about the mural and the funders, youth Apprentices and teaching staff who helped make this mural possible: https://www.artworkscincinnati.org/mural/self-portrait-elizabeth-nourse/
Explore Elizabeth Nourse history more in-depth:
Further explore the work and history of Elizabeth Nourse here and on display at the Cincinnati Art Museum.
Watch the mural come to life: