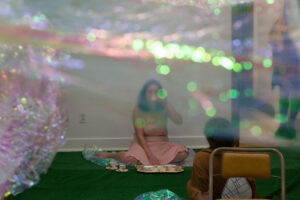 CINCINNATI— Cincinnati-based Performance Artist and Curator Noel Maghathe and six young adult artists (ages 18–24) will showcase the results of a month of artistic mentorship at ArtWorks' V2 Gallery on Friday, Sept. 29. The evening will feature performances by all the artists from 5 to 7 p.m. This public event is free and open to all.
Works made during the ArtWorks Gallery Fellowship Program will be on view at the V2 Gallery from Sept. 29 – Nov. 17. The exhibition includes videos, sculptures, and other objects that represent performances. The works are available for sale during the exhibition, with proceeds going directly to the artists.
Maghathe is a Palestinian American artist with a focus on queer identity, gender, and memory in their artwork. They utilize performance and installation as mediums to foster socially conscious dialogues that center around queer voices. Maghathe has showcased their work on an international scale through exhibitions and performances.
In "Parts or Pieces" Maghathe and the young adult artists use sculpture and performance to generate a series of real and fabricated moments to understand a deep-seated sense of longing for their country, memories, and personal clarity. The young artists will perform reflections in a mirror paired with prose, explore the impact of pollution on aquatic life and confront the consequences of the fishing industry and plastic pollution, share hymns and shoe hanging, delve into the symbolism of Passover and Jewish heritage, and contemplate olives as symbols of consumption and growth, as they engage with interactive and poetic expressions of self, family, and upliftment.
Young adult artists who worked with Maghathe during the program include:
Kapreice Brooks
Pierce Gravenstine
Alexandra Leurck
Faith Lewis
Chay Mills
Alexa Theurling
"ArtWorks is proud to welcome both nationally and locally recognized artists to lead its Gallery Fellowship Program as a master class that gives emerging artists an unparalleled opportunity to study the materials and methods side by side with professional artists and while creating their own unique works of art," said Colleen Houston, CEO & Artist Director. "By bringing together artists from different backgrounds, experiences, and perspectives, this program enriches the artistic landscape, fosters creativity and community building, and empowers aspiring artists to reach new levels of confidence in their artistic career."
About Noel Maghathe
Maghathe is a Cincinnati-based queer Palestinian artist whose creative tools and performances explore their Palestinian heritage. Their work sheds light on the pain of occupation, their yearning for their homeland, and the complexities of personal identity. Maghathe earned a BFA from the Art Academy of Cincinnati, receiving the Stephen H. Wilder Traveling Scholarship in 2017. In 2022, their art was exhibited at several prominent galleries. They have also served as a Curator-in-Residence at CUE Art Foundation and Wave Pool Gallery, and are currently Curator-in-Residence with Roots & Culture Contemporary Arts Center. Learn more at noelmaghathe.com.
About ArtWorks V² Gallery
The ArtWorks V² Gallery is unlike any other gallery in Cincinnati, focusing on emerging artists. Inspired by ArtWorks' apprentice program, learning artists have the chance to take part in a master class program to study the tools and techniques of lead artists and create their own individual works of art to exhibit. This gallery is made possible through the generosity of V², also known as Vandell Verdona, a collaboration between longtime ArtWorks supporters Sara and Michelle Vance Waddell and Ron Houck and David Nebel. Special thanks to Model Group for supporting this gallery. The ArtWorks V² Gallery is located at 929 E. McMillan St. in partnership with HER Cincinnati. View the gallery by appointment only. Call 513.333.0388 to schedule. The gallery is closed on holidays.
Who We Are
Since 1996, ArtWorks has collaborated with community organizations and residents, businesses, governments, foundations, and nonprofits to build creative works of art that support the Greater Cincinnati region's global reputation as an arts destination. ArtWorks has employed and trained over 3,500 professional artists and 4,000 youth, ages 14–24. We invest in our creative economy by creating jobs that support local talent, pairing professional artists to inspire and mentor diverse teams of youth, and helping them build 21st-century career-readiness skills. Over the past 27 years, this collaborative approach has created a citywide gallery with more than 14,000 public and private art projects, including more than 300 permanent outdoor murals.
2460 Gilbert Avenue | Cincinnati, OH 45206
# # #