CINCINNATI— On September 30, nearly 400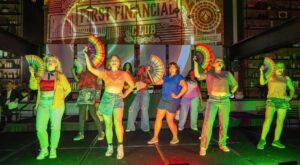 art enthusiasts and supporters gathered at the First Financial Club in FC Cincinnati's TQL Stadium for a captivating event to celebrate Artworks. The stadium glowed ArtWorks pink from the outside and purple on the pitch. Sponsored by Delta Dental and Brave Berlin, Art Off the Walls: Kick It in the West End was ArtWorks' second annual fall fundraiser of that name.
Learn more and see the photo gallery
The event aimed to infuse the night with vibrant creativity while raising essential funds for the organization's monumental mural projects and its mission to foster community-based public art while providing career opportunities for artists of all ages.
Attendees were treated to a remarkable experience including spectacular ArtWorks mural projections and lighting effects by Brave Berlin, a show-stopping performance by Pones featuring ArtWorks Apprentices, and electric music provided by DJ Monet. Local 12 News Anchor Bob Herzog was the Master of Ceremony, adding charisma to the evening and an Unboxed Photo Booth captured memorable moments.
Ticket sales, sponsorships and the silent and live auctions featuring acclaimed artists and one-of-a-kind experiences helped make the event a significant fundraising success. The silent auction supported both artists and ArtWorks (those who consigned received 50% of the proceeds). Proceeds will be used in support of ArtWorks' programs, ensuring the continuation of their valuable work in bringing art to life for all members of the community.
"We are so grateful for each and every person who came out to support ArtWorks, and the invaluable work they do for artists and community-based public art," said Kim Hoeting, who co-chaired the event with her husband, ArtWorks Board Member Mike Hoeting. "It was a privilege to be a part of such an awe-inspiring event that celebrated the organization's commitment in an epic way!"
This year's event was a tribute to the historic West End neighborhood, where local legends like Ezzard Charles and Mamie Smith have left an indelible mark, inspiring countless contemporary citizens and artists throughout the region. ArtWorks empowers and engages artists to transform the stories of the community into inspirational works of art, breathing life and creativity into the city.
Murals highlighted at the event included the West End-located Susan O'Malley "It Is Possible" mural, as well as several murals at TQL Stadium designed by Lightning Horse Industries and Kailiah Ware. Top tier ticket holders and sponsors received a limited edition It Is Possible mural-inspired screen printed by local print shop DIY Printing.
Art Off the Walls once again demonstrated the power of creativity and collaboration in making a positive impact on the cultural landscape of Cincinnati.
Who We Are
Since 1996, ArtWorks has collaborated with community organizations and residents, businesses, governments, foundations, and nonprofits to build creative works of art that support the Greater Cincinnati region's global reputation as an arts destination. ArtWorks has employed and trained over 3,500 professional artists and 4,000 youth, ages 14–24. We invest in our creative economy by creating jobs that support local talent, pairing professional artists to inspire and mentor diverse teams of youth, and helping them build 21st-century career-readiness skills. Over the past 27 years, this collaborative approach has created a citywide gallery with more than 14,000 public and private art projects, including more than 300 permanent outdoor murals.
2460 Gilbert Avenue | Cincinnati, OH 45206
# # #