Past Gallery Exhibitions
2023 Exhibitions
Zeitgeist
February 24–April 14, 2023
In partnership with Core Clay, artist Alondra Biberos leads the collective as they reflect on and capture the spirit of today through the creation of hand-built sculptural and functional ceramic pieces. Learn more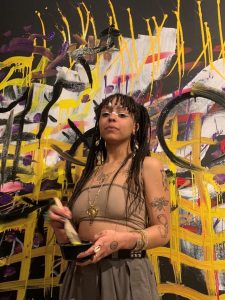 Genuine Static
April 28—June 30, 2023
Featuring artist Cierra Fogle, this series of collaborative and individual large-scale paintings and sculptures traverses a breadth of media as a means to hold space for the vulnerability we may experience throughout salient moments in our lives.
Learn more
As We Bloom
October 27, 2022
Produced in partnership by artist Asa Featherstone, IV and the ArtWorks V² Gallery,
As We Bloom
is a multi-media exhibition that shares a cohesive coming of age story across multiple eras. The exhibition is made up of displays produced by Featherstone and seven ArtWorks Youth Artist collaborators. Under the mentorship of Featherstone, Youth Artists explore different storytelling techniques including mobile, digital, film, photography, and personal interviews, capturing stories from a specific period of time in an individual's life.
Learn more
.
Sustainable Creativity
June 24 – August 13, 2022
Radha Lakshmi and young adult artists print on paper using eco-friendly methods. Lakshmi, a Visual and Community Artist, is also a trained printmaker. Lakshmi was born and raised in Chennai, Tamilnadu, India, and is now a long-time Cincinnati resident. Her art-making has moved from printmaking to ritual threshold ephemeral art, emphasizing eco-friendly materials. Youth artists will learn about rituals of India, including Mandalas, how to eco-print on paper and tell their stories through printmaking techniques. With the guidance of the lead teacher, Radha Lakshmi, The artists will create individual artworks using printing and layering with flowers and leaves resulting in a stunning visual composition using storytelling.
Active Imagination (in collaboration with Cincinnati Art Museum)
April 29 – June 11, 2022
Inspired by painter 
David Driskell
, the 
Kamoinge Workshop
 photographers, and the book 
Black Futures by Kimberly Drew and Jenna Wortham
, Cincinnati Art Museum (CAM) has partnered with several community organizations including ArtWorks to create the 
Black Futures Series
. This multifaceted series of happenings and conversations engages local, established and aspiring Black visual and performing artists in building mentor networks, creating and occupying creative platforms within and beyond arts institutions, sharing histories, and nurturing artistic growth and excellence.
Learn more
Carving Out Your Own Path
March 25 to April 16, 2022
The Carving Out Your Own Path program started with a conversation of what it takes to find your artistic voice, and what it takes to live an artistic life. Youth Artists will look at their influences, the art they love, and everything else that makes us who we are. Teaching Artist, John Lanzador, will guide Youth Artists to explore themselves in order to create the art they want to make.
Lanzador's work has been influenced by folk art, tattoo flash, pop art and contemporary issues. As your Teaching Artist, Lanzador will share the techniques that he has been playing with to have Youth Artists create their own wood based artwork. Artists will all create a carved and painted wooden artwork that will show the influences and current situation of their lives.
Learn more
Gifted
Dec 16, 2022 – Feb 10, 2023
Gifted is a curated alumni show highlighting the talent of ArtWorks' past Apprentices, Teaching Staff, Designers,  Gallery Artists-in-Residence, and Gallery Youth Program Artists with work developed outside ArtWorks' programming. Presented by Duke Energy.