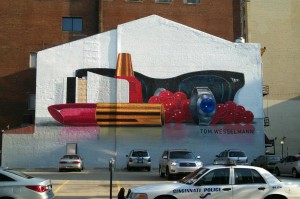 The fourth mural in ArtWorks' Cincinnati Masters mural series, which celebrates the talents of internationally recognized artists from the Cincinnati area, shows Tom Wesselmann's Still Life #60, a billboard sized still life painting, composed of 6 separate shaped canvas panels.  Wesselmann was born in Cincinnati and attended both the University of Cincinnati and the Art Academy before moving to New York City.
In 1967 Wesselmann began the studies for a very important change in his work, the standing cutout pieces.  The main difference in the new works is that the elements are all flat and painted, and the scale is such that they are many times life size and dwarf the viewer.  In Still Life #60, the objects somewhat take the place of the nude since they imply her presence – they suggest the woman has arrived from outside, the necklace and ring could suggest undressing, the lipstick a beauty touch-up, and the open pack of matches suggest smoking, which could imply some degree of intimate relaxation in progress.
-Slim Stealingworth, 1980
ArtWorks brings this masterwork to the heart of Downtown's Design District, highlighting Cincinnati's internationally recognized design industry and celebrating the career of Tom Wesselmann.
Tom Wesselmann
Still Life #60
122 x 333 x 87 inches
oil on canvas
Collection of Claire Wesselmann
Copyright: The Estate of Tom Wesselmann/LIcensed by VAGA, New York, NY
Special Thanks to Claire Wesselmann.  Additional Thanks to Sophia's Deli & Restaurant, Deskey, Donato's Pizza & Arnold's Bar and Grill.
Tom Wesselmann
811 Main Street, Cincinnati, OH 45202
Josh Mindlin
Nicole Trimble
Aaram Chase
Trinity Circle
Amanda Delaney
Duane Roberts
Amari Seymoure
Kyle Shuja
Kyra Watkins
Jessica Williams
Olivia Woosley
The City of Cincinnati
Jack Rouse Associates
Ross Sinclaire & Associates LLC
Bartlett
Legg Mason Investment Counsel
ArtWorks Apprentice Team Adopted by Judy Bausher and Herb Gilliam
American Scaffolding Inc.
William P. Anderson Foundation
ArtWorks Board of Trustees
The Johnson Foundation
Phyllis Peters
power2give Project Contributors
Jacob G. Schmidlapp Trusts, Fifth Third Bank, Trustee
Thomas & Dee Stegman
Maxwell Weaver Foundation
The Carol Ann and Ralph V. Haile Jr./U.S. Bank Foundation
National Endowment for the Arts
ArtsWave
Ohio Arts Council
P&G
Joe Hedges