Mobile, Temporary & Installation Art
ArtWorks often completes mobile, temporary and installation art projects. Below is a partial list of our projects since 2010.
2022 Projects
Kaleidoscope
The Duke Energy Convention Center, ArtWorks, and Brazee Glass Design partnered to create Kaleidoscope, a glass installation of butterflies that adorns the Convention Center's café and atrium. ArtWorks Youth Apprentices worked under the guidance and mentorship of the artists of Brazee Glass Design to produce each unique glass piece. The term "kaleidscope" has multiple meanings. It is a large gathering of butterflies, often those in migration, as well as a playful object that enables viewers to see different perspectives of glass shapes and patterns. Inspiration for the kaleidoscope concept was drawn from the Convention Center itself – a space where people from all over the world and region gather together, acquire knowledge, exchange information, and return home with a new found perspective.

Lead Teaching Artists and Designer: Leah Busch Rockel and Sandra Gross
Youth Apprentices: Grayson Draper and Rowan Fenhoff
Generously Funded By: DECC Convention Center and the City of Cincinnati
2020 Projects
Switch on Avondale
In partnership with the community of Avondale, ArtWorks presents Switch on Avondale, a series of permanent light-based sculptural works. This project aligns with the Avondale Quality of Life Plan to create colorful, community-driven sculptural installations that increase senses and safety and promote healthy activity along Hirsch Recreation Center's new walking trails. With support from the National Endowment for the Arts, ArtWorks hired teams of Youth Apprentices to support the design and execution of several light-based sculptures under the leadership of local artists
Generous sponsors and partners: National Endowment for the Arts Our Town Grant, Cincinnati Children's Hospital Medical Center, SunTrust Bank, Avondale Development Corporation, Cincinnati Recreation Commission, Green Umbrella, Avondale Community Council, and Gabriel's Place.
Silver Linings
Silver Linings is a public art series of conversations and events tapping into the collective wisdom and goodwill of the Avondale community, resulting in 4 large scale light-based sculptures that bring light and positivity to the new walking trail. These short phrases of encouragement were collaboratively designed by the residents of Avondale. The lights will provide safety while the words will provide familiar and friendly comfort and trust. These words, written in the handwriting of a fellow community member will acknowledge the wisdom of those who are already in this community while encouraging those who partake in the new walking trail.
The words of wisdom and encouragement were solicited by Lead Artist, Calcagno Cullen and two Youth Apprentices who placed several sculptural and fun ballot boxes that ask passersby to "Share some encouragement with your neighbor. What would you say to make their day?" Ballot boxes were placed in gathering spaces around Avondale (the food mart, the laundromat, the hardware store, etc.) to collect submissions in early 2020.
Project Manager/Teaching Artist: Calcagno Cullen
Youth Apprentices: Candace Krois, James Bond
Sunflowers
Created by local artist Matthew Grote, Sunflowers are solar powered lights on posts that look like flowers. Each flower will be unique in color and shape. Each illustration in the sunflower interior was created by ArtWorks Youth Apprentices in response to community engagement with Avondale residents. The use of solar lights speak to the future and independence. The flowers speak to growth and strength in the community The bright colors speak to the vibrant diversity and personality of the community
Project Manager/Teaching Artist: Matthew Grote
Youth Apprentices: Maeleigh Douglas, Kandace Krois
---
2019 Projects
BLINK
ArtWorks partnered with AGAR, Brave Berlin, the Cincinnati Chamber, the Carol Ann and Ralph V. Haile Jr. Foundation to produce BLINK, Illuminated by ArtsWave. 90 artists/collectives, 30 Youth Apprentices, and 9 Teaching Artists were commissioned by ArtWorks to produce 45 large-scale light-based installations for the festival. ArtWorks also directed the BLINK Future City Spectacular Parade for 150,000 spectators throughout the event's 30-block footprint. Like 2017, guests were allowed to attend for free. Learn more about BLINK in 2019 here. View the economic impact report here.
---
Confluence
ArtWorks and Duke Energy Convention Center (DECC) are partnered to bring a sculptural installation inside the convention center's walls. This project is the fourteenth collaboration between ArtWorks and DECC, infusing the event space with Cincinnati-inspired characters, color and creativity. Under the guiding hand of local artist and designer Jessica Wolf, a team of four Youth Apprentices created a paper sculpture with nods to the Ohio River and hills of Cincinnati, installed in one of the most high-volume spaces inside the Convention Center, just outside the third floor Grand Ballroom.
Project Manager and Designer: Jessica Wolf
Youth Apprentices: Kyle Casey, Ezra Cline, Joysoline Ivory-Smith, Irakoze Pascasia
Generously Funded By: City of Cincinnati
---
goVibrant Avondale Walking Trails Phase II
Avondale Development Corporation partnered with ArtWorks and goVibrant for the second time to create five new sidewalk murals in Avondale. This project brings another wave of interactive public art to the walking trails of the neighborhood. Bright and colorful designs by Michael Coppage and Brent Billingsley with input from Avondale residents, promote health, wellness, and community, and will guide pedestrians along the pink 3 mile goVibrant trail as part of a collection of goVibrant markers along the route. Painted by four local Youth Apprentices, each of the five murals are located at an active and/or historic location on the trail, and are meant to engage with trail users of all ages and abilities.
Project Manager: Evan Hildebrandt
Teaching Artists: Brent Billingsley and Michael Coppage
Youth Apprentices: Emilio Lanzador, Chelsea Lee, Alex Tanveer, Kylee Guthrie
Generously Funded by: Avondale Development Corporation
---
2018 Projects
The Hope Narrative
ArtWorks created The Hope Narrative: Finding Resilience in Contemporary Photography and Family Photo Archives, a multi-faceted project to beautify the Schiff Wellness Center at the Academy of World Languages in Evanston. In Spring 2018, artist Emily Hanako Momohara worked with a team of 5 ArtWorks Youth Apprentices to interview AWL families about their wellness routines and photographed family artifacts. The team met with 25 individuals from 6 families who represent the US, Syria, Tanzania, Iraq & El Salvador. They brought their own family cultures to the project as well, representing Guatemala, Tanzania, Lebanon, and Japan.
These interviews inspired photo collages that are a collection of images representing a culturally significant display of exercise and food, representing the routines families have to keep themselves healthy and happy. Stories of cultural activities and wellness practices, family photos, and heirlooms were used to create the artworks which are a combination of photography, collage, and textiles specific to the families' stories. These collages are installed in the waiting room of the REFUGE to welcome patients to the space, helping to foster a sense of pride and belonging. FotoFocus is a Cincinnati-based biennial art festival celebrating photography and lens-based art. Since its inauguration in 2010, ArtWorks has contributed large-scale, community-informed, public works of art to the festival.
Project Manager: Emily Hanako Momohara

ArtWorks Youth Apprentices: Yordy Carbrera Garcia, Irakoze Pascasia, Majd ElSabbagh, Elsa Rothan, Lawrence Reed
Generously Funded By: FotoFocus, P&G, Youth 2 Work
---
Olay + ArtWorks Light As Air Contest
ArtWorks and Olay are partnered to produce "Light as Air" –a public art design contest, that sought submissions from female-identifying artists in Ohio, Kentucky, and Indiana in response to Olay's new product line, Olay Whips. Proposals included both two-dimensional mini mural designs and three dimensional sculptural/installation works, with all original designs inspired by the theme "Light as Air" and the Olay Whips product line. Five winning designs/designers were selected by a panel of local jurors from ArtWorks and Proctor & Gamble. The selected designs were fabricated and installed in areas around Downtown and Over-the-Rhine in Cincinnati, Ohio the summer of 2018. This project provided an opportunity for ArtWorks and Olay to showcase regional talent and promote Olay Whips through interactive public works of art and creative storytelling.
First Place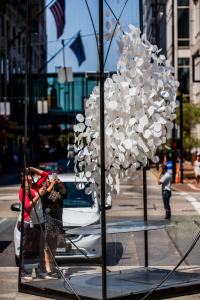 Second Place
---
Third Place
Fourth Place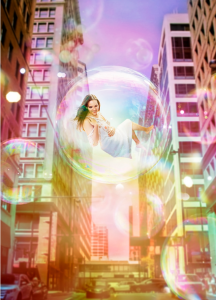 ---
Fifth Place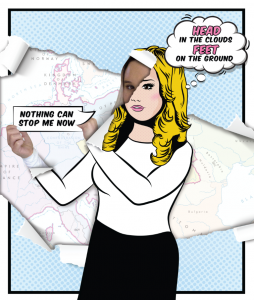 First place
Jessica Wolf, "She Is." Jessica, who is from Cincinnati, used her favorite medium—paper—with ambient or integrated light for her public sculpture.
Second place
Nora Salazar, "Limitless." Nora, from Wyoming, Ohio, is a painter, created a work which was reproduced as mini murals for her installations.
Third place
Shannon Timura, "Feminine Alchemy." Shannon is from Strongsville, Ohio, with her concrete and fabric sculptures focusing on poseable art dolls and animal pieces.
Fourth place
Jess Summers, "Bubbles on Walnut." Jess, from Cincinnati, is a surreal fantasy photographer.
Fifth place
Cassidy Foley teamed up with Nikole Friend to create a computer generated piece, Head in the Clouds." Cassidy is from Cincinnati and designed a mini mural for her Light as Air inspired piece.
---
Dark of the Sea and Sky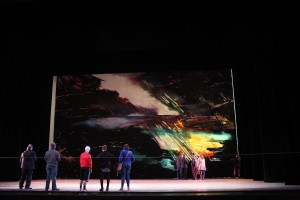 ArtWorks and Cincinnati Ballet are partnered to create new backdrop art for a ballet performance titled "Murder Ballades" in the Spring of 2018. The project provided an opportunity for a Cincinnati-based artist's vision to be featured as a major focal point in a ground-breaking contemporary ballet.
Designer: David Buetsche
Generously Funded By: Cincinnati Ballet
---
Hey. Let's Talk: Mental Health Stigma Reduction Creative Intervention Project
Mental Health challenges affect nearly 20% of the US population, and 75% of those report experiencing stigma related to their condition. Stigma is a form of discrimination – verbal or behavioral – against people with the goal of setting them apart, creating a stereotyped group. In addition to being subject to discrimination, isolation, and stereotypes, prejudice is another negative byproduct those suffering from mental illness face. While mental illness and its stigma affect a broad range of people across demographics, youth are especially at risk. Half of people who experience a mental health condition develop symptoms by age 14 and three-quarters exhibit symptoms by age 24. Young people report suffering higher levels of stigma than adults, and that lack of support has many implications on their capitalization of opportunities, particularly impacting education, economic, and social opportunities.
In Summer 2018, artist Kate Tepe worked with the Apprentices to co-design the game based on feedback from 60 engagement participants. The game, Hey. Let's Talk, is an artistically driven, peer lead, social impact project intending to reduce mental health stigma. The game was developed with the hope that it empowers young people to share and advocate for their needs, ultimately reducing stigma and leading to collective mental health and wellness.
In the Fall of 2018, the team played the finalized game with approximately local youth through partnerships with schools and community/arts organizations. Each participant took home a copy of the game to share and play with others. If you are interested in getting a copy of Hey, Let's Talk, please fill out the request form here. We are accepting orders for one copy per person. If you have a need for a bulk order or have other questions, please check out more information here or email info@artworkscincinnati.org.
Project Manager: Bethany Pelle
Lead Designer: Kate Tepe
Youth Apprentices: Asmarra Williams, Charlie Keiser, William Humason, Ezra Cline, Brigid Murphy, Hannah Feibelman, William (June) Brown, Irakoze Pascasia
Generously Funded By: Interact for Health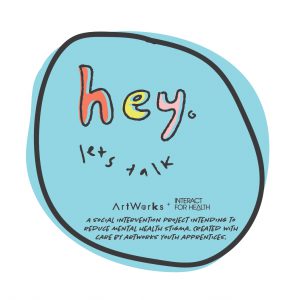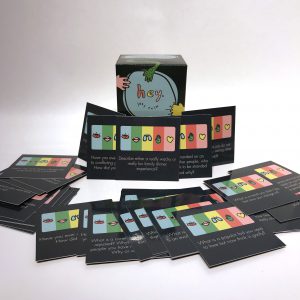 ---
Cincinnati Music Legends Card Deck
Cincinnati has an extensive musical heritage and ArtWorks hopes to inspire people to explore the history. The Cincinnati Music Legend Card Deck project will spark that interest. The project allowed our Youth Apprentices to gain deeper insight into the entrepreneurial space, while honing their skills in sketching, pen and ink drawing, as well as painting. ArtWorks worked in partnership with Shake it Records to create collector's card decks to depict Cincinnati's icons in music. These card decks are sold through Shake It Records, ultimately generating pride for Cincinnati's rich musical history.
Teaching Artists: Justin Green, Joe Walsh
Youth Apprentices: Josie Masset, Katelan Thomas, Kadin True
Generously Funded By: Shake It Records, Youth 2 Work
---
GoVibrant Sidewalk Activation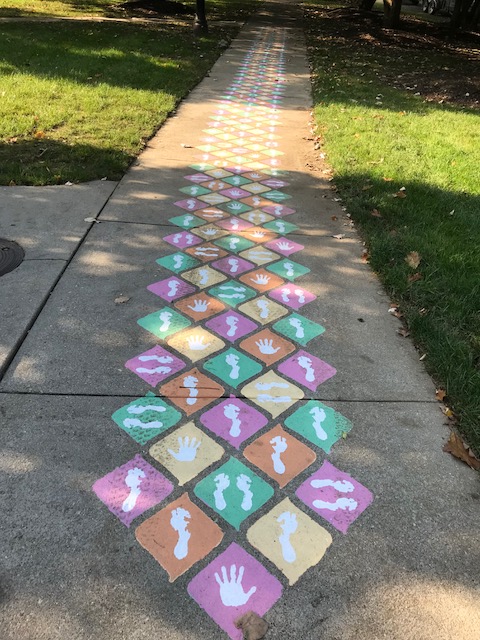 Avondale Development Corporation and go Vibrant engaged ArtWorks to create three activity-based interventions on the sidewalks of Fleischmann Gardens in Avondale. These works are part of a larger effort, and aim to bring color and joy to park users while also promoting health initiatives in the neighborhood. Designed by go Vibrant and Landor, these interventions complement other go Vibrant trail signage located throughout Avondale. ArtWorks employed a team of two Youth Apprentices and a Teaching Artist who worked in Avondale this summer on the PIVOT mural to execute the project over one week in Fall 2018. Community members and business owners were encouraged to support the project by participating in painting the interventions alongside the ArtWorks team. As a collaborative effort, this project is the first of many similar interventions to be installed in Avondale in the future.
Project Manager: Brandon Hawkins
Youth Apprentices: Noor Essakalli, Aiden Cobb

Generously Funded By: Avondale Development Corporation, 2018 Adopt-an-Apprentice Campaign Contributors, American Scaffolding, Inc., ArtWorks Board of Trustees


---
2017 Projects
BLINK 2017
The inaugural BLINK was a partnership between AGAR, ArtWorks, Brave Berlin, Carol Ann & Ralph V. Haile, Jr./U.S. Bank Foundation, and the Cincinnati Chamber. It was one of the nation's largest light, art and projection mapping events. The festival featured large-scale projection mapping, murals, urban artscape, media light and interactive art over the course of four days and spanning 20 city blocks. Cincinnatians and visitors were able to attend for free. 1.2 million people attended. ArtWorks served as a key member of the creative team, managing the parade and interactive light-based installations.
---
2015 Projects
CincyInk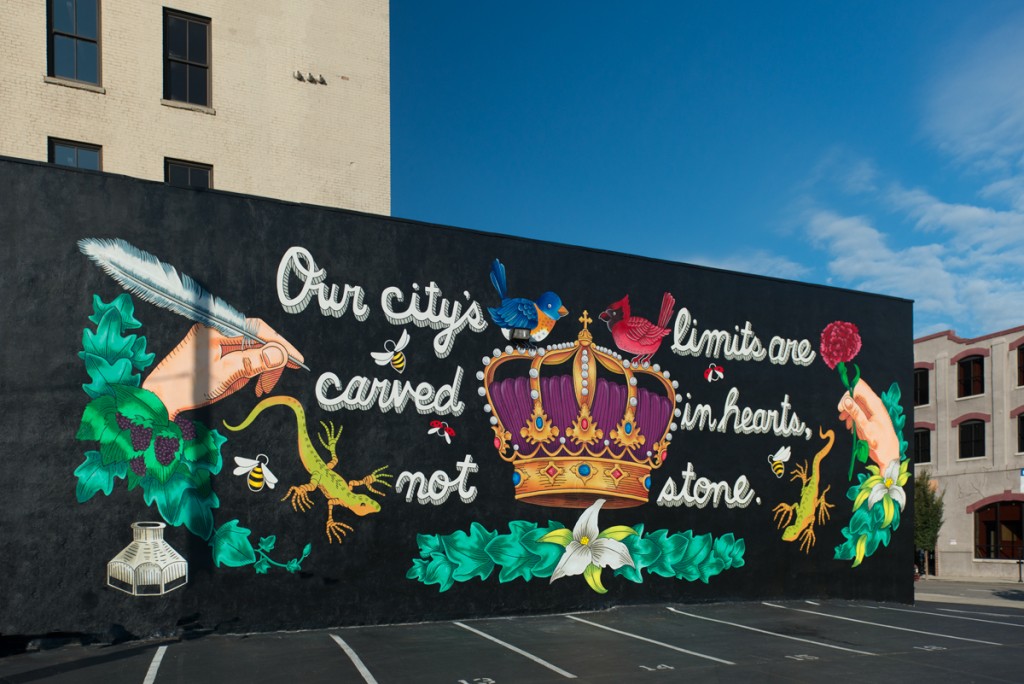 ArtWorks CincyInk was an interactive, citywide celebration of love for Cincinnati, manifesting itself in the form of poems, tattoos and urban art installations.
Read more about the project here.
Learn more
---
2014 Projects
Touching Strangers: Cincinnati
For FotoFocus 2014, ArtWorks partnered with Cincinnati Metro and invited renowned photographer Richard Renaldi to produce a unique extension of his existing project "Touching Strangers" in Cincinnati. In this project, Renaldi invited complete strangers to come together and pose, intimately, in ways that people are usually taught to reserve for their close friends, a real couple, or family. Renaldi created spontaneous and fleeting relationships between strangers for the camera, often pushing his subjects beyond their comfort levels. These relationships may only last for the moment the shutter is released, but the resulting photographs are moving and provocative, and raise profound questions about the possibilities for positive human connection in a diverse society.
ArtWorks hired four youth Apprentices and two local professional photographers to aid Renaldi in the project execution and produce Touching Strangers portraits independently as well. The photographs were housed in 60 bus shelters across the City of Cincinnati, 400 transit cards inside Metro buses, and one image was turned in to a vinyl bus wrap for six months.
About Touching Strangers
Since 2007, Richard Renaldi has been working on a series of photographs that involve approaching and asking complete strangers to physically interact while posing together for a portrait. Working on the street with a large format 8-by-10-inch view camera, Renaldi encounters the subjects for his photographs in towns and cities all over the United States. He pairs them up and invites them to pose together, intimately, in ways that people are usually taught to reserve for their close friends and loved ones. Renaldi creates spontaneous and fleeting relationships between strangers for the camera, often pushing his subjects beyond their comfort levels. These relationships may only last for the moment the shutter is released, but the resulting photographs are moving and provocative, and raise profound questions about the possibilities for positive human connection in a diverse society.
---
Life Theater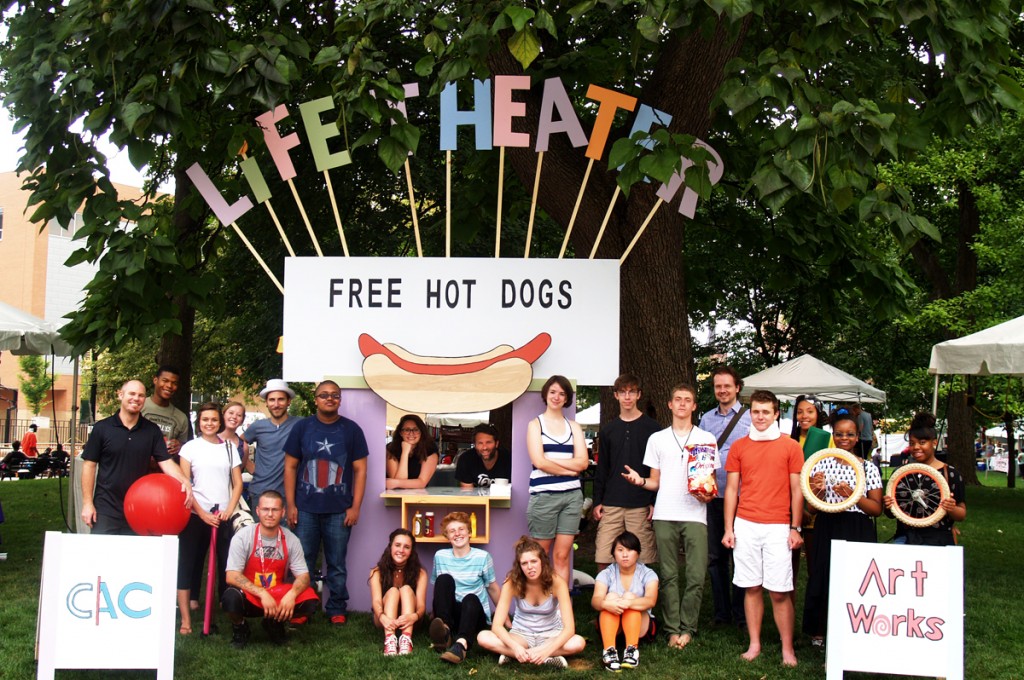 Life Theater is a performance art piece which combines the spontaneous world in which we live with the planned world of theater. What seem to be everyday activities to unsuspecting onlookers are actually thought out, planned performances by ArtWorks artists. Life Theater was a temporary project that took place over the course of 5 days during the summer of 2014. The widely celebrated experiential artist Lee Walton lead 8 ArtWorks Apprentices to complete this temporary piece. The team made several appearances at various parks throughout the city including: Washington Park, Owl's Nest Park, and Ault Park.
Lead Artist: Lee Walton
Apprentice Team: Sydney Barth, Thomas Clifford, Caleb Leonard, Josephine Masset, Ryan Murphy, Terrance Norris, Hannah Perrino, Tenley Rissover
Length of Project: 5 days,  summer 2014
Locations: Washington Park, Owl's Nest Park, Ault Park
Generously Funded By: Kroger, Cincinnati Contemporary Arts Center
Lee Walton has performed Life Theater in several cities around the country. For this particular variation, Apprentices gave away free hot dogs with wrappers containing phrases describing people and actions. As customers received the hot dogs and read the phrases, Apprentices acted out the very descriptions being read.  At the start of the project, the Apprentices constructed and painted the vibrant Life Theater storefront. Then, the team prepared the hot dog wrappers by stamping them with events such as, "Boy with red ball is lost" that the Apprentices were to act out as the customer read it. Once all the preparations were completed, the team set up the hot dog stand at three different parks in Cincinnati and the performance began. As customers enjoyed the free hot dogs they began to notice that seemingly ordinary people in the park were actually ArtWorks artists performing specific actions! The most successful appearance was during Lumenocity at Washington Park, the team was constantly stamping the hot dog wrappers with the events, and had a continuous line for the free hot dogs.
---
C A M P G R O U N D
C A M P G R O U N D was the first installation of temporary works of art installed on the west-facing façade of the French wing of the Cincinnati Art Museum.
Learn more about the project here.
Learn more
---
2013 Projects
Bus Art Shelters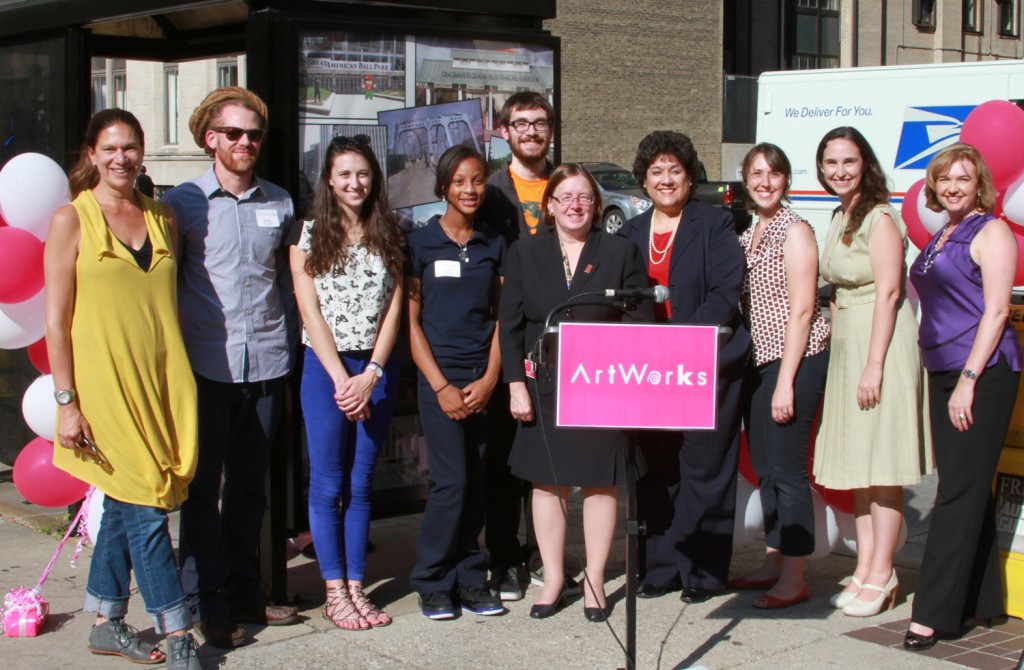 In summer 2013, ArtWorks partnered with SORTA and The Public Library of Cincinnati and Hamilton County to beautify 24 downtown bus shelters with art inspired by works of literature.
---
2010 Projects
ArtCars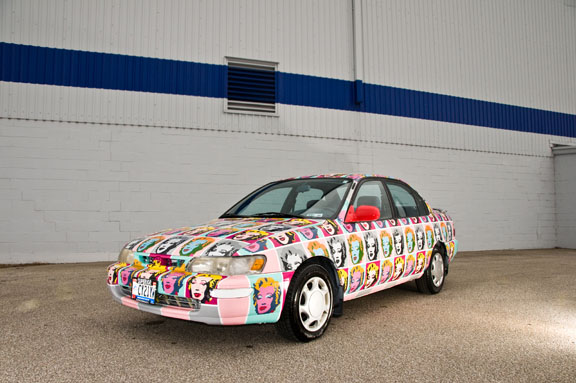 ArtWorks Youth Apprentices and Professional Artists  transformed 24+ cars, trucks and vans into mobile masterpieces.