Murals
Transforming Greater Cincinnati One Wall at a Time
ArtWorks Youth Apprentices and Professional Artists turn bare walls into public masterpieces—to date, we've created hundreds of murals throughout Greater Cincinnati and the Northern Kentucky Region.
Do a self-guided mural by downloading this map!
---
The Mayor's Mural Program
In 2007, former Mayor Mark Mallory did a city exchange in Philadelphia. Their mural program, which in 30 years has completed over 3,000 murals, both impressed and inspired him. When he got home, Mallory challenged ArtWorks to create a mural in each of Cincinnati's 52 neighborhoods. We're over half way there; 36 Cincinnati neighborhoods and 7 nearby cities proudly feature ArtWorks murals.
In 2014, for the first time ever, Mayor John Cranley declared the month of October "ArtWorks Mural Month" with an official proclamation! The proclamation ceremony kicked off a month long celebration which included the launch of our new Mural Tour program, numerous mural dedications, and several special events around the City. Check out our official proclamation below!
---
Murals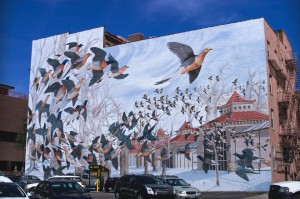 ArtWorks youth Apprentices have completed 147 murals in 42 Cincinnati neighborhoods and seven nearby cities.
Take a tour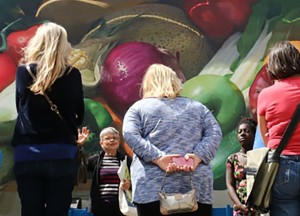 Join us as we walk through historic downtown streets exploring Cincinnati's impressive collection of larger-than-life murals on a private tour. Or click here to download a map for one of our self-guided walking tours.
---
Thank You, Cincinnati
The City of Cincinnati challenged us to paint murals and still generously supports our mission to this day. Thank you, City of Cincinnati!
---