The Pendleton Spinnradl
A multi-sensory, interactive sculpture installation
About The Project
The Pendleton Spinnradl is a set of two musical sculptures located in the Pendleton neighborhood in downtown Cincinnati.  Standing 14 feet tall and made of metal with ceramic embellishments, these sculptures were a collaborative effort between ArtWorks, lead design team Wowhaus, and a number of other artistic partner organizations.  The designs of the sculptures were inspired by history and character of the Pendleton neighborhood.
[slideshow id=18]
Community Engagement:
ArtWorks and Wowhaus organized events to engage the Pendleton community in the preliminary stages of this project to influence the design. From these events the artists gained insight of the values and history of the Pendleton community.  The community engagement events were held over two intense weeks filled with storytelling, photo safaris, block parties, crosswalk painting, and even a cake party.  These events gave residents an opportunity to share their personal stories and gain a sense of community pride. Wowhaus used the information collected through these events to create a design that is not only beautiful but also reflects the character of the Pendleton community.
---
About the Sculptures:
The collaborative nature of this project is unique and the Wowhaus Design team partnered with several different organizations to help fabricate their original design.  The sculptures have 2 major components; the metal framework created by the Verdin Bells & Clocks Inc. and the interactive music box, created by the Reuge company, which is situated in the rounded top of the sculpture and activated by a handcrank on the base.  All around the handcrank are brightly colored tiles, made by the Rookwood Pottery Company, which entice viewers to take a closer look and interact with the sculpture.
The tiles are adorned with symbols that resonate with many cultures in the Cincinnati region including people of German and African-American heritage. For example, the star tile represents the North Star that guided escaping slaves to freedom and the tiles with the bubbles are a tribute to Pendleton's brewing history. The two songs that play when the handcranks are turned are also filled with symbolism. One music box plays "Coney Island Dip," which was written by a Cincinnati composer and once played on the local steamer The Island Queen, and the other plays "Spinnradl" which is a German dance tune.
---
We would like to express our sincere thanks to the many artisans, partners and funders who worked together to make this project a beautiful success: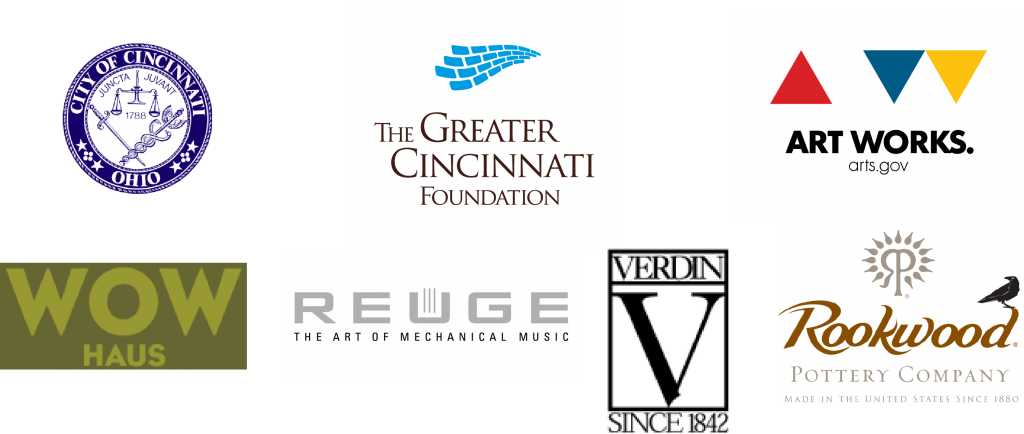 Special Thanks to the people of Pendleton and the Pendleton Neighborhood Council