C A M P G R O U N D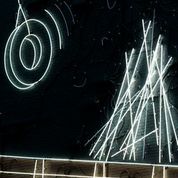 C A M P G R O U N D
Location: Cincinnati Art Museum, 953 Eden Park Drive, Cincinnati, OH 45202
Lead Artist: Tony Luensman
Project Manager: Tony Luensman
Teaching Artist: Emily Sites
Apprentices: Princess Dyer, Max Freyberger, Jalyn Hill, Matthew Miklavcic, Brian Pulliam, Violet Schramm, Hannah Sypniewski, Jessica Whayne
Project Generously Funded by: Macy's, The Carol Ann and Ralph V. Haile Jr./U.S. Bank Foundation, The LaBoiteaux Foundation, ArtWorks Apprentice Team Adopted by Judy Bausher and Herb Gilliam
C A M P G R O U N D from AAC Film, Video & Audio Minor on Vimeo.
About C A M P G R O U N D
C A M P G R O U N D is the first installation in a new rotating program of temporary works of art installed on the west-facing façade of the French wing of the Cincinnati Art Museum.  This unique partnership between ArtWorks and the Cincinnati Art Museum will highlight contemporary art, engage the community and provide meaningful employment and development for ArtWorks Youth Apprentices.  On view for approximately 18 months, this dynamic work will be visible not only to Art Museum patrons, but also to those at a distance including travelers on interstate 71.
With C A M P G R O U N D, local artist Anthony Luensman evokes a billboard one might still discover along a country highway.  It advertises with the familiar vacation icons of tire swings and sparking campfires.  The animated sign promises outdoor escape and primitive comfort against the massive holdings and complexities of civilization.  The promise, however, hints at its oven future of being unfulfilled as neon displaces "nature" and its white lines outline an artificial landscape.
The Apprentices assigned to C A M P G R O U N D learned Luensman's process and created works inspired by Luensman using unconventional materials including electronic lights.  The Apprentice summer project culminated in a gallery exhibit of screenprints and multimedia light installations at Clay Street Press.
About the Artist
Anthony Luensman is a well-regarded Cincinnati artist and art instructor at the Art Academy of Cincinnati.  He received his bachelor's degree in Studio Art from Kenyon College in Gambier, Ohio.  Since graduating in 1988, he has broadened his thematic scope and refined his visual and aural vocabularies through a series of national and international artist residencies. Luensman's wide-ranging interests and multimedia capabilities have led to successful collaborations in music, dance, and installation and a number of unconventional projects. His work has been exhibited locally at the Cincinnati Art Museum and the Contemporary Arts Center as well as at galleries around the world.  Luensman has received numerous fellowships including the prestigious Efroymson Contemporary Arts Fellowship (2008) and Ohio Arts council Artist Fellowship (2004).