CincyInk
263 Bodies and 54 Buildings Inked with Love
Thank you to everyone involved in CincyInk, The Cincinnati Tattoo Project and Ink Your Love. ArtWorks is so appreciative of your dedication to Cincinnati and everything you did to help make this project come to fruition! Learn more about CincyInk using the navigation buttons below.
---
The CincyInk Timeline:

Timeline:
July – November 2014
Crowd-sourced letters, stories, written expressions of love for Cincinnati collected.
February – June 2015
Poem is revealed, tattoos are assigned and inked.
June – November 2015
Urban public art installations based on lines from the poem are created
November 20, 2015
Final CincyInk Celebration and Reveal
---
ArtWorks CincyInk was an interactive, citywide celebration of love for Cincinnati, manifesting itself in the form of poems, tattoos and urban art installations. It was a declaration of love to our Queen City. It was a poem and a project of ArtWorks that was about love, words and permanence.
Inspired by the Cincinnati Tattoo Project, and the vision of artists Kurt Gohde and Kremena Todorova, CincyInk was, at its core, an exaltation of love for the city of Cincinnati.
The words of love that make up CincyInk were directly sourced from the beautiful voices of over 1,000 participants and compiled into the poem Seven Hills and a Queen to Name Them by the writers at Chase Public. These words were inked, line by line, onto the walls and skin of those who call Cincinnati home.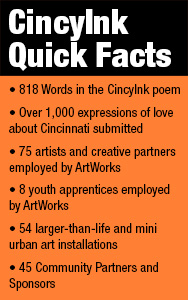 It all began with a call for letters, stories, tweets and other written expressions of love for Cincinnati from everyone who calls it home. Over 1,000 declarations of love were submitted by participants and fashioned into a love poem by poetry commission, Chase Public, to the city called Seven Hills and a Queen to Name Them, which beautifully captured the sentiment of residents both within and outside the city's limits.
After Kurt & Kremena divided the poem into 263 single words and phrases, and designed each of them as a unique tattoo, the talented team at One Shot Tattoo permanently inked this symbolic expression of love for the Queen City on the wrists, calves and ribs of more than 250 Cincinnatians.
Along with community partners, artists and sponsors, we brought CincyInk to life all across the Queen City (download map). We rallied behind the hashtag #inkyourlove to anchor the project and connect the dots between the poem, tattoos and larger-than-life urban art installations across the city. Found on building facades and skyways, projected onto plazas, and wrapped around Great American Ballpark and all over the bars and restaurants up and down Vine Street, Main Street and everywhere in between.
We timed the launch of the public art installations with the MLB All-Star baseball game to show our civic pride to the world and introduce our city's commitment to art and creativity. It was a sure "wow" for our out-of-town guests and immersed them in our love for Cincinnati.
The ArtWorks CincyInk project is for anyone and everyone who calls Cincinnati home. Visitors and residents alike were able to discover CincyInk's lines of love across downtown and OTR through tours of the CincyInk urban art installations.
---
Seven Hills and a Queen to Name Them
Poem commissioned by ArtWorks, underwritten by The Johnson Foundation, and crafted by Chase Public.
I always say a prayer
when I see you through
the cut in the hill,
my drama Queen City.
You swam in bourbon and blues
and called your song the river.
I doused myself in your laughter.
Now I climb hilltop woods
and stone halos
to find an unabridged view.
You're an artist until proven innocent.
I reached for your hand in a gallery
with a painting named Springtime.
You stood me in the northern light
of a Court Street window
and made a photograph.
You made away with me.
*******
Cincinnati was first spoken by the mouth
of the Licking, in a bend
of the good river, the Ohio.
A city lifted by the genius of water.
Who can know this place,
its streets laid out with the peculiar vision
of constellation charts? Let's draw our own maps:
triangulate the bells of every parish,
sketch neighborhoods that overlap zip codes.
Buy a cone at every summertime stand,
blow a horn at every pawn shop,
eat barbecue and slaw at every smoker
while we sift through the small talk:
Which chili parlour? West side or east?
State or commonwealth? What high school?
Can anyone say where our city ends?
The Queen shares her crown
with the northern South
and all who call her home.
Our city's limits are carved in hearts, not stone.
*******
The Queen dreamed out loud,
Mama's gonna pull history from the buildings,
roll it out on the street for you to see
original brick, hidden under siding, under asphalt.
Story on story, hoisting us higher into history.
Mama's gonna open bar doors, stretch the taps out
to the sidewalk, pour drafts for drinkin'.
Light the sacred glass in blooms of stonework
and paint the streets like a beer bottle mosaic.
Mama's gonna build a boat bigger than Noah's,
a wheel and tall stacks, to whistle your name.
Plow the lonely barge lanes in winter
and hop-skip the river boat to boat when fireworks fly.
Mama wants to make it happen.
Mama's doin' it for you.
*******
Corn-fed pig town.
You taught me three-ways, goetta fests
and pony kegs. Bengal shouts in winter winds.
You taught me to Ezzard Charles,
to jab, weave and strike like a cobra.
To throw myself out of the corner and into the fight.
To cheer into the river night
with the ghosts and golden spirits
of Crosley Field, a palace to the fans.
Throat sore, eyes too full of light.
You taught me to avoid the tag,
to sing the knotted history of the hit king
with a stubborn tongue.
To slide head-first into home.
*******
I came for the magic and stayed
for the music. Heard your trumpet calls,
symphonies and syncopations.
I let a stranger sing to me,
lines that told the truth like graffiti
over sanctioned street art.
She phrased a phrase too charged to hold key.
Music reaches down the one-ways from a public stage,
rebounds off homes from church festivals.
Brick, here, is a canvas for revolution,
a reawakening of sweat and spirit.
The site of the blacksmith off Ridge is now
a record store, hammer clang to cymbal crash.
Time goes by, places change, the rhythm pushes on.
*******
The fog rolls over the night hills—
not every hill, but here.
Rolls in and hides the limits of the night.
I drive Montgomery Road to our centennial house.
From the porch, I hear the baby cry,
a new squall storming old plaster.
Joining the wind, an anthem
to our alma mater. In my arms,
I shush with wordless whispers
and no magic, sounds to settle
an arrival home.
This street, where puddles splash. On this hill,
with no historic name, one among many,
the fog paddles on into memory.
*******
Home. The name of a surprising house,
its numbers bright as jewels.
There's a title for every square foot
of this city. We call them all again.
Reclaim them. Choosing a name
is a declaration of intent.
But it's uncertain magic.
Cincinnati, named for the leader who cast aside
his sword when the war was won.
Named for power surrendered, and power is surrendered
in time. Swords not laid down will one day drop.
We who had been torn, stirred, packed down,
formed and baked into the brick of change,
are now referred to as able—
spoken of when pointing to progress.
The mystery unwinds but doesn't unravel.
*******
Cincinnati is a promise that we make
to our inner selves,
and I promise
there are still stories
to tell and to tell.
Streets to walk, and corners,
like the city , to come around.
Marry me in Eden Park,
Lay with me at Spring Grove.
It would be beautiful.
You're the heart in my wrist,
the arrow on my chest.
I tried to draw you some mysterious name
but you turned my line
into a circle around us.
Sing the Queen City.
Say home.
Coast the long cut.
Cross that bridge.
---
About the Tattoo Project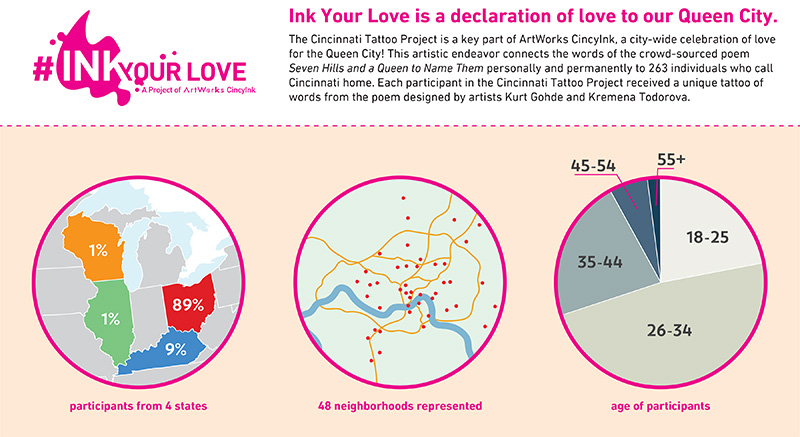 The Cincinnati Tattoo Project is a key part of CincyInk, a city-wide celebration of love for the Queen City! This artistic endeavor connects the words of the poem personally and permanently to over 250 individuals who call Cincinnati home. Each participant in the Cincinnati Tattoo Project has received a unique tattoo of words from the poem on their bodies. 263 unique phrases have been designed by artists Kurt Gohde and Kremena Todorova, and assigned to the 263 individuals eager to permanently ink their love for Cincinnati.
Kurt Gohde & Kremena Todorova, the artists behind successful community-wide celebrated the Lexington Tattoo Project and the Boulder Tattoo Project, are the same artists that ArtWorks commissioned to bring their idea to Cincinnati. Godhe & Todorova have designed all of the 263 tattoos, which will only be produced a single time for each tattoo recipient in the project – ensuring that all participants receive an original work of art connecting them to the City of Cincinnnati, as well as the other 262 project participants.
Gohde & Todorova worked in partnership with local tattoo artists, One Shot Tattoo, to bring their vision to life. Led by owner and artist Jason Morgan, One Shot Shot Tattoo's three artists tattooed all 263 recipients with their curated tattoos over a two month period.  Morgan, a seasoned tattoo artist of 20 years has completed over 20,000 tattoos prior to joining the efforts of the Cincinnati Tattoo Project.  All three artists apprenticed under professional tattoo artists to learn their craft including health guidelines, best practices and how to create a work of art that will age well.
The Cincinnati Enquirer generously photographed all 263 participants in the Cincinnati Tattoo Project. These images were used by artists Gohde and Todorova to complete another portion of their project – the final Cincinnati Tattoo Project video. Watch the trailer here.
---
CincyInk partners, artists & sponsors
creative partners:
ArtWorks | Brave Berlin | Chase Public | Kurt & Kremena | LPK
One Shot Tattoo | Tommy Sheehan of TOMMYINK | John Lanzador
mini mural artists:
Brent Beck | James Billiter | Kenton Brett | Leah Busch | Elishia Candelaresi |  Taylor Carpenter | Matt Coors
Sara Cormier | Cryptogram | Jesse Deegan | Lizzy DuQuette | Sean M. Foster | Jake Gerth | Alissa Gilley
Matt Grote | Emily Howard | Laura Katz | Adam Laine | John Lanzador | Jeimei Lin | Nick Mogely
Jason Morgan | Lindsay Nehls | Keith Neltner | Mark Patsfall | Lyndon Probst | Powerhouse
Dan Reynolds | Chris Ritter | Kayla Risch | Christian Schmidt | Tommy Sheehan | Jason Snell | Matt Steffen
Mark Thomas | Peter Van Hyning | David Wischer
apprentices:
Julian Gregory | DeAysha Harris | Kyra Watkins | Francis Bohlke | Ahustin Crawford
Karalyn Henry | Christopher Kuhne | Genevieve Lavalle |Marion Scruggs
presenting sponsors:
The Carew Tower Complex | Cintas | Fath Properties | Fifth Third Bank | GE Aviation
The Carol Ann and Ralph V. Haile, Jr./U.S. Bank Foundation | Huntington | PNC
Pure Romance | Harold C. Schott Foundation
sponsors:
84.51˚ | Shannon and Lee Carter | Chavez Properties | Cincinnati Bell
Cincinnati Children's Hospital Medical Center | The Thomas J. Emery Memorial
Ernst & Young, LLP | The Greater Cincinnati Foundation | Horseshoe Casino
The Johnson Foundation | KeyBank | The Mayerson Family | P&G
William O. Purdy, Jr. Fund of The Greater Cincinnati Foundation | Quadrant Family Office
River Cities Capital Funds | Jacob G. Schmidlapp Trusts, Fifth Third Bank, Trustee
The E.W. Scripps Co. | Thompson Hine, LLP
 project partners:
3CDC | ArtsWave | The Cincinnati Enquirer | Cincinnati Museum Center
The Cincinnati Reds | Cincinnati USA Convention and Visitors Bureau
City of Cincinnati | Community Organizing Committee
Downtown Cincinnati Inc. | The Freedom Center
---
CincyInk Press
Cincinnati Enquirer, 7/11/15 "54 Cincinnati buildings transformed by love letter"
Cincinnati Business Courier, 7/2/2015 "More love notes for Cincinnati will be lit up for the All-Star Game"
WLWT, 6/30/15 "ArtWorks Murals, CincyInk project on display in time for the All-Star Game"
Cincinnati Enquirer, 6/30/15 "Poetry adorns Great American Ball Park"
Cincinnati Business Courier, 6/29/15 "A love letter to Cincinnati will take center stage at the All-Star Game"
Cincinnati Enquirer, 5/16/15 "Tattoo You: Cincinnati poem project getting done"
Local 12, 4/7/15 "Inking underway for Cincinnati tattoo project"
Cincinnati Enquirer, 2/17/15 "Love for Cincinnati revealed line by line"
Cincinnati Enquirer, 9/17/14 "Ready to make your Cincy love permanent?"
About ArtWorks CincyInk

Ink Your Love was a declaration of love to our Queen City. It was a poem and a project of ArtWorks CincyInk. It was about love, and words, and permanence.  It was crowd-sourced, then written, then inked, line by line, on the walls and skin of those who call Cincinnati home. People were encouraged to discover lines of love that were inscribed across  downtown Cincinnati and Over-the-Rhine from September- November 2015.