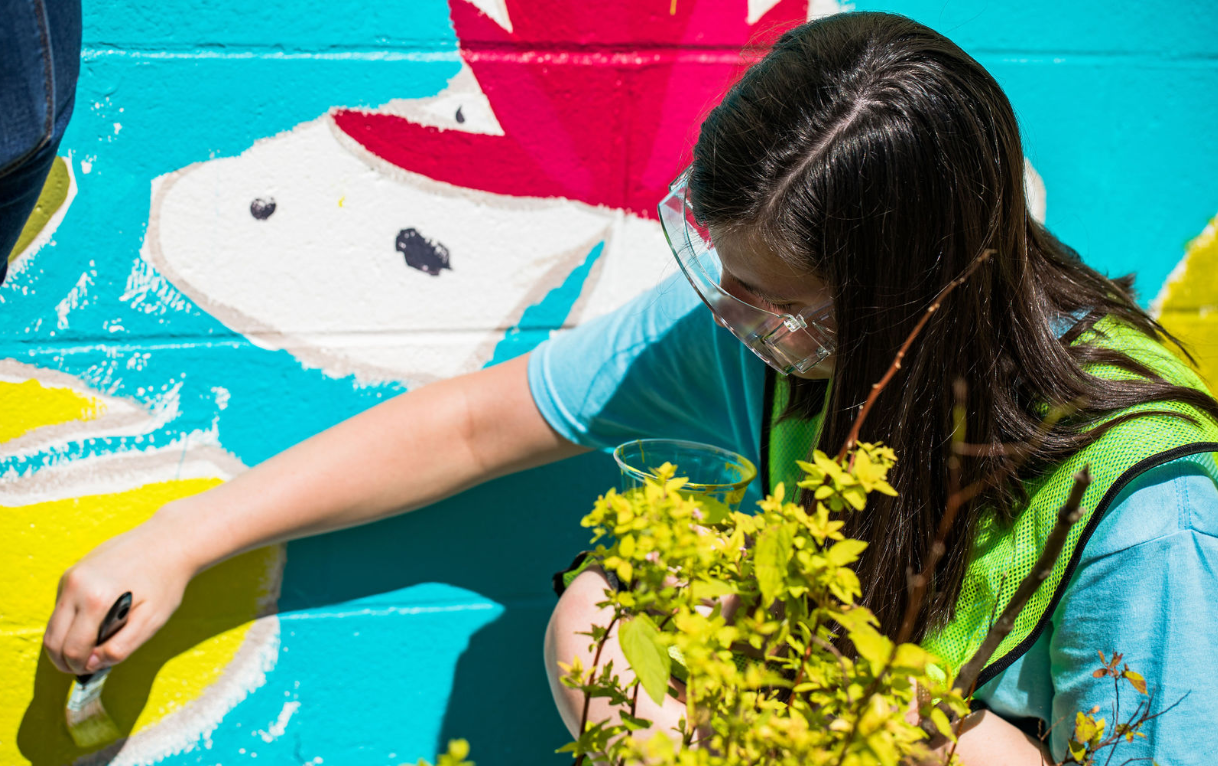 Whew! What a fast eight weeks our summer season of EMPOWERMENT has been!
ArtWorks Youth Apprentices and Teaching Artists, along with their family and friends, supporters, staff and board, recently came together at our Summer Celebration. The event, held at the 1819 Innovation Hub at the University of Cincinnati, honors the 13 projects completed this season.
Created by 107 Youth Apprentices and 26 Teaching Staff, this summer's projects include Chase Melendez's 8C4I5N1 mural downtown, Tylonn Sawyer's A Song of Freedom mural in Avondale, Kenton Brett's BLINK® Parade GlowBots, Lizzy DuQuette's BLINK® Light + Shadow, Lindsey Whittle & Grace DuVal's BLINK® Parade Other Worldly Costumes, Jesse Mooney-Bullock's BLINK® Parade Galactic Beasts, Cal Cullen and Anissa Lewis's Cincinnati Artist Report, Molly Costello's Connected Through the Generations mural downtown, Jessica Wolf's Duke Energy Convention Center installation downtown, Reverb Art + Design's Hear Me Out, Hero Design Company, Saya Woolfalk's mural downtown and Lucie Rice's Symmes Township: Alive with History mural.
"Our hats are off you talented and hardworking artists," said Tamara Harkavy, ArtWorks CEO and Artistic Director, at the event to our project teams. "You inspire us. We are impressed with your work ethic and commitment to your project and your team and to our community. You've left a mark and made a difference in our City, by transforming people and places through your own acts of creativity."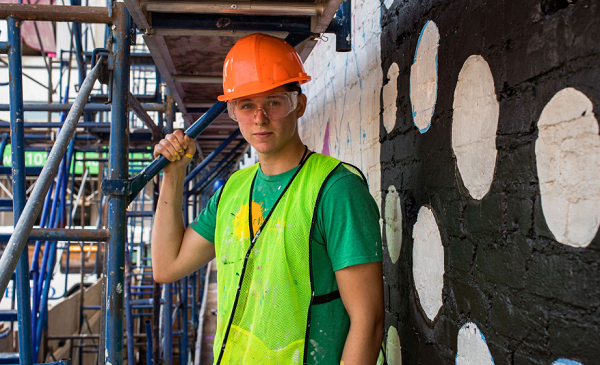 ArtWorks Chief Programming Officer Colleen Houston presented Youth Apprentice Wesley Ericson of Clermont County with our 2019 Biggie Award.
This award is given to a returning Youth Apprentice who has proven themselves as a role model to their peers, who is dedicated to making a real difference in their community through their contributions, and who has shown a commitment to the arts and their future. Ultimately, their dedication to ArtWorks goes above and beyond, and their future in the arts—whether through a pursuit in the field or through their involvement—is guaranteed.
Ericson worked on the Saya Woolfalk mural this year and Hero Design Company last year.
The award is named after Andrew D. "Biggie" Smith, who was a lifelong lover and supporter of the arts and music, and a supporter of ArtWorks. A generous gift to ArtWorks was made in his memory because he loved the Youth Apprenticeship program and supported it every year.
We are grateful for the parents and guardians of our Youth Apprentices, who support transformational creativity.
"Deja is so grateful she has been a part of ArtWorks these couple years," said Dabranda Pennington, mother of a Youth Apprentice, to the crowd. "I have seen so much growth and change in her, and I'm so happy."
At the event, we were excited to recognize all Youth Apprentices who went through our program as official alumni. ArtWorks is available as a resource for references for college admissions, jobs, guidance and support, and continued employment.
Anyone interested in future Youth Apprenticeships or Teaching Staff positions to stay in touch with ArtWorks by signing up for our newsletter and following us on Facebook and Instagram.
This season of EMPOWERMENT could not have been possible without our generous funders and partners. ArtWorks thanks these funders for their ongoing support: ArtsWave, the Carol Ann and Ralph V. Haile/U.S. Bank Foundation, City of Cincinnati, Ohio Arts Council, Youth to Work (Y2WK) and Procter & Gamble as our 2019 mural sponsor.
Special thanks to those who donated to make this event possible, including the staff at 1819 Innovation Hub at the University of Cincinnati, Skyline Chili and Taco Oso. Special shoutout to ArtWorks food vendor alumni: Daal Baby, Harmony Plant Fare, Flavors of the Isle, Madisono's Gelato and Sweet Petit Desserts.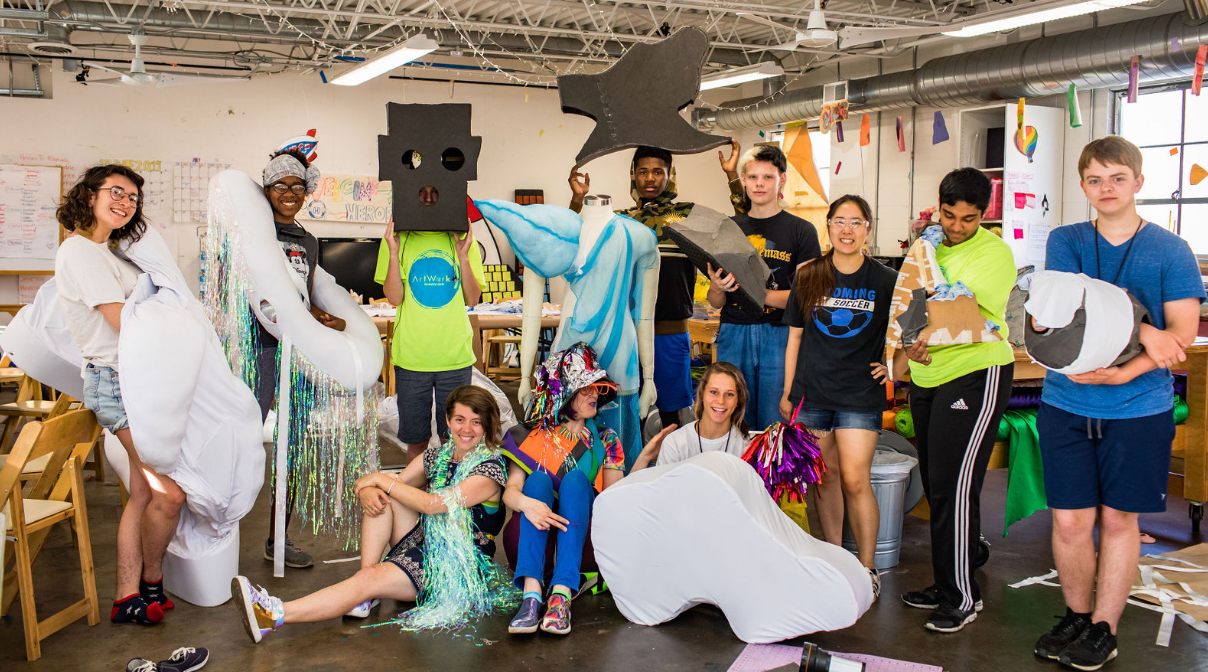 About ArtWorks
Since 1996, ArtWorks has been transforming people and places through investments in creativity. The organization is a workforce development and job-training program where art is the vehicle that trains and employs local youth and professional talent to create art and community impact. ArtWorks has hired over 3,500 youth and 3,000 professional artists who have completed over 12,000 public and private art projects. ArtWorks' projects are supported by generous contributors, like you.
Give the gift of creativity today
.
Photography by Carlynne Welch of Bergette Photography.